It's been announced in recent weeks that 16 major retail chains are closing stores across America. No matter how much the media tries to prop up the failing economy, which is only going to get worse under ObamaCARE, they can't escape these brutal facts. Welcome to Obama's AmeriKa. Remember that trillion dollar stimulus package passed in 2009? I guess the jobs weren't as shovel ready as they expected.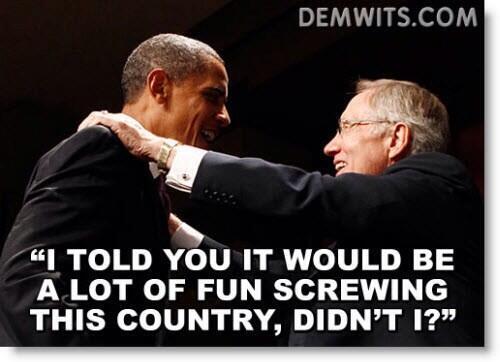 16 major retail chains closing stores across America – Thanks Obama!
Welcome to being Chair of the Federal Reserve Janet Yellen! Stocks reacted to the lousy economy, and Yellen's swearing in as Federal Reserve chair by tanking 326 points on the Dow Jones Industrial. The Nasdaq dropped over 100 points and finished under 4,000 for the first time in mohths. The S&P 500 plummeted 41 points for a 2.6% one day drop.
The media likes to try and hype how the economy is still improving. This despite the fact the workforce participation rate has hit a low not seen since the Jimmy Carter days of 1978. The media always likes to hype the stock market which has gone up. What they don't tell you is the only reason why the stock market is inflated, is because of the federal reserve's 'quantitative easing' that has artificially inflated the stock market. The fact of the matter is, the economy still sucks, five years later after Obama's election. Below are seven economic facts that underscore just how dire the Obama economy outlook is.
Read more
The media hype the unemployment rate of 6.7% after the miserable December 2013 jobs report today. What the media wouldn't tell you is how the labor participation rate has dropped every since since 2009 (when Obama took office.) Below is a little graph of the labor participation rate before, and after Obama took office. The labor force participation rate is now at it's lowest level since 1978 (Jimmy Carter presidency.)
Labor force participation rate has dropped every year since Obama began his reign of terror
If you had the same amount of people in the labor force as you did at the end of Bush's presidency, the unemployment rate would be around 14%. Of course, all we get from the media is how the economy is magically improving. The only thing that's improving is the stock market, and that's thanks to the Federal Reserves monthly bond buying. It's just too bad there are enough stupid people to believe that the jobs market is really improving under this corrupt progressive liberal Democrat regime.
Obama and the extremist progressive liberals war on women continues. Yet another lousy job report came out today which saw nearly three quarters of a million Americans leave the workforce. Women have been especially hard hit. American women participating in the nation's labor force hit a new low at a rate of just 56.9 percent in October.
The economy still sucks, despite what the media and Obama will tell you. That's why Fed Chairman Ben Bernanke has surprised some people today and decided against the taper of bond buying. The monthly bond buy will remain at $85 million, further devaluing our currency, and artificially inflating the stock market.
Econ 101: Bernanke pumps money into economy. Amount of stock is fixed. Price of stocks go UP. Real inflation near 9%. Thanks Ben. #tcot #p2

— Squeaky Wheel (@GetsGreased) September 18, 2013
Bernanke says current economic figures are not enough to justify easing off the stimulus pedal–will await more 'evidence.' (@Majchrowitz)

— FOX News Radio (@foxnewsradio) September 18, 2013
Bernanke: Jobless rate remains above acceptable levels; downside risks to growth have eased.

— CNBC (@CNBC) September 18, 2013
Bernanke: Fed sees economic headwinds prevailing through 2016.

— CNBC (@CNBC) September 18, 2013
Well done America, reelecting Obama!
Whew! I'm sure glad that the economy is fixed and America is just humming along. I was getting worried there after 5 years of a lousy, stagnant economy. You see, according to Joe Biden, the same idiot who predicted 'recovery summer' in 2010, Americans are no longer worried about the economy.
Sucks ro be part time workers at NBC owned Universal Studios in Orlando, Florida. Thanks to ObamaCare, they will be losing their health care benefits all because of ObamaCARE.
Universal Orlando is, of course, a division of NBCUniversal, the parent company of NBC and its cable network sister MSNBC. As we have quite exhaustively documented, MSNBC is an enthusiastic cheerleader of all things Obama, including his policy positions such as ObamaCare. It remains to be seen to what extent NBC News and MSNBC will report this story.
The first jobs report of 2013 was a lot like the jobs reports from the last 4 years. Lousy, anemic numbers of jobs added with more people dropping out of the workforce than actually getting a new job. The unemployment rate spiked to 7.9% to in January, yet somehow to corrupt lapdog media is reporting this as 'good news.'
Read more
The propaganda media has already spinning the 2012 Q4 GDP contraction as a 'fluke' or a 'one time thing' blaming things from Hurricane Sandy (as if all the business in this country is conducted in New York and New Jersey)
to lowering in government spending:
GDP last quarter: Business investment and consumer spending both up. So what;s down? "Federal government spending fell significantly"

— Ezra Klein (@ezraklein) January 30, 2013
Should I laugh our loud or what? The leftist propaganda machine is continuing to sputter as Reuters has reportedly cut 3,000 jobs, including so called 'real journalists.' I know I shouldn't laugh when people lose their jobs, but when leftists media propagandists lose theirs, it doesn't really strike me as a poor or middle class American losing their job. Welcome to ObamaVille Reuters.
Read more
State Street is a 'custody bank' and announced that they will be cutting 630 jobs in Obama's lousy economy. State Street Corp. is considered the third largest custody bank.
Read more