Ah yes. Eric Holder. the same racist goon that while in college participated in 'armed' takeover of former Columbia U. ROTC office. Eric Holder also called this country a nation of cowards shortly after being hand picked by Valerie Jarrett, errr Obama to be Attorney. He got a softball interview on ABC today, and took time to whine about how Americans are racist if they disagree with Obama on policy. He even got a jab in at Sarah Palin.
Racist Eric Holder bashes Palin on ABC
Eric Holder, who has already been held in contempt of Congress is the most corrupt Attorney General in American history. Remember Richard Nixon's AG John Mitchell and how he tried to cover up Nixon's scandals? Eric Holder makes John Mitchell look like a saint. Ted Cruz is calling the corrupt Eric Holder to either call a special, independent prosecutor to investigate the IRS scandal, or be impeached. I can already hear the howls of racism from Eric Holder and the leftist media industrial complex now. Of course, this will never happen as long as the equally dirty and corrupt Harry Reid is Majority Leader.
Ted Cruz calls for Eric Holder to be impeached on Senate floor (Video)
If Attorney General Eric Holder refuses to appoint a special prosecutor to investigate the IRS scandal, he should be impeached, Sen. Ted Cruz (R-TX) said for the first time today.
"If this resolution is not passed and Democrats in the Senate choose not to put this necessary pressure on the Department of Justice, I have one very clear request," Cruz said. "If Attorney General Eric Holder continues to refuse to appoint a special prosecutor, he should be impeached."
Cruz asked for unanimous consent to call up and adopt a resolution "expressing the opinion of the Senate that the Attorney General should appoint a special prosecutor to investigate, and prosecute, if the facts support, the IRS targeting of Americans and its potential cover up of those actions."
If the corrupt Obama regime can't get them with the IRS, then he uses the corrupt Eric Holder Department of in(justice) instead. Holder's DOJ is reportedly blocking company mergers that include CEOs that are Republican. Luckily for Comcast and Time Warner, each company is loaded with Obama boot lickers so there shouldn't be any problem with those two companies merging. However, if you have a Republican as a CEO who believes in free market capitalism, then you can might be blocked by the corrupt Obama/Holder reign of terror: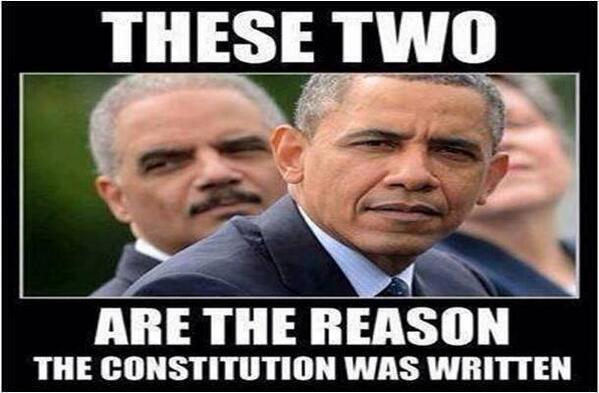 Obama-Eric Holder DOJ now blocking company mergers with Republican CEOs
Eric Holder decided to pay FBI rat Al Sharpton a visit and speak at the race hustling NAN event organized by Sharpton rat. Holder lost it during his speech, throwing a tantrum, and playing the race card. ABC deems Eric Holder as 'fed-up.' I got a little news for you hacks at ABC. We, the American people are fed up with Eric Holder, his lawless regime, and constant race hustling. Get it ABC hacks? Message to Eric Holder. If you've got it so bad, and America is so racist, then resign and move to a more 'friendly' country. Cuba comes to mind.
Eric Holder throws another tantrum at Al Sharpton's NAN event
Some of Obama's U.S. Postal Service union employees are now using agency credit cards to pay for gambling sprees, personal travel and even bowling. This is yet another 'smidgen' of corruption going on in the Obama regime that the Holder Department of (in)Justice just sits back and let happen. The USPS has over 500,000 employees, obviously not all are involved. The biggest crime here isn't just a few bad apples at the USPS using our tax dollars on gambling. The crime is that the Eric Holder DOJ just sits back, twiddle their thumbs and does nothing about it.
U.S. Postal Service employees used agency credit cards to pay for gambling sprees
For those wondering about the picture, it's supposedly from a bowling alley in Florida.
Read more
Mayor Patrick Cannon of Charlotte is the latest of five Democrats to face legal issues of the past few days. Democrat Mayor Patrick Cannon was arrested and accused Wednesday of accepting more than $48,000 in bribes from undercover FBI agents posing as businessmen. Since Cannon is black, I'm sure charges of racism will start flying soon. Here are some other Democrats who have gotten in trouble lately:
Five elected Democrats in legal trouble in last few days
California Democrat State Sen. Leland Yee was arrested on charges of bribery and corruption.
Rhode Island Democrat House speaker Gordon Fox had his office raided by law enforcement officials raided the office and home of House Speaker Gordon Fox on Friday as part of a criminal investigation. He has since resigned.
Keith Farnham – Illinois Democrat House Rep. office raided in child porn investigation.
Democrat Pennsylvania state Senator LeAnna Washington allegedly ordered taxpayer-paid employees to organize an annual "birthday party" political fundraiser.
Must be something in the water these days Democrats are drinking.
Karma is a bitch eh Eric Holder? The corrupt AG was hospitalized earlier after he felt faint and complained about 'shortness of breath.' Nothing was seriously wrong with Holder, as he was later released. Maybe he was near whitey and he just wanted to get out of there. Or maybe he saw one the guns he ran to Mexico under Fast and Furious and got scared.
Eh, why not? Eric Holder wants to give felons the ability to vote in elections now. Why not? They already are allowed to be ObamaCARE navigators and handle people's personal information while being ObamaCARE navigators. Since felons are about 90% more likely to vote Democrat, let's give them that ability, because you know, those poor felons are such victims or something.
There may be a more severe impact on minority communities, but that's a function of the convictions, not the voting laws.

Perhaps there should be a waiting period, or lifetime exclusions only for certain levels of criminal convictions.
Hey, remember when we had something called states rights? Obama and Eric Holder have proven over and over again that states rights don't matter. The imperial presidency, and his ruling elite have once again ignored the Constitution and state's rights and decided to recognize same-sex marriage in all 50 states, including the 34 that don't allow same-sex marriage. Must be nice to pick and choose which laws you will follow and which laws you wouldn't. It's kind of Hiteresque.
Kent Terry is the brother of murdered border patrol agent Brian Terry. You remember Fast and Furious don't you? Eric Holder and Obama's gun running program to Mexico's drug cartels that resulted in the death of Brian Terry and hundreds of Mexicans? Terry's family had been pretty quiet about the murder, until now. Kent Terry slammed Eric Holder in a letter written to the corrupt AG:
In a blistering letter to Attorney General Eric Holder delivered Wednesday, Kent Terry – the brother of murdered Border Patrol agent Brian Terry – questioned why, years later, the Terry family still does not have the truth about Operation Fast and Furious.
"Mr. Holder I am going to get right to the point of this letter," he wrote. "I am not pleased with your behavior as America's Attorney General. Simply denying that you had no knowledge about Operation Fast and Furious is troubling in itself, but for you to not comply with Congress is even more troubling. It is shocking to know that the Attorney General of the United States had no knowledge or was not made aware of Fast and Furious until after the death of my brother, Brian Terry."
Terry continued his letter by writing that he questions why – if Holder really did not know about Fast and Furious – he has not held anybody in the Department of Justice or the Bureau of Alcohol, Tobacco, Firearms and Explosives accountable for the scandal.
Of course, this will never get coverage from the corrupt media. They are still busy with Bridgegate, covering Obama's ass on ObamaCARE and the tanking economy and whining about global warming.
Read more