Why am I not surprised? Washington Post leftist hack Dana Milbank defended Martin Bashir's disgusting comments about peeing and shitting in Sarah Palin's mouth on Fox News' 'Media Buzz' over the weekend with Howard Kurtz. Why in the world Fox News hired Kurtz after even CNN knew he was worthless is anyone's guess.
Washington Post leftist hack Dana Milbank defends Martin Bashir and his comments about peeing and shitting in Sarah Palin's mouth
Dana Milbank: And another thing, which is really quite different.

He was making a very legitimate point about Sarah Palin.

Howard Kurtz: Let's go over this for people who were not following the this. Sarah Palin had given a speech for which she compared the national debt and owing money to China to slavery. A lot of people didn't like that. And, like I said in the beginning, it is fair game to criticize Sarah Palin. But let's not mix words here. What Bashir said was scripted, read with graphics that had to be approved by other people at the network who suggested using her as a toilet.

Dana Milbank: Yes, and I think the legitimate point that he was making was that these slavery things are brought up too often and this is how awful slavery is.
Watching leftist hacks like Kirsten Powers continue to bemoan how their health insurance has been affected by ObamaCARE is really a treat. What's funny, or sad is that while Kirsten Powers continues to whine about how health insurance is affected, she will still on go on Fox News shows like Bill O'Reilly and defend ObamaCARE. They just never learn.
I just learned that I have to buy my insurance on the Maryland exchange (even tho i live in DC). Just went there…site isn't working.

— Kirsten Powers (@kirstenpowers10) November 6, 2013
MD exchange: Online Identity Proofing service is currently not available. Please try back at a later time. If you prefer, you can call….

— Kirsten Powers (@kirstenpowers10) November 6, 2013

Wasn't Maryland one of the exchanges that was supposed to be working? The dumb Democrat Governor of that state did everything he can to aid Obama to try and get the exchanges set up. Oh well.
Read more
For a short time, Foxnews.com was hacked. Below is a screenshot: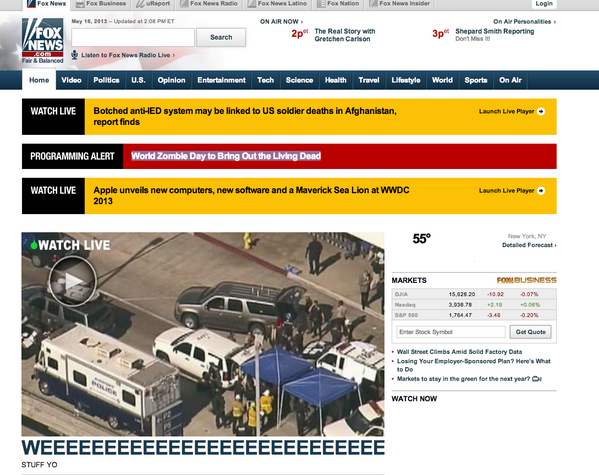 Foxnews site hacked: Weeeeeeeeee
World Zombie day to bring out the living dead? :eyeroll:
FoxNews․com Seemingly Hacked (Or Someone Just Screwed Up Big Time) http://t.co/oecvLkD7X5 by @grg

— TechCrunch (@TechCrunch) November 5, 2013
Or somebody screwed up big time? heh.
"WEEEEEE! Zombie Day!" announces apparently hacked Fox News site http://t.co/1qTQgTWR92

— Salon.com (@Salon) November 5, 2013
They are back to normal now. Kind of funny, but also kind of cheesy.
Want to see just how disgusting leftist hags can be? Look no further than Fox News leftist Leslie Marshall. She looks like she's begun her Thanksgiving feast about a month early, and as usual was full of hot air. But today, Leslie Marshall crossed the line in progressive liberal Democrat vile. She tried to defend Obama and Hillary Clinton despite the damning Benghazi report that came out on 60 minutes yesterday. Instead of placing any blame on Obama or Hillary Clinton for failing to properly secure the consulate, Leslie Marshall actually blamed Ambassdor Chris Stevens for his own death that night because he wanted to 'branch out' from Tripoli to Benghazi.
Fox leftist Leslie Marshall blames Amb. Chris Stevens for his death during Benghazi – Watch at 5 minutes 50 seconds
"No matter how much security we have, things like this can happen. Let's keep in mind, Ambassador Stevens was the one who wanted to be in Benghazi; Ambassador Stevens was the one who wanted to branch out from Tripoli to Benghazi."
Hey Leslie, Fuck you, seriously!
Now that Sally Kohn is gone from Fox News, Juan Williams moves to the forefront as the most clueless, leftist, Obama licking hack on the channel. Ordinarily, that would be Alan Colmes, but he's seen so rarely on TV, he doesn't qualify anymore. No matter what Obama does, Juan Williams will suck up to him, most likely because of the race issue. Today the issue was ObamaCARE and Juan Williams tried to spin all the recent cancellations of existing policies because of ObamaCARE. Brit Hume, a cocktail circuit, Karl Rove Republican type actually destroyed Juan Williams on his and Obama's lie about 'if you like your health care plan, you can keep it, period.'
Brit Hume smacks down Obama lapdog Juan Williams over ObamaCARE
The Oklahoma-Texas Tech college football game on Fox News Channel? Turning on Fox News Channel late this afternoon, much to my surprise I saw the college football game. I couldn't figure out why. Then I realized the World Series is on the regular Fox station, so that must be the reason why. But since when does Fox News ever broadcast sports? Couldn't they put it on Fx or something?
Read more
Kirsten Power, i'd like to introduce you to something called karma. Kirsten Powers is yet another Fox News leftist who has been shilling for ObamaCARE even before it passed. Tonight, on the Kelly File, Kirsten Powers was whining about her health insurance premiums nearly doubling thanks to ObamaCARE and her deducible remaining unchanged.
Kirsten Powers whines about her health insurance premiums nearly doubling – Video: Twitchy
Yeah! Sally Kohn and her pathetic attempt to be Rachel Maddow's twin is finally gone from Fox News. Where does 'she' end up? MSNBC of course, which is a perfect fit. When Maddow takes vacation time, Kohn can fill in for her and nobody would know the difference.
Sally Kohn, Liberal Pundit, Leaves Fox News http://t.co/0Zec02hdUJ

— NYT Media (@nytmedia) October 23, 2013

Now if Fox News could dump Geraldo Rivera, Juan Williams, Alan Colmes and Bob Beckel, I might start watching more again.
Read more
Fox News leftist blimp Bob Beckel is singing the blues on the air. Apparently, the Obama regime didn't like Beckel (a far left obnoxious Democrat) criticing ObamaCARE. 'Someone' at the White House called Beckel and bludgeoned him over his criticism of dear leader's socialized health care ObamaCARE. Anyone want to take bets who that 'someone' probably was? My guess is it was Iranian born acting POTUS Valerie Jarrett.
Fox News Bob Beckel claims he got bludgeoned by 'someone' at the White House for criticizing ObamaCARE
Fox News is has really become annoying. We already know Bill O'Reilly is so far up Obama's ass because he wants another softball interview. Tonight though, O'Reilly did something I never thought even he would do. He compared conservatives who disagree with Obama on policy to the JFK assassination in Dallas nearly 50 years ago.
Bill O'Reilly compares those who disagree with Obama with JFK assassination
Really Bill O'Reilly? Conservatives are compared to those who assassinated JFK now? One of O'Reilly's complaints was that some conservatives call Obama a socialist. Gasbag Bill O'Reilly routinely calls Obama's policy 'quasi-socialist.' but that's OK I guess.
Looks like Roger Ailes found another winner. Megyn Kelly and the Kelly File had more viewers on it's second night than it's premier show. Nearly 2.8 million tuned into the Kelly File on October 8th, with a whopping 623,000 in the important 25-54 demographic. Not only did Megyn Kelly kick CNN & MSNBC's collective asses, but she also crushed arrogant snob Bill O'Reilly in the 25-54 demographic.
If you combined The Kelly File's viewers with the live show and the repeat, she ended up with 3.6 million+ viewers. Not bad for her second day on the air with a new show.
In the same time slot, CNN's hack Piers Morgan couldn't even muster 600,000 total viewers. Hehehh.
Ed Henry asked the perfect question to Obama's propaganda minister Jay Carney. Why was Obama so eager to negotiate with Iran and their terrorist regime, but not Republicans on funding the government? It's a great question, but we all know the answer to that. Obama favors Islamic extremists over Americans. As is typical for Jay Carney, he whined and claimed Ed Henry was using 'GOP talking points.'
No, it's a legitimate question that the Obama regime refuses to answer.
Ed Henry to Jay Carney: Why talk to Iran but not House Republicans?
So typical of the Obama regime.