Obama got his backdoor gun regulations through his EPA, by getting Doe Run Lead Smelter company to shut down by the end of the month. Doe Run Company, which was has been operating in this country since the 19th century will be closing it's doors for good at the end of the month? Why? It's all because of Obama's backdoor gun regulations through the EPA. The corrupt arm of the Obama regime raised the regulations by 10 fold and it would have cost the plant $100 million for Doe Company to comply. They can't and so the last lead smelter will shut it's doors for good on New Year's eve. This means, any bullets you purchase for your legal firearms next year, will have to come from China, or some other country.
If you like your plastic guns, created with a 3-D printer, you can't keep your plastic guns. Period. Yet again Republicans and Democrats trampled on the Second Amendment by banning 'plastic guns.'
Read more
Just how sick and pitiful is Obama? He's using OFA to promote Newtown anniversary events. WTF is Newtown? Something to celebrate?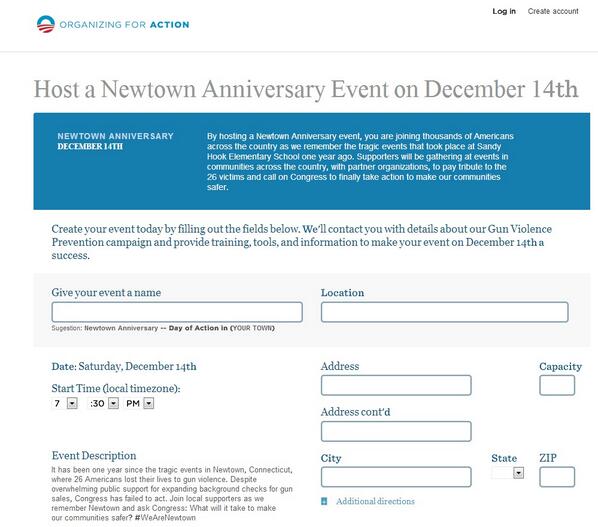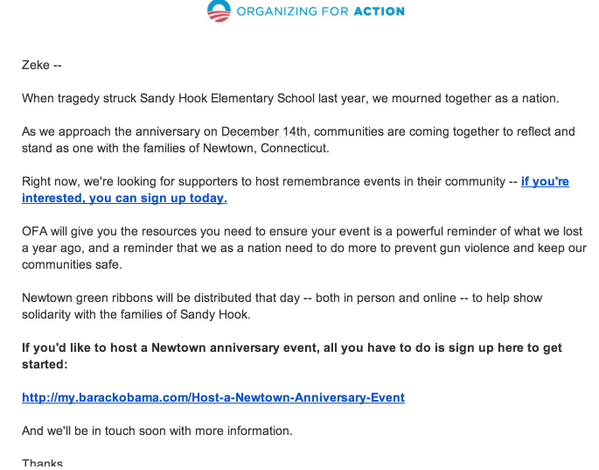 Pitiful Obama OFA promoting Newtown anniversary events
The families of the victims and people of Newtown have been through enough crap. Why does the Obama regime and progressive liberals have to use this dark anniversary for politics? In fact, the people of Newtown just want to be left alone on December 14th. They don't need any reminders of what Adam Lanza did last year.
WFSB will not be in Newtown on December 14th. Town is asking media to stay away http://t.co/ZjzuI1iEac pic.twitter.com/Gn9sy5a5x1

— Dennis House (@DennisHouseWFSB) December 2, 2013
People in Colorado love their guns. They found out the hard way that the Marxist Democrats that they elected to office don't love them as much as they do. That's lead to two Democrat state senators being recalled and a third being forced to resign in order to keep the Democrats in the state Senate majority.
Despite passing some of the strongest gun control restrictions in the nation, Colorado is reporting strong gun sales this Black Friday. According to Ryan Parker of the Denver Post, 3,382 criminal background checks for firearm sales were processed by the end of the day.
If you live in New York, get ready to give up your guns, all because of the so called SAFE act and Communists running your state. The progressive liberal Democrat wet dream is confisciating people's legally owned guns just like Hitler and other despot dictators. In New York it's already happening. Check out the following letter legal New York gun owners are receiving posted at TruthAboutGuns (Via Weasel Zippers):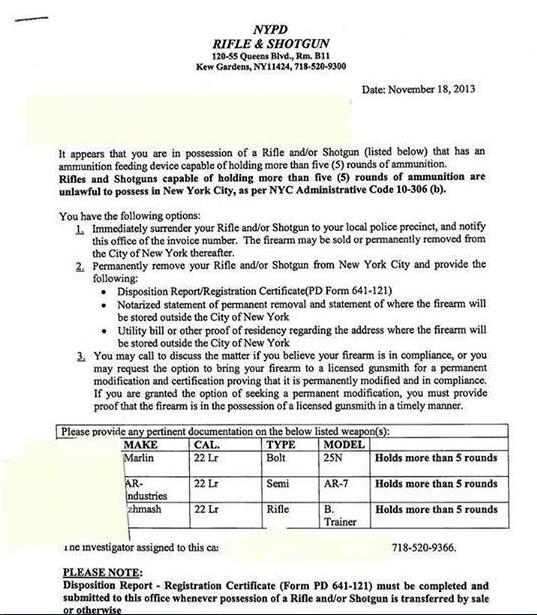 New York Sending Out Gun Confiscation Notices
This letter was sending to someone in New York City and not even based on the so called SAFE act which will grab even more guns from legal owners. Communist Bill de Blasio is set to begin his reign of terror on January 1, 2014. And so the Communist progressive liberal Democrat utopia begins in the state of New York. Just remember New Yorkers, you elected these Communists.
Colorado Democrat State Senator Evie Hudak, who was next up in the Colorado recall elections has decided to resign from office in order to avoid an embarrassing recall election. With Hudak's seat vacant, the Colorado State Senate now stands at 17 Republicans and 17 Democrats. Back in the summer, two Democrats were recalled over their support of Hickenlooper's gun grabbing. The Senate began it's session with 20 Democrats and 15 Republicans. Quite a swing.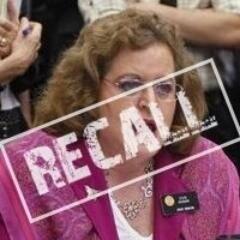 Colorado gun grabbing Democrat Evie Hudak resigns to avoid recall election
State Sen. Evie Hudak has decided to resign rather than risk facing a recall election that, should she lose, would flip control of the senate to Republicans, FOX31 Denver was first to report Wednesday.

Later Wednesday morning, Hudak made her resignation letter public.

"In the interest of preserving the progress made over the last year, I am resigning as State Senator for District 19, effective immediately," Hudak wrote.

Hudak, D-Westminster, could have been the third Democratic lawmaker to face a recall over a package of gun control bills they helped pass earlier this year.
Ryan Jake Lambourn is some Australian scum who released a game The Slaying Of Sandy Hook Elementary 're-enacting' last year's Newtown Sandy Hook shooting with Adam Lanza. Ryan Jake Lambourn who goes by the alias @googumproduce on Twitter or PiGPEN is getting his 15 minutess of fame as American leftists cheer on his bashing of the NRA. The game is coded in Flash, so it's available to play online for anyone sick enough to want to play it.
Ryan Jake Lambourn – The Slaying Of Sandy Hook Elementary online game
The game starts out with Adam Lanza aiming a gun at someone sleeping in bed and it says 'shoot your mother':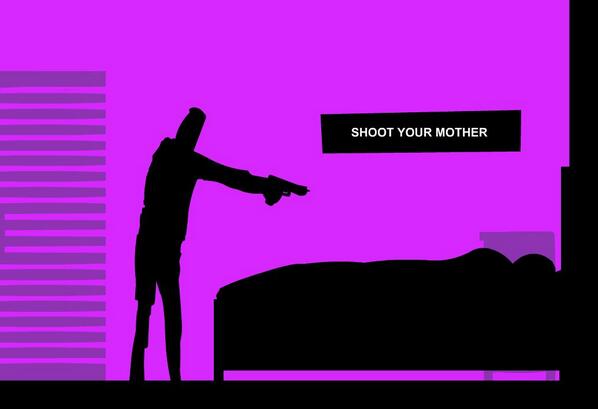 The Slaying Of Sandy Hook Elementary – shoot your mother
@mushbuh the NRA means everything in a bad way

— PiGPEN (@googumproduce) November 20, 2013
I regret to inform the NRA, it's impossible to undo what's been done. Also suck my dick, choke on it. pic.twitter.com/UxPfSpjuIX

— PiGPEN (@googumproduce) November 20, 2013
Not all American leftists are happy with this game. While the usual anti-gun nuts are thrilled, other's aren't so happy because it exposes just how sick and disgusting their ideology is. Here are just a few examples of leftists on Twitter cheering on Lambourn:
Read more
Pete Lagiovane, a Democrat, Bloomberg anti-gun lackey has been voted out of office in Chambersburg Pennsylvania because of his stance against the second amendment. The Republican who won named Darren Brown, said his first order of business is to get Chambersburg off Bloomberg's 'Mayors Against Illegal Guns' list." Chambersburg is a borough in the South Central region of Pennsylvania, United States. It is 13 miles (21 km) miles north of Maryland and the Mason-Dixon line and 52 miles (84 km) southwest of Harrisburg in the Cumberland Valley, which is part of the Great Appalachian Valley.
At least two were shot in an ice skating rink in Bryant Park, New York City while Nanny Bloomberg's quest to grab guns fails again. You see, despite New York City's strict gun laws from Nanny Bloomberg, it still didn't prevent the shooting in Bryant Park. Thankfully, no one has been reported killed, just injured. Despite the gun laws, it's non legal gun owners yet again who commit the gun crime in a 'gun free zone.'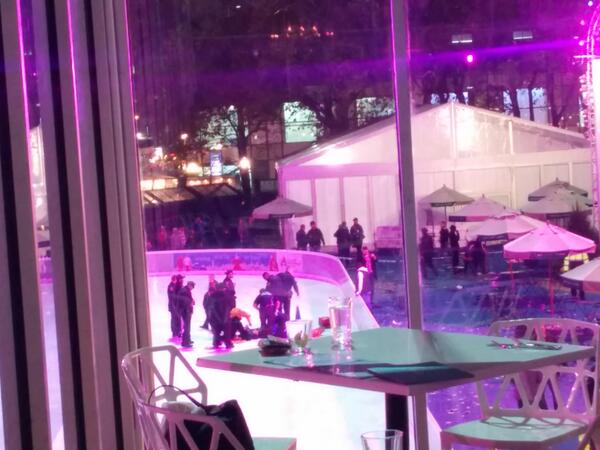 Two shot in Bryant Park while ice skating in New York City
Photo: Double shooting in Bryant Park at the skating rink. pic.twitter.com/nIEGnrimZ1

— Myles N. Miller (@myles_nm) November 10, 2013
EYEWITNESS TWEET: "Just witnessed shooting in bryant park [NYC] Cops [helping] person lying motionless" @raghuramcbz pic.twitter.com/ih64rZilc8

— NewsBreaker (@NewsBreaker) November 10, 2013
Manhattan: West 42 St & 5th Ave – Bryant Park. NYPD reporting 2 people shot at location. 2 perps m/b & m/h fled. Level 1 mobilization called

— New York City Alerts (@NYCityAlerts) November 10, 2013
There is just no stopping these anti-second amendment, anti-Constitution Marxist Democrats. Massachusetts Marxist Senator Ed Markey is trying to strong arm Instagram to forbid it's users from selling their firearms online.
First it was the AR-15, then it was the tea party's fault. Now, leftist nut jobs on Twitter are blaming the NRA for Paul Anthony Ciancia's shooting spree at LAX.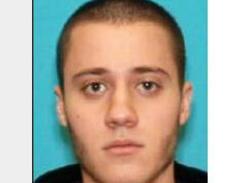 Paul Anthony Ciancia
#Gun regulation should start by taking the guns away from delusional anti-government nuts like Paul Anthony Ciancia #NRA #Guns

— Hans C. Schellenberg (@hanscs) November 2, 2013
http://t.co/ftUjMvPROM Typical. Loner/nutjob. Easy access to an assault rifle. Easy way to take his frustrations out. Pretty pathetic @NRA

— Jeff (@JeffreyLawhorn) November 2, 2013
Man Identified As LAX Shooting Suspect http://t.co/9BoAsKSYZZ How many have 2 die b4 congress does assault weapons ban, puts life bf NRA $$$

— carol levy (@leejcaroll) November 1, 2013
These goofy leftists can't even decide who to blame. The gun, the tee party, or the nRA.
See if you notice a pattern here. What do these eight registered Democrats and their families have in common?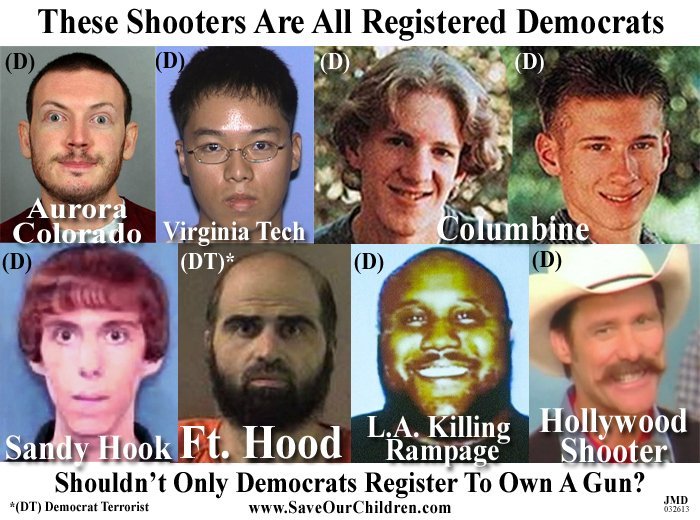 What do these registered Democrats all have in common?
Aside from the Columbine kids (who's families are registered Democrats). all of the rest were self registered Democrats. One of course is Canadian hack D list actor Jim Carney who made that stupid spoof of Charlton Heston, the rest are mass shooters. Adam Lanza, James Holmes, etc. Seung-Hui Cho wrote hate mail to George W. Bush and was a registered Democrat before the Virginia Tech mass shooting that killed 32 people.
Read more