The Bundy family is still missing over 100 of their cattle that was captured by Harry Reid's BLM department so that he can start building his son's Chinese solar energy farm ENN. Now we know why. Cattle, or at least their carcasses have been discovered buried randomly around the desert. This is what Harry Reid and the BLM did to the Bundy Ranch cattle. Warning: Some of these pictures are very gory. The cattle were shot, drugged, and killed. If you are an animal lover like me, this may not only make you sick, but also extremely angry to see what Harry Reid's BLM did to these poor cattle. Where the hell are you PETA you hypocrites?
Back in 2012 (when Obama was running for president again), Rory Reid (dingy's son) became head of ENN, a Chinese energy firm planning to build a $5-billion solar plant on public land in Laughlin, Nevada. That just happened to be on the Bundy Ranch property. Of course, no one in the media is mentioning Rory Reid and his connection to ENN.
Remember when Rory Reid became chief representative for ENN Chinese energy for solar plant?
Are you a supporter of Cliven Bundy and the constitution? If you are, Harry Reid thinks you are a domestic terrorist. The same Dingy Harry Reid who wouldn't call Muslim terrorists, terrorists is calling everyday Americans, fed up with his BLM land grab domestic terrorists.
Harry Reid calls Cliven Bundy supporters domestic terrorists
Not only has Harry Reid's BLM thug kept over 100 over Cliven Bundy's cattle, but the cattle that was returned is reported to have been mistreated and damaged. So where the f*ck are you Peta? Carol Bundy, wife of Cliven says the animals were abused, mistreated and not given water after the BLM thugs rounded up the cattle.
Feds mistreated, damaged cattle during Bundy Ranch standoff
Carol Bundy, Cliven Bundy's wife, showed Fox News a calf named Liberty that she said was born during the standoff. The calf's mother fled in fear and can't be found, she said. As a result, Liberty won't grow as strong as the others and will likely end up as a pet.

Carol Bundy was critical of the BLM and "contract cowboys" who rounded up the cattle, saying the animals were mistreated.

"They were abused. They didn't have water. They had very little feed," she told Fox News. "Cattle prods were laying everywhere.
Harry Reid really wants that land for his son Rory and that Chinese solar company. Gotta burn up the birds in the desert anyway you can, even if that means mistreating cattle.
Read more
Think the Bundy Ranch saga is over? Think again. Harry Reid is really pushing to get his Chinese solar farm built to burn up birds in the desert. Reid outright threatened Cliven Bundy and his family about how this whole BLM land grab isn't over. Harry Reid has been a Senator in Nevada since 1987. I bet you people in Nevada are really proud that he's lasted this long, aren't you?
Harry Reid threatens Cliven Bundy – It's not over
Senate majority leader Harry Reid hasn't been very vocal about the cattle battle showdown in recent days, but says "it's not over."

Reid tells News4′s Samantha Boatman his take on the so-called cattle battle in southern Las Vegas. "Well, it's not over. We can't have an American people that violate the law and then just walk away from it. So it's not over," Reid said.
Harry Reid's obsession with the Koch Brothers is rather entertaining if you watch the Oscar worthy performance Reid performs on the Senate floor every day whining about those 'evil' Koch Brother. Funny though, Harry Reid took Koch Brothers money in 2004 without any problems though according to Open Secrets. In fact, many other of the same progressive liberal hypocritical Democrats whining about the Koch Brothers have taken money for them, including Obama and Joe Biden.
Harry Reid took Koch Brothers money in 2004
Also taking thousands of Koch money include: Dianne Feinstein, Carl Levin, Mary Landrieu, Mark Pryor, Chuck Schumer and others took Koch money. In this election cycle alone, Delaware Marxist Chris Coons has already taken Koch money. House Democrats including John Barrow, Jim Matheson, Colin Peterson, Sanford Bishop and nut job Eric Swalwell has taken money this cycle. Even the Butcher of Benghazi Hillary Clinton took Koch Brothers money. Of course, when the media obbesses over the Koch Brothers, you never hear about these inconvenient details.
I'm sure it's purely a coincidence that the BLM ended it siege at the Bundy Ranch, right after Info Wars made public the Harry Reid ties to the Chinese Solar farm that wants the Bundy Ranch land to burn up birds with solar panels right? Of course, I'm being sarcastic here. Of course the BLM pulled out once Harry Reid's corrupt and conflict of interest was exposed. Harry Reid must think Americans are too stupid to put two and two together. Reid and Obama were successful in keeping this story mainly out of the corrupt lame stream media (except for Fox News). They must have assumed that after Infowars released what they had on Reid's conflict of interest, that the story would just go away if the BLM retreated and released SOME of the cattle back the the Bundy Ranch. Sorry Dingy, it don't work that way.
Coincidence? BLM ends #BundyRanch siege as Harry Reid-Chinese-backed solar farm info goes public
If you've followed the Bundy Ranch story, you've probably ready about and seen the video of Obama and Harry Reid's BLM thugs taser Cliven Bundy's son, Ammon Bundy. But about Cliven's sister Margaret Houston. She is a cancer survivor, and was thrown to the ground by Obama and Harry Reid's BLM thugs.
Dingy Harry Reid behind BLM land grab and cattle stealing of Bundy Ranch in order to benefit a big donor. Allegedly, Harry Reid is trying accommodate top donor Harvey Whittemore. The whole excuse of about the tortoise is a big crack of sh*t. Why am I not surprised. Lets hear some more from Dingy Reid about those evil Koch brothers or something! Slimy POS.
Harry Reid behind BLM land grab of Bundy Ranch
Harry Reid is a corrupt bastard? I would have never guessed . The Federal Election Commission sent a letter to Friends of Harry Reid demanding that Dingy disclose information essential to full public disclosure of his federal election campaign finances. The letter demands the following disclosures from Reid: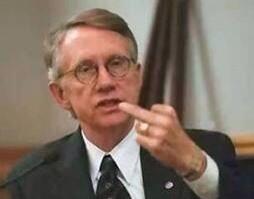 Harry Reid under investigation by Federal Election Commission
- Itemized disbursements must include a brief statement or description of why
each disbursement was made. Please amend Schedule B supporting Line 17 of
your report to clarify the following description: "holiday gifts." For further
guidance regarding acceptable purposes of disbursement, please refer to 11
CFR 104.3(b)(4)(i)(A).

Additional clarification regarding inadequate purposes of disbursement
published in the Federal Register is available on the FEC website at
www.fec.gov/law/policy/purposeofdisbursement/inadequate_purpose_list_350
7.pdf. A non-exhaustive list of acceptable purposes is also available on the
FEC website at http://www.fec.gov/rad/pacs/documents/ExamplesofAdequate
Purposes.pdf.
Dingy Harry Reid and the Democrats have finally moved on from blaming George W. Bush. Meet the latest reason for world problems according to Harry Reid and leftist nut job Democrat, the Koch Brothers. Forget Obama looking like Putin's puppet in the Ukraine, or him becoming the laughing stock of Syria. Blame the Koch Brothers!
Good news from Harry Reid! Of the estimated 2.3 million who will lose their jobs thanks to ObamaCARE (after today's CBO report), they will become 'free agents.' You know, like athletes in professional sports that become free agents when their contracts are up? This is how dumb the progressive liberal Democrats are.