Texas RINO John Cornyn and Democrat Henry Cuellar have been working on the 'Humane' act, which will allow for quicker deportation of the diseased illegals invading the southern border. Turns out they are just wasting their time actually trying to get something done, because Dingy Harry Reid will not support the Humane Act, and wouldn't allow a Senate vote on it in the first place.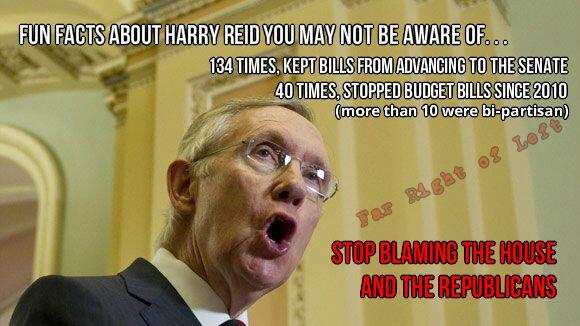 Dingy Harry Reid wouldn't support Cornyn-Cuellar HUMANE Act
Reid says he won't support cornyn-cuellar border bill

— Burgess Everett (@burgessev) July 15, 2014
OH NO!!! It's the end of the world as we know it! Iraq is on fire, Americans are being kidnapped an jailed by the Mexican police, and illegals are flooding the border in anticipation of Obama and the House GOP's amnesty. So what does Harry Reid do? He announces he wouldn't attend any more Washington Redskins games UNLESS the team changes it's 'offensive' name. Another nickname for the Washington Redskins is 'hogs.' I wonder if Dingy Harry Reid finds that name offensive to Muslims. I really hate progressives.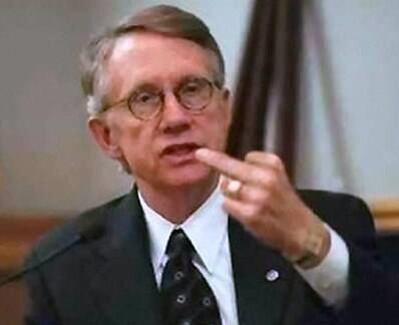 Harry Reid won't attend Redskins game until team changes name
KOCH BROTHERS! Harry Reid and his Communications Director Adam Jentleson have sunk to a new low. They are mocking the four dead at Benghazi. I guess should have expected as much from Dingy and his staff:
Adam Jentleson – Harry Reid's Communications Director mocks Benghazi
#Benghazi #BenghaziCoverUp #BenghaziEmails #BenghaziBenghaziBenghazi #BenedictCumberbatch

— Adam Jentleson (@AJentleson) May 2, 2014
BREAKING: Speaker Boehner literally changes name to Speaker Benghazi.

— Adam Jentleson (@AJentleson) May 2, 2014
Hey, remember Harry Reid's corruption trying to grab the Bundy Ranch via eminent domain? Now it's been discovered by Before It's News that Harry Reid's LLC called Reid Bunkerville, LLC that owns over 93 acres of undeveloped land near the Bundy Ranch. Reid's chickens are coming home to roost.
Harry Reid Bunkerville, LLC owns 93 acres of land near Bundy ranch
How does a shady progressive liberal Democrat from a small town like Searchllght, Nevada? In the case of Harry Reid, you use your power as Senator Majority (and Minority) leader to accumulate wealth and power, invest then sell stock in companies right before you slap regulations on them, and of course, suck up to the cocktail circuit leftists like Vegas, New York, DC and L.A. Today, Real Clear Politics released the first part of their two part series explaining how Dingy Harry Reid accumulated wealth and power while living on a public servant's salary. Did you know that this little weasel owns a one bedroom condo at the Ritz-Carlton in DC? Pretty good for $174,000 per year salary.
Harry Reid, his shady investments and wealth accumulation
The Bundy family is still missing over 100 of their cattle that was captured by Harry Reid's BLM department so that he can start building his son's Chinese solar energy farm ENN. Now we know why. Cattle, or at least their carcasses have been discovered buried randomly around the desert. This is what Harry Reid and the BLM did to the Bundy Ranch cattle. Warning: Some of these pictures are very gory. The cattle were shot, drugged, and killed. If you are an animal lover like me, this may not only make you sick, but also extremely angry to see what Harry Reid's BLM did to these poor cattle. Where the hell are you PETA you hypocrites?
Back in 2012 (when Obama was running for president again), Rory Reid (dingy's son) became head of ENN, a Chinese energy firm planning to build a $5-billion solar plant on public land in Laughlin, Nevada. That just happened to be on the Bundy Ranch property. Of course, no one in the media is mentioning Rory Reid and his connection to ENN.
Remember when Rory Reid became chief representative for ENN Chinese energy for solar plant?
Are you a supporter of Cliven Bundy and the constitution? If you are, Harry Reid thinks you are a domestic terrorist. The same Dingy Harry Reid who wouldn't call Muslim terrorists, terrorists is calling everyday Americans, fed up with his BLM land grab domestic terrorists.
Harry Reid calls Cliven Bundy supporters domestic terrorists
Not only has Harry Reid's BLM thug kept over 100 over Cliven Bundy's cattle, but the cattle that was returned is reported to have been mistreated and damaged. So where the f*ck are you Peta? Carol Bundy, wife of Cliven says the animals were abused, mistreated and not given water after the BLM thugs rounded up the cattle.
Feds mistreated, damaged cattle during Bundy Ranch standoff
Carol Bundy, Cliven Bundy's wife, showed Fox News a calf named Liberty that she said was born during the standoff. The calf's mother fled in fear and can't be found, she said. As a result, Liberty won't grow as strong as the others and will likely end up as a pet.

Carol Bundy was critical of the BLM and "contract cowboys" who rounded up the cattle, saying the animals were mistreated.

"They were abused. They didn't have water. They had very little feed," she told Fox News. "Cattle prods were laying everywhere.
Harry Reid really wants that land for his son Rory and that Chinese solar company. Gotta burn up the birds in the desert anyway you can, even if that means mistreating cattle.
Read more
Think the Bundy Ranch saga is over? Think again. Harry Reid is really pushing to get his Chinese solar farm built to burn up birds in the desert. Reid outright threatened Cliven Bundy and his family about how this whole BLM land grab isn't over. Harry Reid has been a Senator in Nevada since 1987. I bet you people in Nevada are really proud that he's lasted this long, aren't you?
Harry Reid threatens Cliven Bundy – It's not over
Senate majority leader Harry Reid hasn't been very vocal about the cattle battle showdown in recent days, but says "it's not over."

Reid tells News4′s Samantha Boatman his take on the so-called cattle battle in southern Las Vegas. "Well, it's not over. We can't have an American people that violate the law and then just walk away from it. So it's not over," Reid said.