Harry Reid used to be a tomato can boxer. So he's used to getting his ass beat. Harry Reid couldn't make it to the start of the 114th Congress, so he decided to release a pity me video message instead. Harry Reid not only looks like the senile old coot he is, but also he's starting to resemble a pirate. Check out the picture of the tomato can Harry Reid looking all beat up (supposedly by his treadmill).
Picture of Harry Reid after getting his ass beat by a treadmill
Hey Dingy Harry. No matter how hard you try and cover up that black and blue mark under your eye, we can still see it. We can also still see right through you. You still are, and will always be the corrupt piece of shit you've always been.
Read more
Harry Reid the senile old coot fell down again and is in the hospital with broken ribs and facial bones. Normally, I'd be nice and not say anything bad here, but this time I just can't resists. Harry Reid is a true piece of shit and deserves all the suffering he gets. Harry Reid, the senile old coot was supposeably exercising in his big Nevada home and then he fall down. Oh well. Time for you to retire Reid.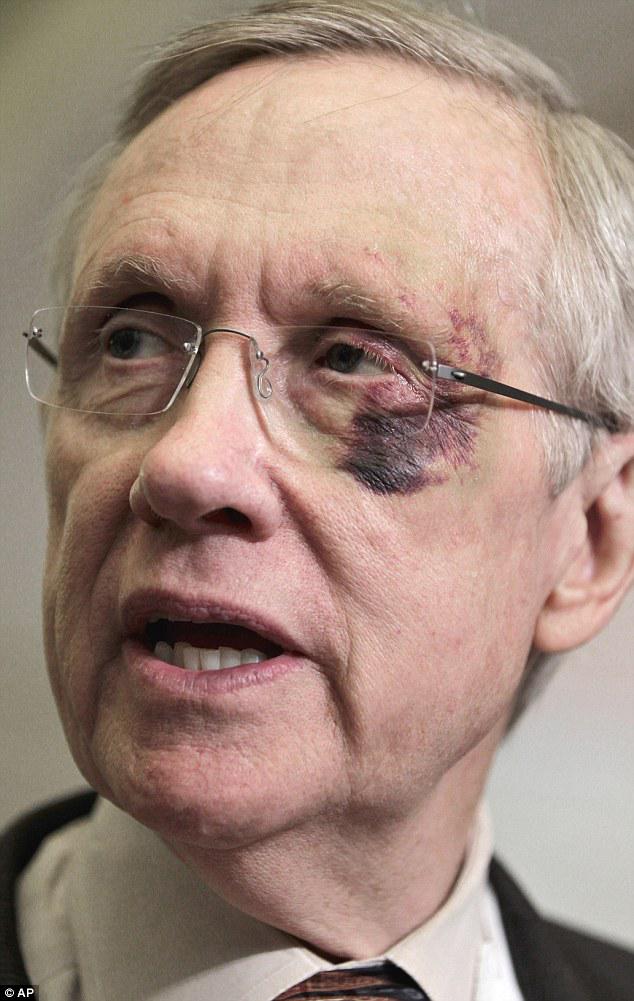 Harry Reid in hospital with broken ribs, facial bones
Harry Reid was a boxer a few centuries ago. All those blows to the brain back them have really done wonders on Harry Reid.
The last few months have really been bruising for Harry Reid. Under his so called 'leadership' in the Senate, the Democrats lost a historic election and nine seats. Now, when the Congress returns, the bruised up Harry Reid will be the useless Minority Leader in the Senate. HAHAHAHAHAHAHH
I think this tweet says it best:
Humpty Dumpty had a great fall. Harry Reid suffers another "unfortunate" accident. Because he is so old or drunk? pic.twitter.com/GrELek4gGN

— Markeece Young (@YoungBLKRepub) January 2, 2015
Jason Mattera was attacked, basically assaulted by one of Harry Reid's body because Mattera dared ask Reid a question about how he accumulated his wealth. The left always goes after people who are rich, if they are Republican. But in Dingy Harry Reid's case, he's worth over $6 million now after being born into poverty and living off his government paycheck. Reid earns about $200,000 per year as Senate Majority Leader (soon to be minority leader). Jason Mattera has released a new book called Crapitalism that exposes corrupt Democrat politicians who have amassed amazing wealth since joining Congress. Watch the video below of Harry Reid's bodyguard goon attacking Jason Mattera: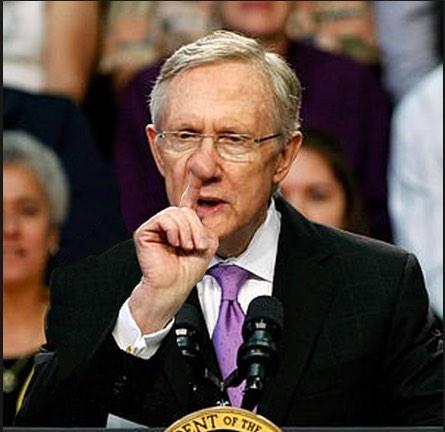 Harry Reid bodyguard attacks Jason Mattera (Video)
I'm no attorney, and don't give legal advice, but it looks like Mattera has a nice lawsuit on his hands against Reid's bodyguard if he wants it.
Read more
Forget Harry Reid's racist against Asians. Forget for a moment Harry Reid's 'no negro dialect' crack against Obama. Then forget that Harry Reid is demanding the Washington Redskins change their name, because Redskins is offensive or something. Below is some of Harry Reid's stupidest moments. The video also includes Reid's Koch Brother obsession. If you went back to the beginning of Harry Reid's political career and showed all the stupid crap he's stupid, Youtube would probably crash from the video. So this is just a small sample.
Video: some of Harry Reid's stupidest moments and Koch obsession
Harry Reid is now cracking racist jokes about Asian people. He said 'One problem that I've had today is keeping my Wongs straight' in the following video:
Reid also cracked on Asians 'you think you are smarter than everybody else, but you aren't.
Well you know the drill with this one. It will just fade away, the media will ignore the story, and Dingy Harry Reid will continue on as Senate Majority Leader until the Republicans take the Senate in November. But the double standard here is amazing. Imagine for one second if someone like Ted Cruz cracked the exact same crass jokes as Harry Reid against Asians. What would happen? 24/7 news coverage, over 100 stories about in just a couple days. The 'controversy' would even eclipse the stupid bridge-gate non-scandal involving Chris Christie.
Video: Harry Reid on Asians 'One problem that I've had today is keeping my Wongs straight'
I'm tried of the political correctness that's ruined this country, but I'm more sick of the blatant double standards. If you want a PC society, then slimy Marxist Democrats like Harry Reid must pay the price for his racism and resign immediately.
This is of course the same Harry Reid who is making a big deal about the 'racist' name of the Washington Redskins football team. What's worse? A team name and logo that's been around for 50+ years that no one has ever complained about until Democrats started the faux controversy, or Reid's Asian cracks?
Read more
Texas RINO John Cornyn and Democrat Henry Cuellar have been working on the 'Humane' act, which will allow for quicker deportation of the diseased illegals invading the southern border. Turns out they are just wasting their time actually trying to get something done, because Dingy Harry Reid will not support the Humane Act, and wouldn't allow a Senate vote on it in the first place.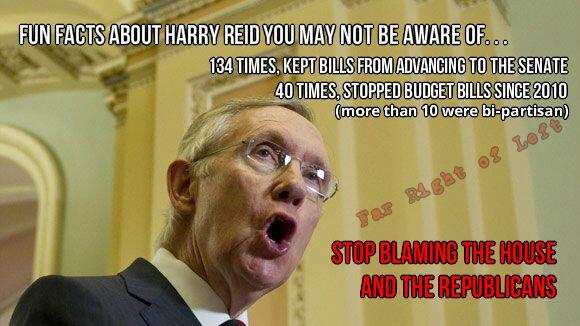 Dingy Harry Reid wouldn't support Cornyn-Cuellar HUMANE Act
Reid says he won't support cornyn-cuellar border bill

— Burgess Everett (@burgessev) July 15, 2014
OH NO!!! It's the end of the world as we know it! Iraq is on fire, Americans are being kidnapped an jailed by the Mexican police, and illegals are flooding the border in anticipation of Obama and the House GOP's amnesty. So what does Harry Reid do? He announces he wouldn't attend any more Washington Redskins games UNLESS the team changes it's 'offensive' name. Another nickname for the Washington Redskins is 'hogs.' I wonder if Dingy Harry Reid finds that name offensive to Muslims. I really hate progressives.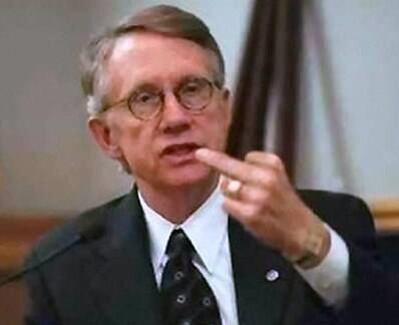 Harry Reid won't attend Redskins game until team changes name
KOCH BROTHERS! Harry Reid and his Communications Director Adam Jentleson have sunk to a new low. They are mocking the four dead at Benghazi. I guess should have expected as much from Dingy and his staff:
Adam Jentleson – Harry Reid's Communications Director mocks Benghazi
#Benghazi #BenghaziCoverUp #BenghaziEmails #BenghaziBenghaziBenghazi #BenedictCumberbatch

— Adam Jentleson (@AJentleson) May 2, 2014
BREAKING: Speaker Boehner literally changes name to Speaker Benghazi.

— Adam Jentleson (@AJentleson) May 2, 2014
Hey, remember Harry Reid's corruption trying to grab the Bundy Ranch via eminent domain? Now it's been discovered by Before It's News that Harry Reid's LLC called Reid Bunkerville, LLC that owns over 93 acres of undeveloped land near the Bundy Ranch. Reid's chickens are coming home to roost.
Harry Reid Bunkerville, LLC owns 93 acres of land near Bundy ranch
How does a shady progressive liberal Democrat from a small town like Searchllght, Nevada? In the case of Harry Reid, you use your power as Senator Majority (and Minority) leader to accumulate wealth and power, invest then sell stock in companies right before you slap regulations on them, and of course, suck up to the cocktail circuit leftists like Vegas, New York, DC and L.A. Today, Real Clear Politics released the first part of their two part series explaining how Dingy Harry Reid accumulated wealth and power while living on a public servant's salary. Did you know that this little weasel owns a one bedroom condo at the Ritz-Carlton in DC? Pretty good for $174,000 per year salary.
Harry Reid, his shady investments and wealth accumulation