Benghazi could have been prevented. If Obama hadn't switch sides in the war on terror and given al-Qaeda $500 million worth of US weapons, Benghazi wouldn't have happened. Yet again, we have Obama and Hillary Clinton to thank for four dead Americans in Benghazi Libya, all because Obama and Clinton wanted to play footsies with the Muslim terrorists.
Obama switched sides in the war on terror – gave al-Qaeda $500 million worth of weapons
Citizens Committee on Benghazi claims the US government allowed arms to flow to al-Qaeda-linked militants who opposed Muammar Gaddafi
Their rise to power, the group says, led to the Benghazi attack in 2012
The group claims the strongman Gaddafi offered to abdicate his presidency, but the US refused to broker his peaceful exit
The commission, part of the center-right Accuracy In Media group, concluded that the Benghazi attack was a failed kidnapping plot
US Ambassador Chris Stevens was to be captured and traded for 'blind sheikh' Omar Abdel-Rahman, who hatched the 1993 WTC bombing plot
More from Daily Mail UK (as usual, not American media):
Billions missing from the State Department under Hillary Clinton? What difference at this point does it make!? Six billion is reportedly missing, and Hillary Clinton reportedly wrote a check worth $50 million for 'services performed' under the State Department, that no one can find. The paperwork for Hillary Clinton's $50 million 'services rendered' was misplaced. Under Hillary, the Iraq Embassy in Baghdad us missing $2 billion alone that was allocated for it's construction.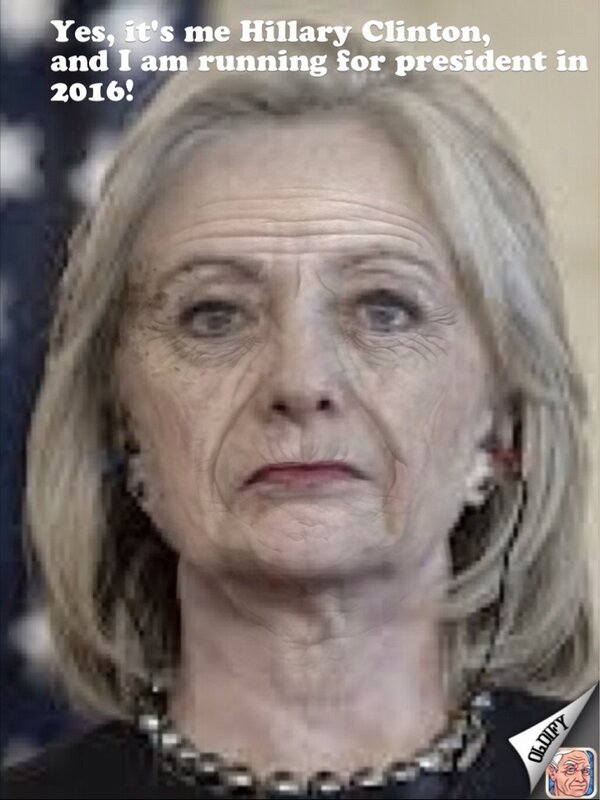 Hillary Clinton linked to missing State Department Billions
Hillary Clinton shoe dodging in Las Vegas yesterday has inspired many photoshop 'artists' to create parodies of Hillary. Twitchy found some of the best photoshop jobs of Hillary Clinton's 'dodge' yesterday: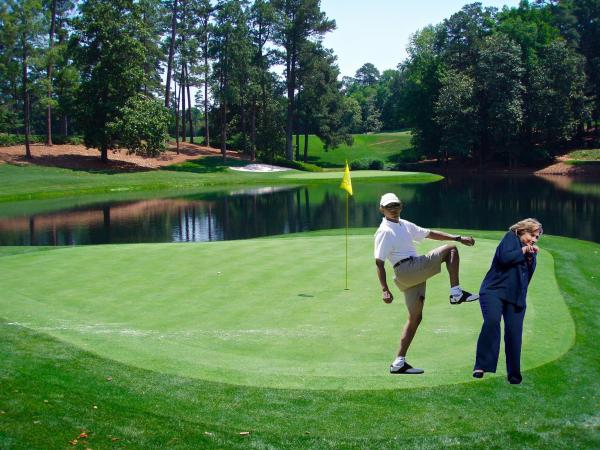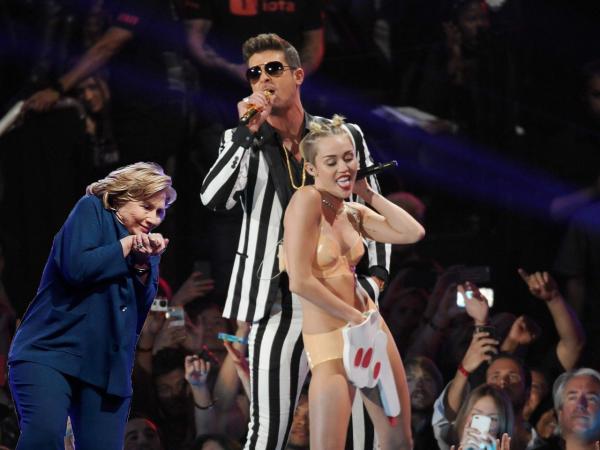 Funny Hillary Clinton shoe dodging photoshops
Heh. A woman was arrested in after allegedly tossing a shoe at Hillary Clinton during a speech in Las Vegas at the Mandalay Bay Convention Center. Hillary Clinton was already forced to cancel a speech in San Diego because she caused an uproar over her appearance and Benghazi. I guess they don't like her much in Vegas either. Hillary Rotten Clinton isn't beloved out west like everyone in the corrupt lame stream media would have you believe. Usually it's Muslims that throw shoes at people out of disrespect. Remember how the media had such a fun time when a Muslim tossed one at George W. Bush near the end of his presidency? Don't know if this woman was a Muslim and just jealous of Hillary love affair with Weiner's wife Huma Adebin, or just a regular American woman who hates Hillary's guts. Don't worry though. Hillary Clinton can always blame this on some Youtube video and use tax payer dollars to apologize to Muslims in Pakistan like she did Benghazi. There are plenty of those out there. Below is a photo of Hillary Clinton ducking to get out of the way of the shoe: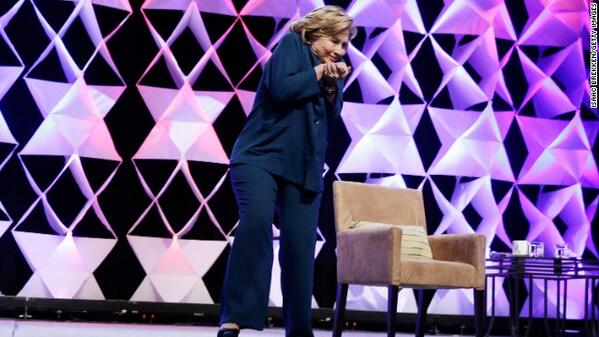 Woman throws shoe at Hillary Clinton during Las Vegas speech – Image credit: CNN
This is so awesome. Benghazi protesters in San Diego forced the cancellation of a Hillary Clinton appearance. Hillary Clinton is not welcome in San Diego. At least there's one major city lease in California that doesn't completely gone down the progressive liberal crapper like Los Angeles and San Francisco. The Butcher of Benghazi Hillary Clinton was scheduled to appear at the 17th Annual Western Healthcare Leadership Academy this month.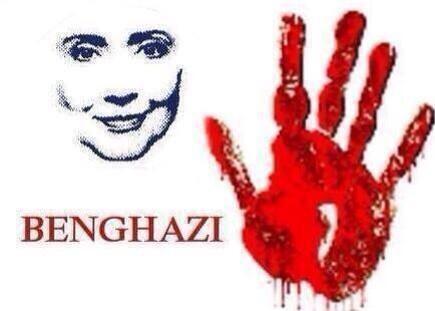 Hillary Clinton appearance in San Diego cancelled because of Benghazi protesters
Do Hillary Clinton PAC, Al Franken, and other progressive liberals support pedophiles? Then why else would they be following someone who guess the Twitter handle of @The_SRP or 'Max' on Twitter? According to Weasel Zippers, 'Max' is a member of "Virped" or "Virtuous Pedophiles." This is group of adult age men who claim they are pedophiles but do not act on their fantasies. They basically just fantasies about doing young kids, without actually doing it. The Ready for Hillary Clinton PAC, AL Franken, Unite Blue, and other progressive liberals are following this slug on twitter. Why?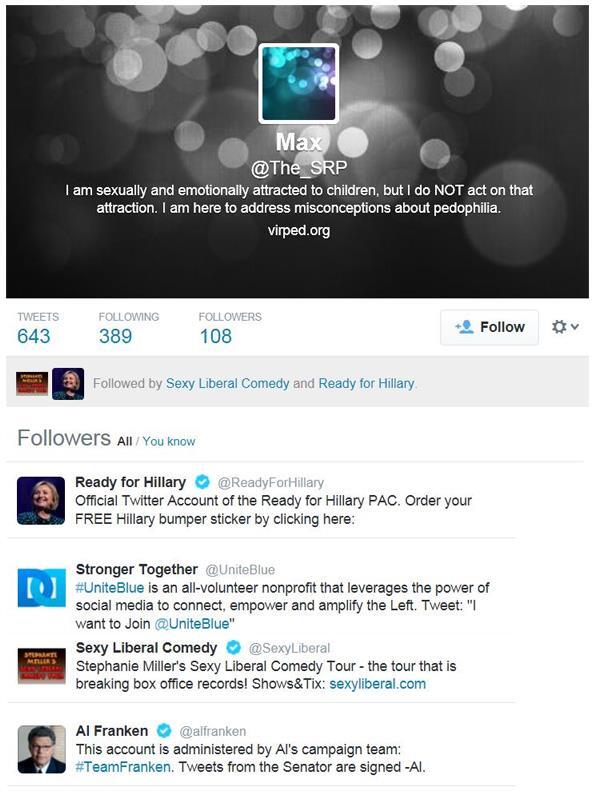 Hillary Clinton PAC, Al Franken follow Max of Virtuous Pedophiles on Twitter – Image credit @LeftyBollocks
Is it now considered 'progressive' to support pedophiles? @The_SRP is also followed by several other progressive liberal accounts, such as the NOh8 campaign, No labels campaign, various gay rights and atheist groups.
Read more
Hillary Rodham Clinton in 1975 defended an alleged pedophile who allegedly raped a 12 year old in his car. According to a 2008 Newsday article (which has suddenly disappeared from the Internet) Hillary Rodham supposedly questioned the sixth grader's honesty and claimed she had made false accusations in the past. Rodham/Clinton implied that the girl often fantasized and sought out "older men" like Taylor. The proof of Rodham/Clinton part is in a July 1975 affidavit signed "Hillary D. Rodham" in compact cursive. A year earlier, Hillary Rodham/Clinton was kicked off the Watergate committee for fraud and ethics violations. The alleged rape victim suffered severe depression and other personal problems since the incident. Here is yet another fine example of the progressive liberal Democrats war on women that they always accuse Republicans of waging. But you know, abortion on demand and all is really what are important to women according to these progressive Democrats like Hillary.
Hillary Rodham Clinton attacked 12-Year old rape victim's credibility in 1975
Are you ready for Hillary Clinton? Apparently progressive loons at the Democrat Executive Committee conference are ready for Hillary. Only one problem though. These progressive liberal Democrats can't name a single accomplishment by Hillary Clinton that would qualify her to be President. The following video of these progressive liberals not being able to name a single accomplishment from Hillary Clinton may make you laugh, cry or simply cringe.
Progressives can't name a single Hillary Clinton accomplishment
In Hillary Clinton's world, the four Americans dead in Benghazi were the result of a Youtube. Also in her world, Vladimir Putin is doing the same thing Adolf Hitler did. Only problem for Hillary Clinton is that Putin hasn't killed 6 million Jews, 2 million Poles, or millions of others. Hillary Clinton might wish Putin was like Hitler since she hates Jews, just like her Muslim Brotherhood linked Chief of Staff.
Everyone is convinced that Hillary Clinton will run for president in 2016 and waltz into the White House in 2017. But will she? Daily Caller reports that Hillary Clinton's health issues may be worse than originally reported. Of course, being a drunk like she is, this could be true. The Democrats have NOBODY to run for president in '16 other than Hillary. Who are they going to run? Joe Biden? Martin O'Malley? Elizabeth Warren?. Tabloids have even reported that Hillary Clinton has brain cancer, but I don't believe that. She would first need a brain in order to have such a problem.
Even during NBC's Olympic coverage, they can't put away their cheering for Hillary Clinton to win in 2016. Meredith Vieira who was subbing for Matt Lauer (who was subbing for pink eyed Bob Costas) used her Olympic platform to lobby for TJ Oshie to be Hillary Clinton's running mate in 2016. why? Because TJ Oshie scored the winning goal in the eight round of a shoot out to beat Russia in hockey. I don't know what Oshie's political preferences are, but it's no doubt what Vieira's are. Watch the following video of Meredith Vieira discussing how Oshie should be Hillary's running mate with Al Micheala and Mike Emrick.
Meredith Vieira wants TJ Oshie to be Hillary Clinton's running mate
The Hillary Papers, or the Diane Blair papers, whom Hillary Clinton once described as her closet friend wasn't supposed to get out into the public. What the Hillary Papers reveal about Clinton is just how ruthless she really is. Prior to this release, Hillary Clinton was best known for being fired from Watergate committee for fraud, ethics violations. But tonight, the Free Beacon reveals in never before seen memos what Hillary Clinton is truely all about. There's even the Clinton 'Sex Files' which has yet another woman named Kathleen Willey who claims that BJ Bill Clinton sexually assaulting her. This was in 1997, before the whole Monica Lewinsky fiasco.
The Free beacon's uncovering of these Blair memos reveals so much about Hillary Clinton. Progressive liberal will love the fact that she's for a single-payer health care system, like they have in Cubs. Hillary Clinton also didn't like all those 'whiny women' back in her days as first lady, because she needed Republican Senator Bob Packwood to help her get HillaryCare passed.
Hillary Clinton's blunt assessments were not confined to Monica Lewinsky. In a Dec. 3, 1993, diary entry, Blair recounted a conversation with the first lady about "Packwood"—a reference to then-Sen. Bob Packwood, an influential Republican on health care embroiled in a sexual harassment scandal.

"HC tired of all those whiney women, and she needs him on health care," wrote Blair. "I told her I'd been bonding w. creeps; she said that was the story of her whole past year. Fabio incident—sweeping her up, sending her roses."

Privately, the Clinton White House was acutely sensitive to public perceptions of President Clinton's treatment of women.

Supreme Court nominations were not immune from such considerations. In a three-page May 11, 1994, memo, Blair recounted her phone conversation with President Clinton about reservations he had about his preferred nominee to the high Court, the late Arkansas Judge Richard Arnold.

Noting Clinton allies had "really been trying to keep the women's groups in line since Paula Jones filing," Bill Clinton, according to Blair's account, was concerned feminist groups "might blow sky high" if he appointed Arnold to the Supreme Court. Arnold had ruled that the Jaycees club could bar women from full membership—a decision later overturned by the highest court in the land.
Read the Hillary Papers at the Washington Free Beacon.