Being an illegal alien in this country is a crime alone. But many of these 'innocent children' aka, illegals are violent thugs who commit violent crimes likes murder, rape and child molestation against Americans. Some victims of these horrific crimes by illegals have finally had enough and have invited the coward Weeper of the House John Boehner to visit the border. Obama was too chicken shit to visit the border, don't be surprised if Boehner is as well. Or, he may just break out the crocodile tears.
Victims of illegal alien horrific crimes invite Boehner to border
Obama's 'children' are becoming more and more violent as the border invasion from Central America continues. One such incident includes a game warden being hit in the head with a rock while trying to seize a raft full of illegal aliens. The assailant was a gang member wanted for murder. But remember, all these border invaders are just 'innocent' little children fleeing their countries because of violence there or something. These are the types of individuals that not only Democrats, but big business whore Republicans want to give amnesty to. These are the same types of people that Republican hack George Will wants to 'welcome to America' and give free education to. Yea, that would work out really well.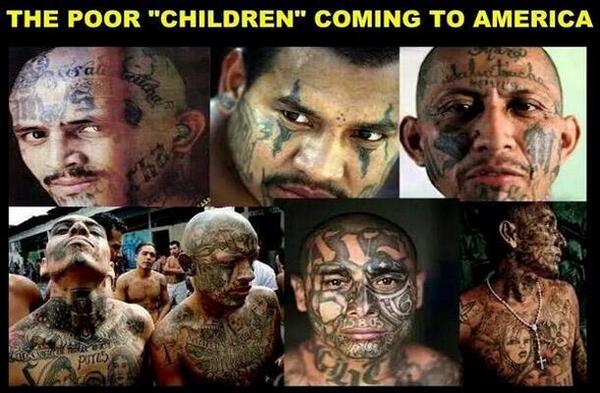 Assaults on law enforcement by illegals spikes
I guess I shouldn't be surprised that Delaware is planning to have separate classrooms for illegal alien kids who do not read or write English. I mean after-all, this is Delaware, the state that gave us the dumbest vice president in American history with Joe Biden and is a deep blue Democrat state. No habla English? No problemo in Delaware. If i didn't know any better, i'd think this was segregation, something that progressive liberal Democrats loved to do with blacks.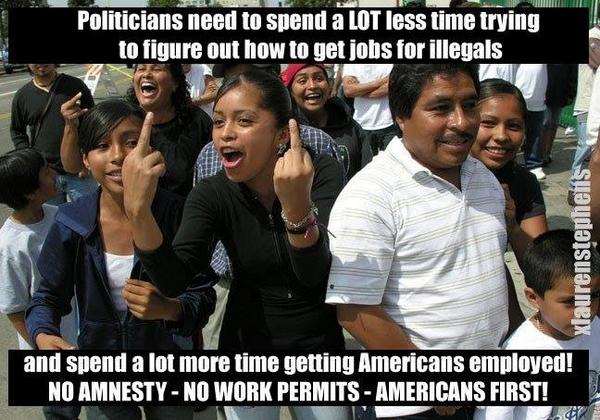 Delaware schools to have new classrooms for illegal alien minors
The Republicans caved again! Of course you knew all along that Weeper Boehner and the big business whores (The House Republicans) would eventually cave on amnesty didn't you? The new 'border bill' that will help for illegals invading this border through the end of the fiscal year does NOT contain any language barring Obama from unilaterally legalization of these diseased illegals. One of the few Senators left with any dignity (Jeff Sessions) ripped House Republicans for their surrendering to Obama.
House border bill a 'Surrender To a Lawless' Obama
George Will, long time ABC hack, turned Fox News hack (and Republican) is yet another open borders amnesty advocate. Will, the Karl Rove big government type Republican hack point blank said on Fox News Sunday today to give illegals amnesty, put them in schools, give them jobs, and say to them 'welcome to America.' So George, how many of the thousands of diseased illegals that have been grabbed over the last several months will you take? How many will you put in your home for free room and board? How many of these diseased illegals will you pay and give jobs to?
George Will is safe to keep attending those DC cocktail parties after these ignorant statements.
Read more
Obama's illegals, aka those 'poor children' have been arrested for 'allegedly' murdering a homeless man Amos Milburn Jones. Some of the six illegals are reportedly emmebers of the MS-13 gang. These scum beat and stabbed Amos Jones to death outside of a shopping strip in Suitland.
6 illegal alien MS-13 gang members arrested for murder
It's funny how progressives all whine about giving amnesty to illegals that are invading the southern border. Yet, when it comes to housing these illegals, not even progressive states like Maryland or Massachusetts want to bother. Check out the Mayor of Lynn losing it after being confronted by an amnesty advocate (via National Review)
Here, I'll say it. You border hoppers are criminals! The media may not want to call you that, but ILLEGAL IMMIGRANT is illegal, aka against the law. Get it?
Since the start of the year, the Obama regime via the HHS has released 30,340 diseased illegals in this country. Obama has released these illegals in all 57… err 50 states. Here is the list, with Texas leading the way with most illegals dumped: Totals from Gateway Pundit.
Obama regime has released over 30,340 illegals in the US
ALABAMA 407
ALASKA 5
ARIZONA 186
ARKANSAS 166
CALIFORNIA 3,150
COLORADO 221
CONNECTICUT 325
DELAWARE 117
DISTRICT OF COLUMBIA 187
FLORIDA 3,181
GEORGIA 1,154
HAWAII 8
IDAHO 8
ILLINOIS 305
INDIANA 245
IOWA 122
KANSAS 179
KENTUCKY 237
LOUISIANA 1,071
MAINE 8
MARYLAND 2,205
MASSACHUSETTS 773
MICHIGAN 92
MINNESOTA 173
MISSISSIPPI 179
MISSOURI 121
MONTANA 1
NEBRASKA 192
NEVADA 122
NEW HAMPSHIRE 13
NEW JERSEY 1,504
NEW MEXICO 18
NEW YORK 3,347
NORTH CAROLINA 1,191
NORTH DAKOTA 4
OHIO 360
OKLAHOMA 212
OREGON 50
PENNSYLVANIA 386
RHODE ISLAND 119
SOUTH CAROLINA 350
SOUTH DAKOTA 21
TENNESSEE 760
TEXAS 4,280
UTAH 67
VERMONT 3
VIRGIN ISLANDS 4
VIRGINIA 2,234
WASHINGTON 211
WEST VIRGINIA 10
WISCONSIN 50
WYOMING 6
TOTAL 30,340
Over 1,000 in Lousiana. They really are desperate to try and help Mary Landrieu win this fall huh? 2,234 in Virginia, over 1,100 in North Carolina? When did those two states become 'border states'? The pattern seems rather odd.
Obama and Valerie Jarrett's new, 'bold' idea to stop the border invasion from Mexico is to send US officials down to Honduras, to actively recruit people who want to claim refugee status and get citizenship (and all the benefits) in America. The New York Times latest puff piece explains just exactly what Obama/Jarrett are up to now with the so called 'refugees' from Honduras. Basically, this is just a fast track way to lure in the illegals, eliminating the need to cross through the 'dangerous' part of mexico. Excited yet?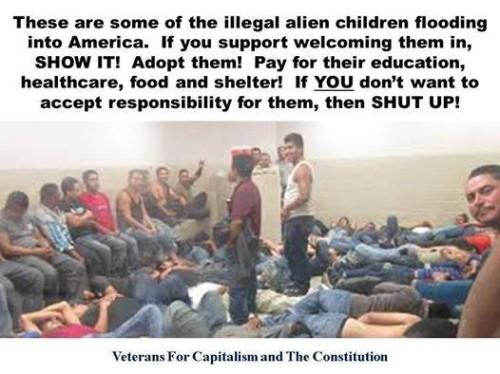 Obama to send officials to Honduras to give out refugee status
Quick! Someone get these 'kids' more toys and soccer balls! Meet the latest example of illegal 'children' that may soon by released by Obama. Jorge is a "confessed murderer" and member of the 18th Street gang. Jose Enrique is 16 years old and has what The Blaze calls "severe substance abuse" issues. Jose Enrique also likes to self-mutilate, and has demonstrated "very aggressive" and "vicious" behavior. Then we have 15-year-old Pablo Alexander admitted to federal law enforcement officers that he had "murdered two rival gang members." The last of the group is known as Jacob Alexander and is 17. He was been "involved in shootings/murder attempts". All four of these gangbangers came to Amwrica this month, starting in Honduras, going through El Salvador and Mexico, and arriving in Texas with no fear of punishment. These vermin scum, like other gangbangers flooding the southern border will be released to their guardians soon.
Obama to release illegal teens including 18th Street gang members