Not a lot of attention has been paid to the reaction of blacks on Obama's executive order amnesty. Many blacks feel Obama's amnesty is a slap in the face for all their support of Obama, even during the roughest times over thse past six years. Below is a collection of some reactions by leading black voices in America, compiled by Amy Ridenour's National Center Blog.
Joe R. Hicks, former executive director of the Greater Los Angeles chapter of the Southern Christian Leadership Conference:
President Obama strode into the White House promising to give the American people the audacity of hope. What we are witnessing instead, with his immigration agenda, is an audacious grab for power and an evisceration of the Constitution.

Having kicked the can down the road, obviously refusing to ruin his own chances for re-election in 2012, and tap-dancing on the issue until after the 2014 mid-term elections, Obama now disdainfully punches the amnesty card for upwards of five million illegal residents with the knowledge that almost half of all Americans polled oppose his maneuver.

With the stroke of a pen, Obama rewards those who arrogantly mock our border laws while simultaneously telling those hopeful immigrants still waiting patiently to lawfully come to America that they are chumps.

After these five million or so, what then? The magnet that draws illegal immigrants across the border just got stronger. They will come expecting, — no, demanding — to get "Obama's amnesty."

In 2010, defending his inaction on immigration issues, Obama said, "I'm president, I'm not king. I can't do these things just by myself." That's all changed, and the Constitution lies in tatters as a result.
Demetrius Minor, youth minister and motivational speaker:
Barack Obama really had the potential to be an iconic president. It's a shame he's now relegated to someone who will be remembered most for not only dividing a nation, but for circumventing Congress in order to push his personal agenda.
Stacy Washington, talk radio host:
Well, black liberals, sorry — but I have to put you on blast.

Every time this country has pardoned illegal immigrants, crime and black unemployment have gone through the roof. Don't believe me? Check the statistics from Reagan's congressionally-approved amnesty package. Not only did three times as many illegal immigrants as were promised become legal through the undiscovered intricacies of chain immigration, but the crime rate soared and black unemployment went through the roof.

Sorry again, black liberals. You just got dumped!
Black activists speak out against Obama amnesty
Great news! Not only will Obama's amnesty allow illegals to get benefits in this country such as welfare, but it will let criminals stay too. Illegals charged in kidnappings, rapes, drug running and drunk driver homicides will be allowed to stay in this country under Obama's amnesty. ¡Bienvenidos a los Estados Unidos de América illegals!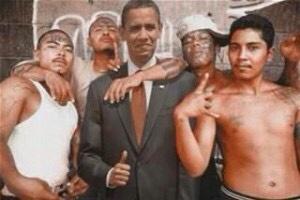 Obama Amnesty allows kidnappers, rapists, drug runners and drunk drivers to stay in US
On the not-so-tough side, the administration views convicted drunk drivers, sex abusers, drug dealers, and gun offenders as second-level enforcement priorities. An illegal immigrant could spend up to a year in prison for a violent crime and still not be a top removal priority for the Obama administration.
I guess nothing will satify the amnesty pimps in this country. Even after Emperor Obama gave amnesty to five million illegals, they still want more. Obama got heckled in Las Vegas during his propaganda speech about amnesty. BTW, why is Obama flying around the country campaigning? The mid term elections are over, and Obama is not up for any future election. Oh I get it, the 'stupid' AMerican people get to pay for it, so Obama goes to party in Las Vegas.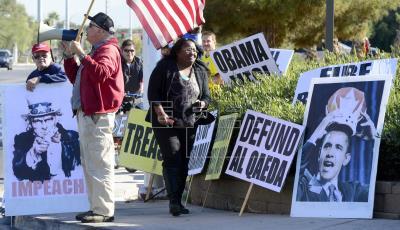 Amnesty pimps heckle Obama in Las Vegas (Video)
During Obama's amnesty speech last night, he quoted quoted scripture, specifically Exodus 22:21.
"And a stranger shalt thou not wrong, neither shalt thou oppress him; for ye were strangers in the land of Egypt."
So like, we oppress foreigners now, and we're in Egypt? Exodus 22:21 shows that Obama is now only corrupt, but also a biblical illiterate.
So let's see if I get this straight. If we give illegals the priorities over legal citizens who are trying to become legit citizens of this country, we are somehow oppressing them? If we don't want our tax dollars going to illegals draining the welfare system meant for actual, poor American citizens we are oppressing them?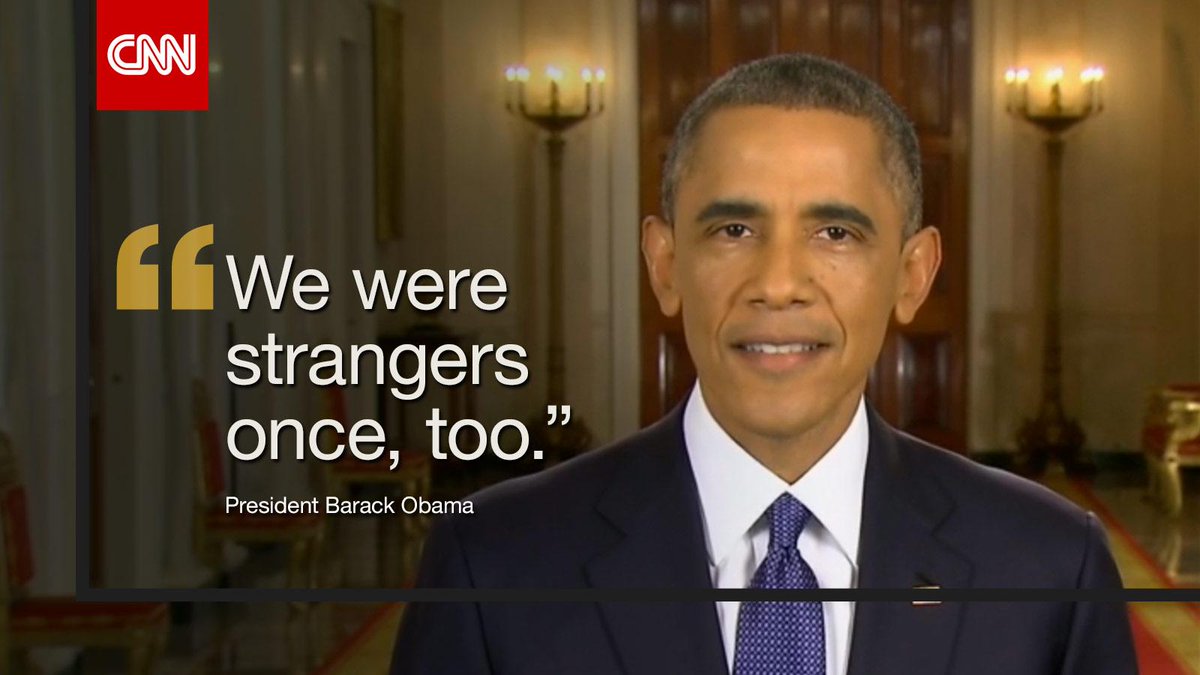 Obama quoted Exodus 22:21 in his amnesty speech
There's a big difference between the people who immigrated to this country in the late 1800's and early 1900's. They came her legally. They didn't hop any border fences meant to keep them out. And the vast majority of the first immigrants to this country never took a dime from the government, unlike illegal aliens today.
Read more
I thought ABC, CBS and NBC weren't going to carry Emperor Obama's executive order amnesty speech. Turns out they did, at least out here in California. All three networks carried Obama's full speech. The networks also kept their followers up to date on Twitter as Obama rambled on about how we are so evil about not allowing illegals to come here. Obama, who hates Christians even quoted scripture!
ALERT: @ABC News Special Report: Pres. Obama to announce executive action on immigration: http://t.co/YoGbFPNqdI pic.twitter.com/gwbjZEMTlm

— ABC News (@ABC) November 21, 2014
WATCH LIVE: President Obama announces executive action on U.S. immigration policy http://t.co/4dvKYD9jBj pic.twitter.com/9MPQsLCap0

— NBC News (@NBCNews) November 21, 2014
NOW: A special report with @ScottPelley and @plantecbs http://t.co/m8yORpGW3y pic.twitter.com/sdKiviY6Hq

— CBSN (@CBSNLive) November 21, 2014
Turns out CBS, NBC and ABC carried Obama's amnesty speech
Ethnic cleansing is what you want according to Democrats. Apparently, if you are against amnesty you are for ethnic cleansing. You know like the German National Socialists with Hitler? This is just the latest in the extremist progressive liberal Democrats handbook of hate to demean those who don't agree with them. Check out this tweet:
#priorities pic.twitter.com/drWCUWrFea

— The Democrats (@TheDemocrats) November 20, 2014
This is how far we've come as a country under Obama and liberal progressive extremist rule. Don't you dare disagree with us, or we'll claim you for ethnic cleansing. I mean come on already! I know Democrats are imploding after the mid-term election, but ethnic cleansing? Really Democrats?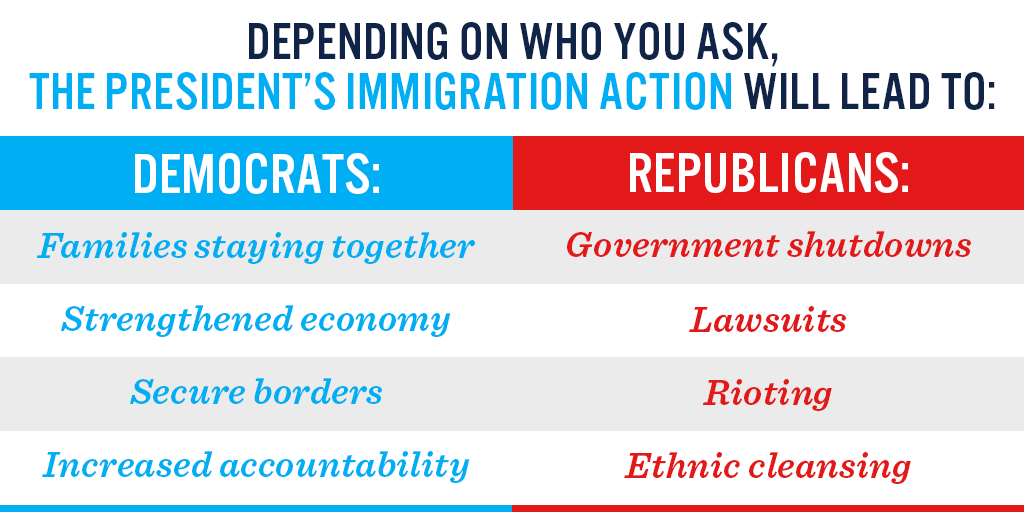 Ethnic cleansing Democrats on Twitter say anti-amnesty people are for that
I wonder how long it will be before these idiot Democrat delete this tweet. This is beyond pathetic, even for progressives.
Obama's executive order amnesty plans are starting to leak out before he gives his propaganda speech tonight. The biggest change in the Obama amnesty power grab will be to allow parents of anchor babies to apply for work permits and 'deferred deportation.' This will likely affect at least 4-5 million illegals already in this country.
Also, those who receive these benefits will get it for at least three years. They will be eligible for benefits such as welfare and ObamaCARE (if you can really call that a benefit).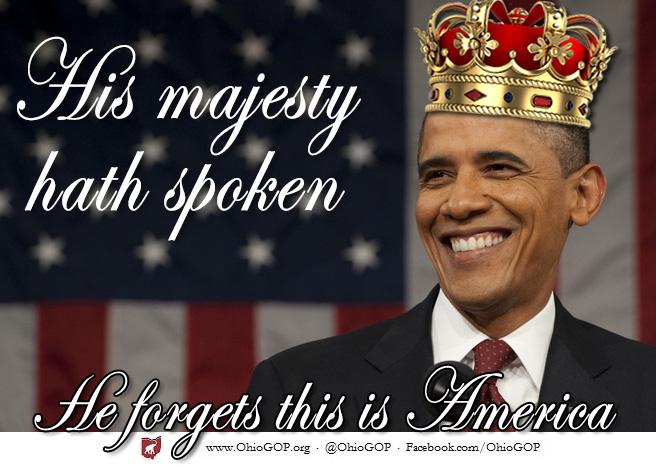 Obama amnesty: Anchor baby parents can get work permits and deferred deportation
The moves are all aimed at "bringing some accountability to our broken immigration system," a senior administration official said Thursday.
Democrats really are imploding. Botox Nancy Pelosi follows James Clyburn comparing Obama's executve order amnesty power grab to Lincoln's Emancipation Proclamation. Watch and laugh:
Pelosi pulls a Clyburn – says Obama amnesty power-grab is like Emancipation Proclamation – Video: Truth Revolt
Hey Nancy. Lay off the botox already. It's rotting whatever is left of your brain. It's time to retire to your wine vineyards or something.
I'm sure Botox Pelosi has plenty of illegals picking grapes at her wine vineyards. If Nancy Pelosi is so anxious to let illegals into this country, why not put them up for room and board at your lavish home Nancy?
Obama will announce amnesty during the Latin Grammy awards tonight. The entire show will be stopped as King Obama announces amnesty for five million illegals. But Obama also picked November 20th for another reason. It's National Revolution Day in Mexico too. Yet another amazing coincidence I'm sure.
Obama picks Revolution Day in Mexico to announce amnesty
Obama's executive order amnesty is going to be so bad for extremist liberal progressive Democrats that neither ABC, NBC or CBS will even air Obama's prime-time speech tomorrow when he announces executive order amnesty for at least five million illegals. Univision will cover it, as will the cable news networks. The 'speech' will be on at 8pm eastern tomorrow night. This means for Fox News, Obama's speech will preempt Obama defender Bill O'Reilly.
Just reported @CNN TV: ABC, NBC, CBS won't be airing Obama's prime time immigration speech Thurs. But @JakeTapper notes that Univision WILL.

— Brian Stelter (@brianstelter) November 19, 2014
NBC, ABC or CBS will not air Obama's amnesty speech