Biden being Biden. Remember back in 2010 when Biden the idiot said that Iraq would be one of Obama's greatest achievements? Remember when he said how stable the Iraq government is? Yea, he said all that back in 2010 to hunchback Larry King.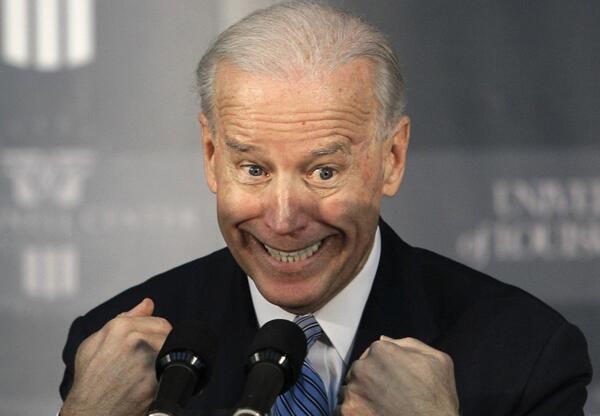 Joe the Biden said this about Iraq and Obama regime in 2010
One heartbeat away. Oy vey.
Obama couldn't be bothered with attending the one year memorial of the Boston Bombing by Russian Muslim terrorists. Instead, he sent idiot Joe Biden who said the Boston Bombing was 'worth it.' Yes, Biden the moron actually said the terrorist attack was worth it. Imagine for a second of Dick Cheney said in 2002 on the anniversary of 9/11 that it was worth it. Yea…
Dumbass Joe Biden says Boston Bombing was worth it
VP Biden just told Boston bombing survivors: "It was worth it"

— RickLeventhalFoxNews (@RickLeventhal) April 15, 2014
VP Biden: "my god, u have survived & u have soared. it was worth, it was worth it. i mean this sincerely, just to hear each of u speak."

— RickLeventhalFoxNews (@RickLeventhal) April 15, 2014
One heartbeat away.
That didn't take long. The Kansas City Star just hours after the Nazi shooting up the Jewish Community Center began politicizing the shooting as a call (again) for more gun control. Their tweet read "We cannot accept the deaths of innocent people as a part of living in a free country."
Editorial on #jccshooting – "We cannot accept the deaths of innocent people as a part of living in a free country." http://t.co/uUvPvw2AmI

— Kansas City Star (@KCStar) April 14, 2014
The ghoulish article by the Kansas City Star was posted just a couple hours after the #jccshootings yesterday in Overland Park, even before details about the shooter became publicly known.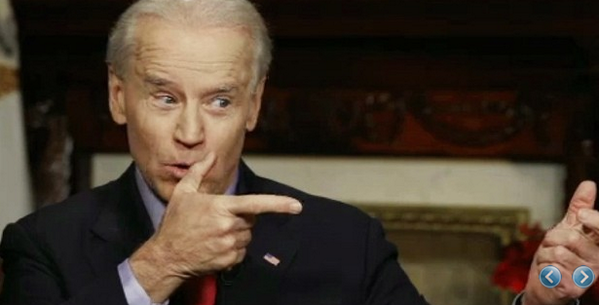 Kansas City Star "We cannot accept the deaths of innocent people as a part of living in a free country."
What the Kansas City Star doesn't mention is that the neo-Nazi shooter used a Joe Biden endorsed shotgun. He didn't use one of those 'evil' AR-15s like the left was hoping for.
As is the case with the Navy Yard shooting, Joe Biden has blood on his hands. The shooter followed Biden's recommendations to 'buy a shotgun, buy a shotgun!" Of course the Kansas City Star wouldn't print that though.
When you think of 'working out' do you think of Obama and idiot Joe Biden? When you work out, do you think of people in shirts and ties? I don't, but apparently with Moochelle's Let's Move campaign, they do. Check out the following loony toons video of Obama and Biden 'jogging' for exercise.
Obama and Biden appear in looney Let's Move video
Obama isn't exactly fit and tone with his manboobs that sag on the beaches of Hawaii. Joe Biden is what? 1000 years old?
I wonder how much these stupid video cost the tax payers? This is about as bad as that Richard Simmons video that was made for California to get people signed up for ObamaCARE.
Joe Biden at a black history month event made this stupid statement: I may be a white boy, but I can jump. Just another friendly reminder that this is the 'man' who is one heartbeat away from the presidency. I hope a video of this gets released. Joe Biden's I may be a white boy, but I can jump can be found in the following press report:
Caroline Biden is the niece of idiot Vice President Joe Biden. So reallly is a Biden, as she's been forced to enter rehab for 'anger issues.' I guess the Biden apple doesn't fall from the tree with Caroline. The nutty Biden's always have something going on. It's all cool though because your tax dollars will be pay for Biden's rehab.
Joe Biden told Americans to 'buy a shotgun, buy a shotgun' instead of those 'evil' automatic weapons like AR-15s. Looks like that's exactly what the Columbia Mall shooter did, leaving three dead (including himself) in the 'gun-free zone' of the mall.
"@msnbc: Details from a witness at the Columbia shopping mall. WATCH: http://t.co/5dv8eFUeoC" ANOTHER LUNATIC W/A SHOTGUN; PER JOE BIDEN

— MJ Dunstan (@DunstanMJ) January 25, 2014
I know you loons were PRAYING that columbia shooter was armed w/ an #AR15. 2 bad it was a shotgun just like #VP recommended. #TLOT #TCOT #2A

— #tscott (@ScottInSC) January 25, 2014
Breaking Columbia Mall Update: gun found near suspected shooter type of gun "ShotGun" #ColumbiaMallShooting

— Eyes On Us Media (@EyesOnUsMedia) January 25, 2014
Blood on Biden's hands – Columbia mall shooter used a shotgun
The blood stains on Joe Biden's hands are getting almost as bad as Hillary Clinton at this point. Buy a shotgut, buy a shotgun! Thanks a lot crazy Uncle Joe Biden!
Obama once again snubs Israel and wouldn't bother to attend the funeral of Ariel Sharon. Unlike Obama's attending the funeral of Nelson Mandela last month, Obama will instead sent the dumbest Vice President in America history Joe Biden. I would have really enjoyed seeing some selfies of Obama and the Denmark Prime Minister again with Michelle Obama's scowls.
Buy a shotgun, buy a shotgun! Those were the words of VP Idiot Joe Biden because he didn't like so many people buying AR-15s. Back in February Joe Biden told Americans to buy a shotgun instead of an AR-15. The Arapahoe gunman did, and the rest is now bloody history.
Blood on Joe Biden's hands – Arapahoe gunman used shotgun
The leftist media is really pissed off that the Arapahoe gunman didn't use an AR-15. Thanks Joe Biden! You're advice lead to yet another shooting with two people injured and the gunman dead. It's going to be tough for you Joey to wash the blood off your hands over this one.
Merrill Newman was released or 'deported' from North Korea after a month in captivity. The North Koreans were satisfied with Newman reading the propaganda letter on North Korean TV apologizing for 'American hostilities' and they let him go. Obama, Biden, John Kerry and the rest of the eggheads in the White House didn't lift a finger to get Merrill Newman. Biden tried to use Merrill Newman as propaganda back in America, offering him a ride home on Air Force Two. Biden is currently bumbling and stumbling in South Korea. Newman, didn't want any part of Air Force Two or Biden, and instead decided to take a direct flight to San Francisco (he lives in Palo Alto). Newman knows the government didn't life a finger to secure his release from North Korea.
Vice President Joe Biden, who is currently in South Korea on a three-nation Asian tour, praised North Korea for releasing Merrill and said he played "no direct role" in securing the veteran's release.

Biden said he offered Merrill a ride home on Air Force Two, but said the Palo Alto, Calif. resident decided to take a direct flight to San Francisco, so he could return home more quickly.

"We are pleased that Mr. Merrill Newman has been allowed to depart the (Democratic People's Republic of Korea) and re-join his family," Deputy State
Read more