OMFG! Call the news! Joe Biden finally spoke the truth for once in his over 40 year political career. Biden didn't say anything about his cocaine snorting son being kicked out the Navy because they caught Hunter Biden snorting cocaine. Instead, Biden said the last six years have been really hard in this country. Really now Uncle Joe? I Never would have noticed that on my own.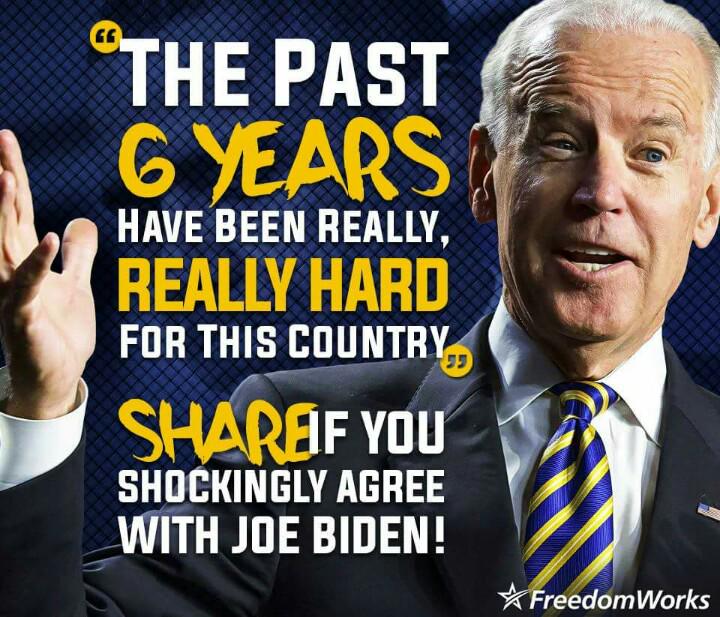 Biden speaks the truth: last six years really hard for this country
Thanks Captain Obvious! Now go get your son Hunter Biden some help for his cocaine snorting.
So Hunter Biden was discharged by the Navy because he tested positive for cocaine. Of course, if your father was the absolutely dumbest, and most embarrassing Vice President in American history, I might have some sympathy for Hunter Biden. It's hard being the son of such a world class laughing stock.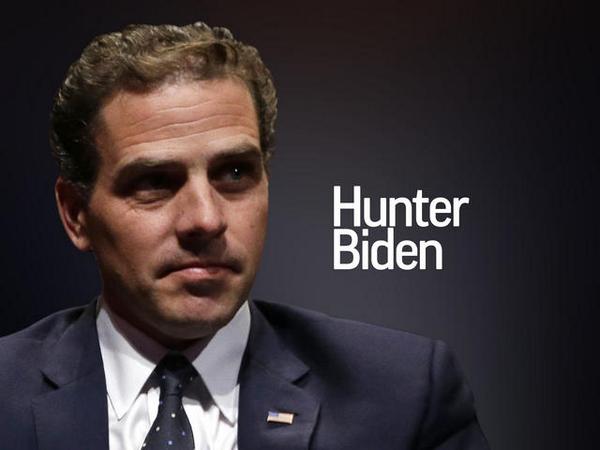 Biden's son Hunter discharged from Navy for cocaine
I wonder how many blow parties Hunter Biden joined at the White House with choomganger Barry Hussein Obama.
Read more
So now Joe Biden is a racist too. We already knew he was a plagiarist, and the dumbest Vice President in American history. But today, while campaigning for the Democrat candidate for governor in South Carolina, Biden declared himself to be 'the only white boy on the east side of Wilmington.' Joe Biden is lucky he's a Democrat, and the media licks his and Obama's butt. Had this been Dick Cheney, or any Republican Vice President saying this, there would be 24/7 media coverage and the Congressional Black Caucus demanding him resign.
Racist Joe Biden says he is: 'the only white boy on the east side of Wilmington'
Biden's words of racism are buried deep in a CNN article about Biden's campaigning today.
Hey, remember back in 2012 when Mitt Romney was right on basically everything about Russia? Let's also remember back in 2012 that Joe Biden, the dumbest Vice President in American history claimed that if Romney won that election, 'we go to war with Syria'. Well, Romney didn't win, and tonight we are at war with Syria. Thanks a lot there crazy Uncle Joe.
Biden 2012: If Romney wins, we go to war with Syria (Video)
Two months before the 2012 presidential election, Vice President Biden warned on the campaign trail that Mitt Romney wanted to go to war with Syria.
"He said it was a mistake to set an end date for our warriors in Afghanistan and bring them home. He implies by the speech that he's ready to go to war in Syria and Iran," Biden said in his speech.
Biden also went after the Republican presidential nominee when Romney called Russia America's "number one geopolitical foe."
"He wants to move from cooperation to confrontation with Putin's Russia," Biden said. "And these guys say the president's out of touch? Out of touch? Swiss bank account, untold millions in the Cayman Islands. Who's out of touch, man?"
Biden being Biden. Remember back in 2010 when Biden the idiot said that Iraq would be one of Obama's greatest achievements? Remember when he said how stable the Iraq government is? Yea, he said all that back in 2010 to hunchback Larry King.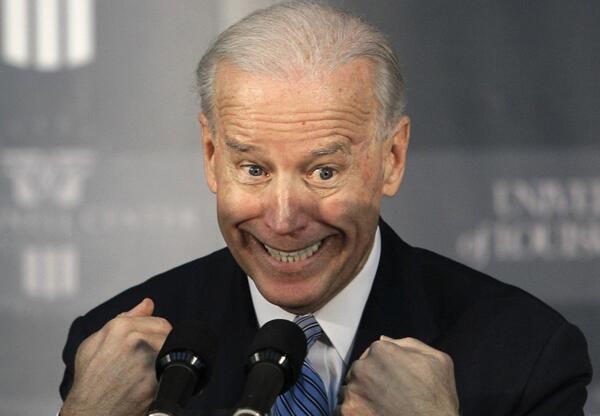 Joe the Biden said this about Iraq and Obama regime in 2010
One heartbeat away. Oy vey.
Obama couldn't be bothered with attending the one year memorial of the Boston Bombing by Russian Muslim terrorists. Instead, he sent idiot Joe Biden who said the Boston Bombing was 'worth it.' Yes, Biden the moron actually said the terrorist attack was worth it. Imagine for a second of Dick Cheney said in 2002 on the anniversary of 9/11 that it was worth it. Yea…
Dumbass Joe Biden says Boston Bombing was worth it
VP Biden just told Boston bombing survivors: "It was worth it"

— RickLeventhalFoxNews (@RickLeventhal) April 15, 2014
VP Biden: "my god, u have survived & u have soared. it was worth, it was worth it. i mean this sincerely, just to hear each of u speak."

— RickLeventhalFoxNews (@RickLeventhal) April 15, 2014
One heartbeat away.
That didn't take long. The Kansas City Star just hours after the Nazi shooting up the Jewish Community Center began politicizing the shooting as a call (again) for more gun control. Their tweet read "We cannot accept the deaths of innocent people as a part of living in a free country."
Editorial on #jccshooting – "We cannot accept the deaths of innocent people as a part of living in a free country." http://t.co/uUvPvw2AmI

— Kansas City Star (@KCStar) April 14, 2014
The ghoulish article by the Kansas City Star was posted just a couple hours after the #jccshootings yesterday in Overland Park, even before details about the shooter became publicly known.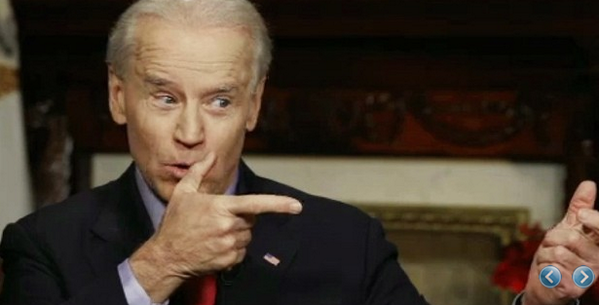 Kansas City Star "We cannot accept the deaths of innocent people as a part of living in a free country."
What the Kansas City Star doesn't mention is that the neo-Nazi shooter used a Joe Biden endorsed shotgun. He didn't use one of those 'evil' AR-15s like the left was hoping for.
As is the case with the Navy Yard shooting, Joe Biden has blood on his hands. The shooter followed Biden's recommendations to 'buy a shotgun, buy a shotgun!" Of course the Kansas City Star wouldn't print that though.
When you think of 'working out' do you think of Obama and idiot Joe Biden? When you work out, do you think of people in shirts and ties? I don't, but apparently with Moochelle's Let's Move campaign, they do. Check out the following loony toons video of Obama and Biden 'jogging' for exercise.
Obama and Biden appear in looney Let's Move video
Obama isn't exactly fit and tone with his manboobs that sag on the beaches of Hawaii. Joe Biden is what? 1000 years old?
I wonder how much these stupid video cost the tax payers? This is about as bad as that Richard Simmons video that was made for California to get people signed up for ObamaCARE.
Joe Biden at a black history month event made this stupid statement: I may be a white boy, but I can jump. Just another friendly reminder that this is the 'man' who is one heartbeat away from the presidency. I hope a video of this gets released. Joe Biden's I may be a white boy, but I can jump can be found in the following press report:
Caroline Biden is the niece of idiot Vice President Joe Biden. So reallly is a Biden, as she's been forced to enter rehab for 'anger issues.' I guess the Biden apple doesn't fall from the tree with Caroline. The nutty Biden's always have something going on. It's all cool though because your tax dollars will be pay for Biden's rehab.