Michael Robert Hoyt is the new hero of Democrats. He was arrested for 'allegedly' threatening to poison John Boehner's drinks. So what do liberal Democrats do on social media? Basically laud him as their new hero. Move over gangsta thugs, Michael Robert Hoyt is now the face of the Democrat party.
This guy could've been a modern day hero. Beohner is scum: "Report: Boehner's bartender planned to poison him" http://t.co/5Mw6WuDvbU

— Trevor Engstrom (@trevorengstrom) January 14, 2015
Here's an example of a liberal Democrat feminist calling Michael Robert Hoyt a hero:
American Hero? RT @cnnbrk: John Boehner's former bartender made plans to poison House speaker's drink. http://t.co/JUPOK4vGTp

— Amy McCarthy (@aemccarthy) January 14, 2015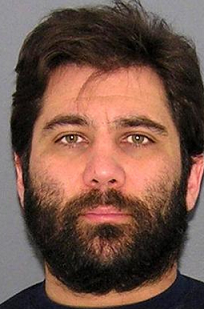 Michael Robert Hoyt is the new hero of Democrats
Here's a black female who likes Hoyt:
Read more
Michael Robert Hoyt a former Wetherington Country Club bartender 'allegedly' threatened to poison Boehner's wine, and even to shoot and kill him. Ohio progressive liberals like Michael Robert Hoyt are now trying to poison the drink and kill the Speaker of the House John Boehner. Michael Robert Hoyt also blamed SpeakerJohn Boehner for Ebola. Oh, this Ohio bartender also threatened to shoot and kill Boehner too. I would think even the leftist in Ohio like Michael Robert Hoyt would love Boehner considering how he's been Obama's bitch for four+ years. I guess there's just nothing you can do to please a progressive liberal these days.
JUST IN: Ohio bartender threatened to kill Speaker Boehner by poisoning his drink or shooting him, federal criminal complaint states – @WCPO

— ABC News Politics (@ABCPolitics) January 13, 2015
MORE: Speaker Boehner "is aware of this situation" and thanks law enforcement agencies "for their efforts," spokesman says – @jparkABC

— ABC News Politics (@ABCPolitics) January 13, 2015
Michael Robert Hoyt Ohio Wetherington Country Club bartender threatened to kill Boehner
It's amazing isn't it? No matter how much conservatives hate/hated Pelosi when she was Speaker of the House, you never heard of such threats against her life. Progressives like Michael Robert Hoyt have really progressed.
It has been widely reported that over 3.7 million people took to the streets all over France today for the Unity Rally in support of Charlie Hebdo and the four Jewish men killed at a Kosher grocery story by Muslim terrorists last week. Did you notice that the protesters in France didn't leave a bunch of garbage around? Did you also notice that the protesters in France didn't burn down any buildings, didn't loot any businesses and didn't destroy any property?
The so called 'Black Lives Matter' protesters can learn a lot from these protesters in France. If you truly believe in a cause that is worthy of a protest, you don't need to looting businesses, burn down people's dreams and destroy property. You can march and protest peacefully, no matter how misinformed you may be. It might even do a lot for your 'Black lives matter' cause.
The protesters in France didn't interfere with road traffic of people trying to get somewhere important. They didn't interrupt people eating meals at a restaurant. They didn't even do that stupid 'die-in' thing either.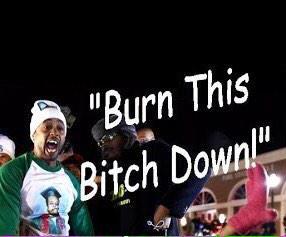 Difference between Paris and #blacklivesmatter protesters
When will American leftists learn that what they do is not protesting or demonstrating? It's anarchy. If you want to see what see demonstrating really is, look at the French people this past week. You could also look at the Japanese people after the big 9.0 earthquake they had. No one looted, rioted or burnt down buildings.
Read more
A thug rammed a Port Authority police cruiser outside the Holland Tunnel in Manhattan. According to FOX5, the thug said he rammed the Port Authority police cruiser because he wanted to kill cops. The thus is not even from New York, he's from Pennsylvania. So now the anti-cop leftists are importing wannabe cop-killers from other states to do their dirty work.
Police officers pulled the driver out of the wrecked Audi. The 24-year-old man from Pennsylvania said he wanted to kill cops, sources told Fox 5's Lisa Evers. He was taken to Bellevue Hospital Center to be treated for his injuries.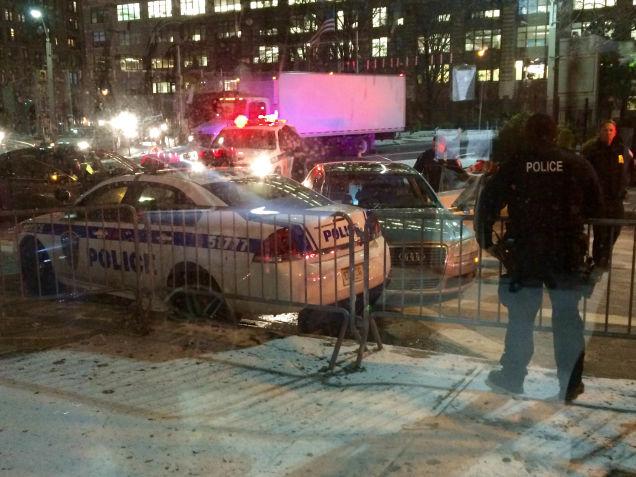 Thug rams Port Authority police cruiser – wanted to kill cops
John Cardillo had the prefect response for #blackbrunch thugs who were interrupting innocent people's Sunday brunch all over the country yesterday. Check out what a contributor to The Blaze wrote on Twitter yesterday:
I'm really enjoying these Eggs Benedict so move along now. #BlackBrunchNYC pic.twitter.com/33lMgtJVAt

— John Cardillo (@johncardillo) January 4, 2015
As you would expect, this pissed off a lot of leftist and black thugs. Check out some of the response John Cardillo got:
#NeverLovedUs "@XLNB: What is with white conservatives and finding joy in pointing/suggesting gun violence towards black people?"

— The 17th Duck M.Ed (@ViciousFord) January 4, 2015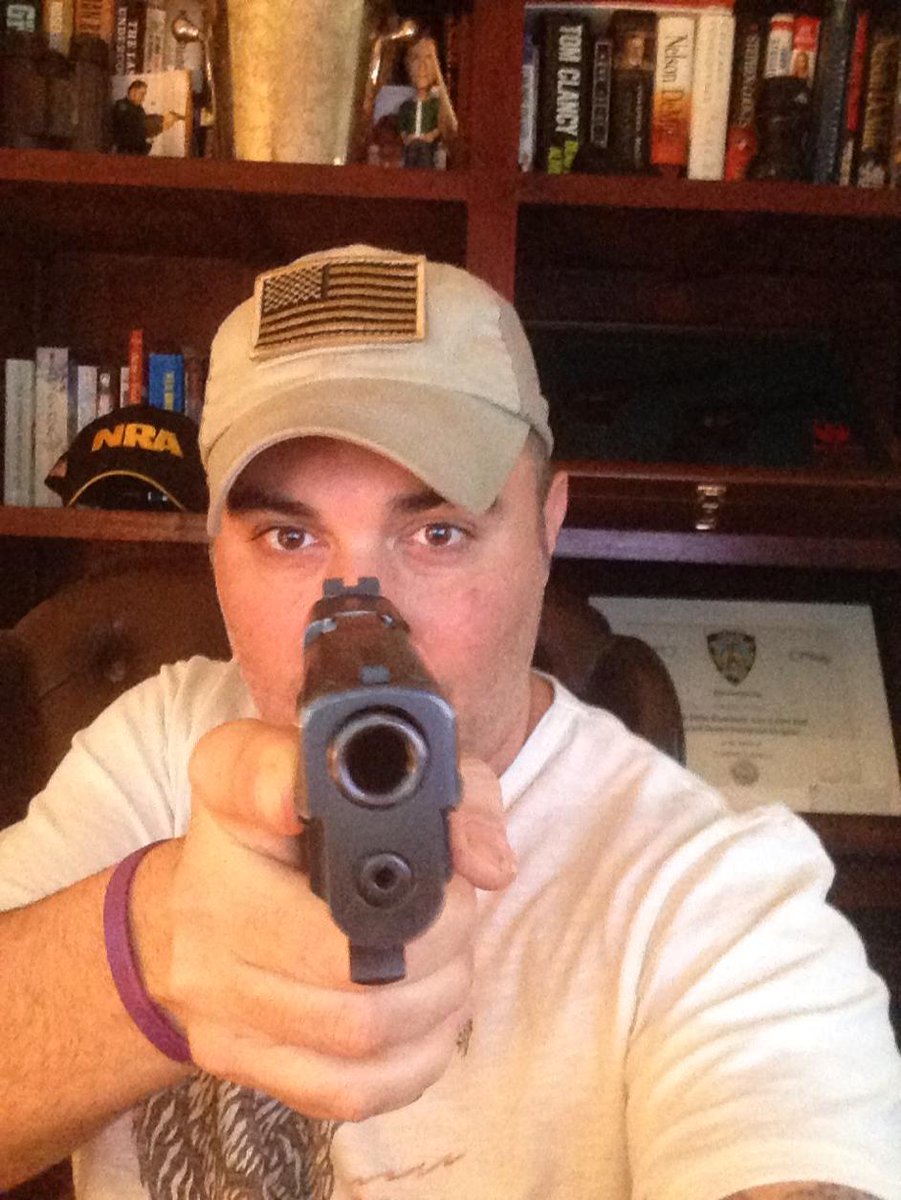 John Cardillo has the prefect response for #blackbrunch thugs
What is it with white and black leftists who feel the to loot, interrupt breakfast and funerals, and burn down cities showing anger towards cops?
This is just one of the examples of the hypocritical leftists trying to scold Cardillo for his tweet.
Read more
I'll break your jaw old man was one of the things said at a 'peaceful' I can't breathe protest in Oregon. What's funny about this protest is that it was at far left liberal Senator Ron Wyden's townhall. The video, posted by Laughing at Liberals on Youtube demonstrates these thugs trying to push their way in to Wyden's townhall: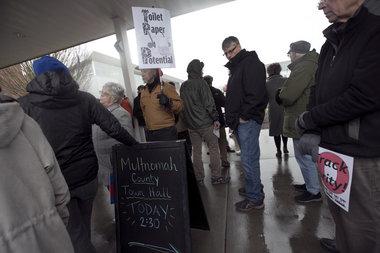 I'll Break Your Jaw Old Man – black thug threatens cop in Oregon VIDEO
The *peaceful* Ferguson protesters threaten to punch a public safety officer at a Senator Ron Wyden town hall, as the protesters started to flood the room. They find another door that someone opens for them, and complete chaos erupts inside, as the protesters take over the town hall and proclaim "It's our town hall now!"
Also at this townhall, U.S. Navy veteran Dario Raschio who is 100 years old was being honored. Didn't matter to these thugs though.
It got so bad for Ron Wyden and his cowardly liberal Democrat crew that they had to flee the townhall when these 'I can't breathe' thugs took it over basically. It's just basically same shit new day. Animals being animals. It isn't going to change. Add in the leftist crowd who wants a $15 minimum wage, and you have some real chemistry there.
Julie Bush another police hating leftist likes to protest the evil LAPD cops. But Julie Bush doesn't like it when you run into problems with your Hollywood anti-cop protest. Julie Bush, who has written a couple of episode of Sons of Anarchy was bragging about the Hollywood LAPD/Police protest the other day:
I stopped by the protest @ Hollywood and Highland. We just reached hands across Hollywood & shut down the street. A car busted thru our line

— J Bush (@julie_bush) December 28, 2014
Oops. A little problem at the anti-cop protest in Hollywood. What ever shall a leftist do? How about call the police or 911 for help:
and knocked down one of our protestors. We're calling 911 now. This thing is intense

— J Bush (@julie_bush) December 28, 2014
Wait. I thought you hated the cops Julie Bush? Isn't that why you stopped by the Hollywood anti LAPD rally in the first place?
Later, a video came out and proved Julie Bush is a filthy liar too, as no one was actually knocked down by a moving car at the Hollywood protest.
This is why I really enjoy watching leftists melt down on social media over their absolute hatred for cops. They expose themselves as being so utterly hypocritical and stupid.
Read more
Deck the halls with rows of dead cops seems to be the new favorite 'Christmas carol' of Al Sharpton leftists, at least in Portland, Oregon. Check out the following video by Laughing at Liberals as leftists 'sign' deck the halls with rows of dead cops, block traffic and even block a handicapped old lady from getting on her bus. All in the name of Mike Brown and Eric Garner, egged on by Al Sharpton. This video was shot last night.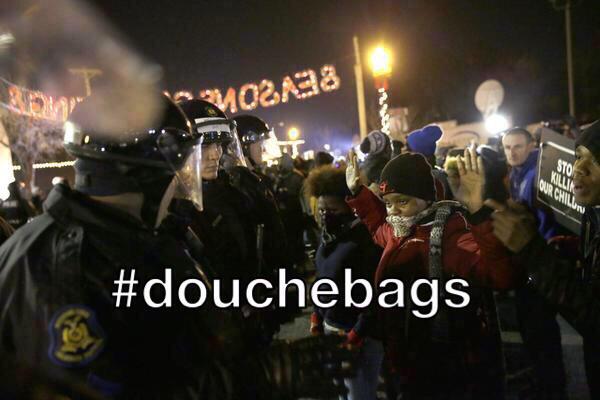 Deck the halls with rows of dead cops VIDEO
The funny thing about this video is that the Al Sharpton leftists who are singing deck the halls with rows of dead cops and blocking elderly, handicapped women from getting on her bus are mostly lily white, self hating progressive leftists.
There aren't too many blacks shown in this video of Deck the halls with rows of dead cops 'signing' in Portland. Maybe these protesters are really the racists or something?
These self hating, trust fund baby lily white trash leftists should be making their parents proud. First it's 'what do we want, dead cops, when to do want them now', that lead to the death of two NYPD officers. I wonder what this deck the halls with rows of dead cops will lead too. Portland police really better be watching their backs now.
NYPD Officer Rafael Ramos funeral is set for Saturday, December 27th and leftist thugs are already planning to protest and 'march' as the family of NYPD officer Rafael Ramos mourn the loss. Ramos and officer Liu were shot execution style by a black Muslim leftist in a 'revenge' killing for Eric Garner and Mike Brown. Obama can't be bothered with attending, and is sending in clown Joe Biden instead.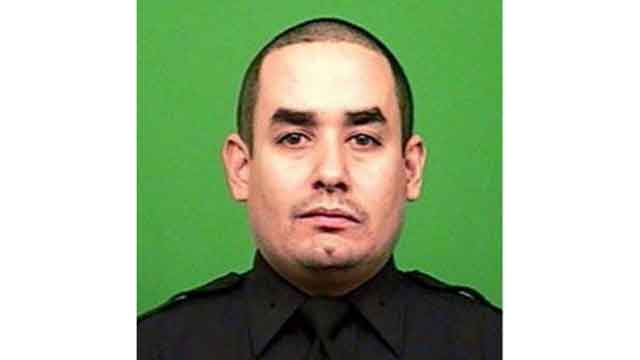 Leftists plan to start up during Rafael Ramos funeral
Leftists who plan to protest Rafael Ramos funeral will once again display just how absolutely pitiful they really are. Because as you know, Officers Ramos and Liu are like totally responsible for what happened to Eric Garner or something right?
It's amazing how similar radical leftists are in this country to radical Muslims overseas. Take for instance Sweden, where a gang of Muslim thugs torched 10 police cars at a police station.
Friday night a gang of about 10 people attacked the local police station in Farsta in southern Stockholm area.

The gang, which consisted of "younger men", poured flammable liquid over 4-5 police cars parked outside the station. They also blocked the door leading from the station to the parking lot, to prevent the cops from coming out and extinguish the fire.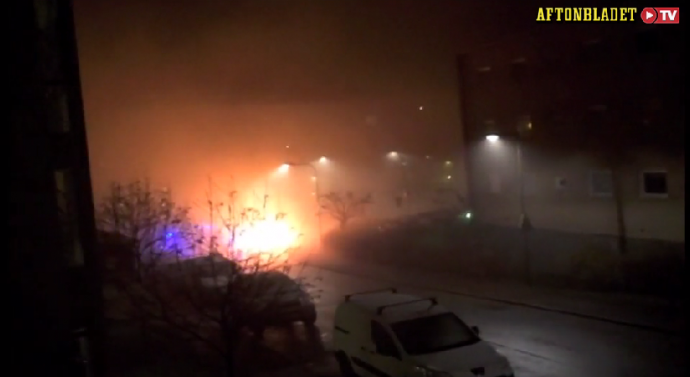 Like leftists here, Muslims torch police cars in Sweden
Meanwhile, back here in America, young thugs, of all colors have robbed stores, torched police cars and defaced monuments, all in the one of 'Black Lives Matter'. Is there really any difference between these Muslim terrorist in Sweden and leftist terrorists that pour into the streets to cause problems?
Read more