Last night, flags were burned in Ferguson. Tonight, the flag burning moves to our nation's capitol in Washington DC. These Mike Brown protesters call themselves #dcferguson on Twitter and proudly burned the American flag on this VINE-VIDEO.
DCFerguson thugs burn American flags VIDEO
It's hard to make out what the incoherent nut job is screaming. Probably something about how evil this country is, and how it's all whitey's fault. Hey, guess what losers! You don't like it here? Move! It's been cold around the country. I hear Cuba is beautiful this time of year.
Communist Party USA is distributed leaflets in Ferguson and surrounding areas that read: If Murdering Pig Walks Amerikkka Must Be Brought To A Halt. This is typical, left wing Communist propaganda. Lots of threats, but rarely end up actually happening. The author's name is Carl Dix.
Leaflets in Ferguson: If Murdering Pig Walks Amerikkka Must Be Brought To A Halt
College Fix released the image of the leaflet they found in Ferguson, and as you would expect, it's gone viral.
"If the decision is announced at night, the next day should be a day of NO BUSINESS AS USUAL at schools," the leaflet stated. "Buildings on campus should be taken over, classes should become teach-ins on police murder of Black people. All this and more should be done."

"Major streets and highways should be blocked and traffic should be unable to proceed on bridges and tunnels," the leaflet reads. "Professional athletes should join the response by refusing to play. Musicians should cancel appearances."
The "If Murdering Pig Walks Amerikkka Must Be Brought To A Halt" leaflet was passed out at SLU students because college students 'have an opportunity to dig deeply into the reality that we live in a society that's rooted in exploitation and oppression.'
And yet again, the leftist Huffington Post takes a racial swipe at a black female conservative. Mia Love, who became the first female African-American elected to congress in Utah is described by the Huffington Post only as she looks black, but her policies are red (aka conservative). Is this supposed to mean that blacks, especially female blacks aren't allowed to be conservative? Must Mia Love and other blacks stay on the liberal progressive plantation or they lose their 'blackness' or something? The HuffPO also describes Mia Love as a 'paradox'.
Want to know why racial tensions in this country have risen so much in the last six years? It's not just because of Obama and his race hustling. It's mainly because of liberal trash like this that deems female black conservatives as not really black. Progressive liberals in the media are terrified of conservatives like Mia Love. It makes their GOP is the party of 'old white man' that much more ridiculous every day. Great investment there AOL.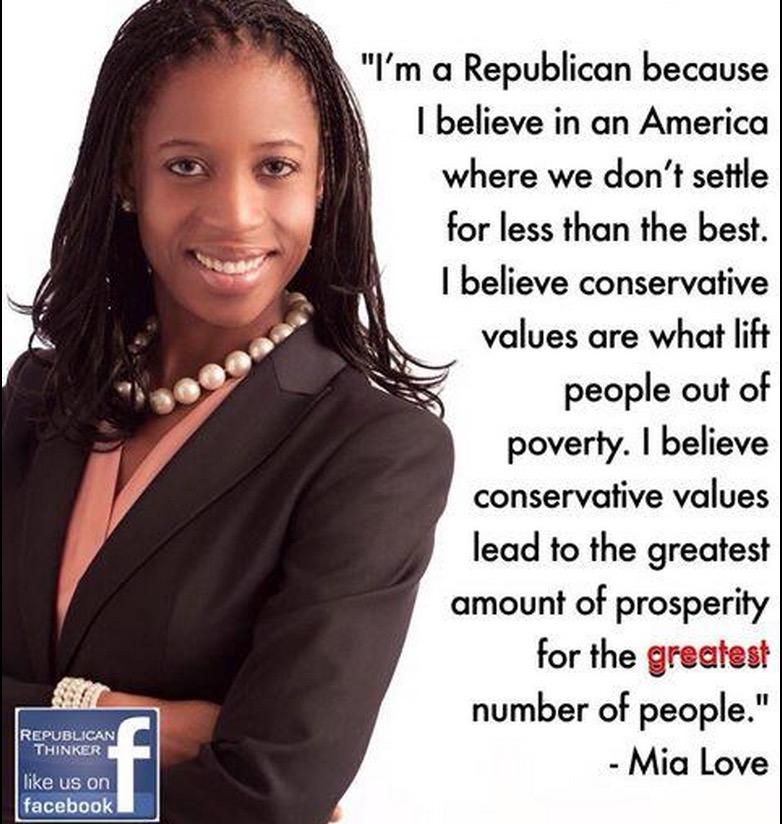 Huffington Post on Mia Love: She Looks Black, but Her Politics Are Red
CNBC's Ron Insana tried to goad Fox Business' Charlie Gasparino after an image to Twitter about how he (Gasparino) breaks business news:
This is great @CGasparino pic.twitter.com/O3LymSh4s6

— Julia La Roche (@SallyPancakes) November 7, 2014
This wasn't posted by Charlie Gasparino, but I guess a fan of his. Right after that, the leftist CNBC hack Ron Insana tried to claim superiority.
@SallyPancakes @CGasparino David Faber breaks news … ALL others follow!

— ron insana (@rinsana) November 7, 2014
Then the two of them (Gasparino and Insana) got into a childish Twitter fight:
@rinsana @SallyPancakes GFY fat boy

— Charles Gasparino (@CGasparino) November 7, 2014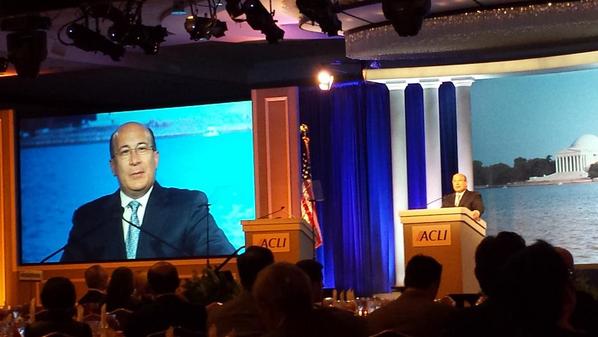 FBN's Charlie Gasparino and CNBC's Ron Insana twitter fight
@CGasparino @SallyPancakes Typically classy and I've lost 30 pounds. Find another insult and try to find some viewers while you're at it!

— ron insana (@rinsana) November 7, 2014
Wow, he lost 30 pounds and he's still that fat? Must have lost some hair too. Nice job Ron Insana.
Insana continued like a petulant little child:
@CGasparino @FoxBusiness And you shall remain a single-source shill for whomever whispers in your ear. As for the smack down, not worried

— ron insana (@rinsana) November 7, 2014
@CGasparino @FoxBusiness Faber still the best in the business

— ron insana (@rinsana) November 7, 2014
If you haven't heard of Ron Insana before, you aren't alone. Gasparino has almost 40,000 more Twitter followers.
The, Ron Insana got so desperate, he basically called Garparino a criminal:
@SallyPancakes @CGasparino @FoxBusiness Yes, hair is the real issue. Jealous of what? Being in Biz cable's witness protection program?

— ron insana (@rinsana) November 7, 2014
After Insana got pounded a few more times, he finally gave up.
Read more
Why am I not surprised that the media ignored this. During the various #FergusonOctober protests over this past weekend to mourn the loss of gang banger and blood , protesters tossed rocks at cops. Protesters (black) also yelled 'crack some cracker skulls' and 'kill the white racker'. Basically, the 'protesters' did what all left wing extremists do. Toss rocks at cops like a third world country, and make death threats. All in all, another typical weekend of leftist protesting.
Protestors now throwing rocks at the police. Arrests have been made for continued illegal behavior.

— Chief Sam Dotson (@ChiefSLMPD) October 12, 2014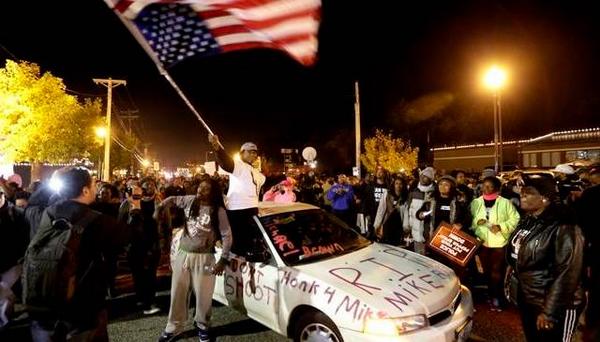 #FergusonOctober protesters throw rocks at police
No word yet if any more American flags were stolen and burned by these protesters.
Read more
People who defend Fox News pig Bob Beckel claim he's there to expose what liberals are really are. The latest example is pig Beckel threatened physical violence against Jason Mattera over his asking Lois Lerner why she doesn't like being targeted after she targeted the conservatives. Fat pig Beckel even threatened Mattera to 'bring a knife punk'. Yes, this is a Fox News head, that represents the network threatening physical violence against a man who exposed Lerner for the coward she is.
Jason Mattera accepts Bob Beckel threat of violence
You expect this kind of crap at MSNBC, but a real news station like Fox News? I'm sorry, but this (along with Beckel's antiseminism) is unaccepable. There are many reasons why I watch less and less of Fox News, and Blimpy Beckel is one of the main reasons. I'm tired of these obnoxious liberal Democrat mouthpieces spewing their crap. If i want to hear stuff like this, I'll just watch MSNBC.
As far as Jason Mattera goes, he's not scared of the blimp, and gladly accepted Beckel's violent threats. From the Daily Signal:
The blood bucket challenge is just the latest left wing charade to support Hamas. Just days before the holiest day of the Jewish calender of Yom Kippur, Jew hating leftists like copied Ohio State's Megan Marzec and did the 'blood bucket challenge' at Yad Vashem, the Holocaust Memorial and Museum in Jerusalem. The group calls themselves 'Jews against Genocide'. Now, it isn't bad enough that they had to copy the pitiful Ohio leftist Megan Marzec with the blood bucket challenge, and mock the ALS Ice Bucket challenge right? But these left wing nut jobs have to do it during the period of Rosh Hashana and Yom Kippur too. Really classy leftists. As usual, the media is no where to be found covering this latest example of leftist antisemitism and terror sympathizing.

Jew hating perform blood bucket challenge at Yad Vashem
And the mask slips off yet again. Moms Demand Action for gun sense in America is lead by gun grabber leftist Alison A. Martin, and affiliated with Nanny Bloomberg's Mayors against illegal guns in America. Both groups, like other leftist groups are nothing but fascists groups masquerading as 'watchdog' groups. On Twitter, Alison A. Martin was arguing with someone for increased background checks, then argued that the Joseph Goebbels Nazi propaganda are 'wise words to live by'. Since the backlash grew, Martin has deleted her Twitter account thinking that this will suddenly disappear. Well, sorry for you Alison Martin. Here is a screen-grab of Martin's support for Nazi propaganda.
Moms Demand Action for Gun Sense in America leader Alison A. Martin tweets, deletes support for Goebbels Nazi propaganda
Uh oh, spaghetti ohs!
For those of you who are actually stunned or speechless over Martin's support for Nazi propaganda, I have to ask you, why? This is the progressive liberal extremist Democrat party of the 21st century. Hitler took away guns, and the Nazi party was the National Socialists party in Germany. In America today, the Democrats are the socialist party of the 21st century. Democrats want control over everything, just like Hitler and other tinpot dictators. Why are you surprised?
As you probably expected, tampon wearing nut job Melissa Harris-Perry and her collection of left wing nut jobs tried to spin the Oklahoma this past week as 'workplace violence'. They tried to downplay the Muslim angle, claiming that associated Muslims with beheading is like associated all white males with school shootings. Then, towards the end of the following video, they came up with a new description for Muslims. They are hilarious according to these left wing nut jobs. Yes, this is NBC's paid 'talent'.
MSNBC on Oklahoma beheading: Muslims are funny, hilarious! VIDEO – Video credit @SooperMexican

#FloodWallStreet is the extremist left wing Democrats latest anti-Capitalist movement. Ever since Occupy Wall Street died a stinky death, George Soros and other radical leftist extremists were looking for new ways to cause problems against those 'evil' capitalists. Today, as the day of stock trading came to an end, the #floodWallstreet nut job protesters started their usual crap. Soon, you may see rape tents spring up near Wall Street. Below is video and some pictures from the smelly, dirty #floodwallstreet protest. You'll also notice something else from today's protest and yesterday. 99.9% of the 'protesters' are lily white trash. Where's the diversity?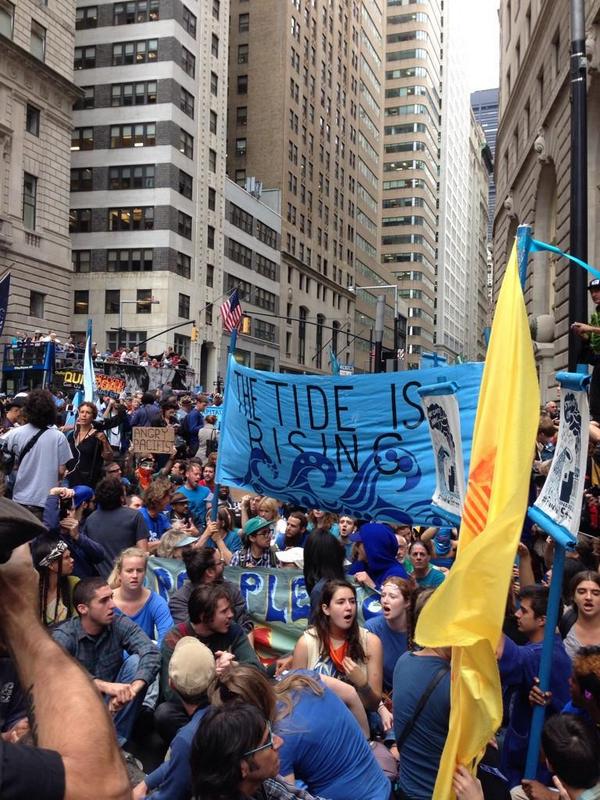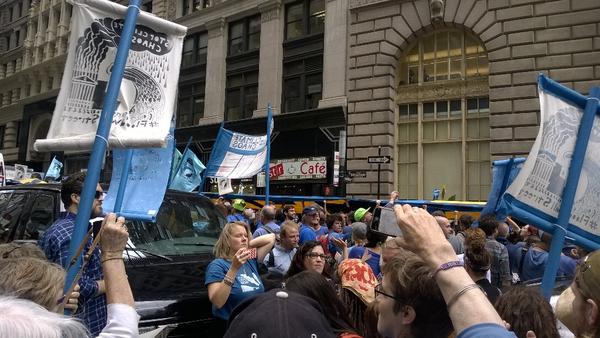 Left wing extremists start trouble at #floodwallstreet (Pictures, video)
You know, if you dirty Occupy/Flood Wall Street hippies hate capitalism so much, why are you still carrying around your smartphones and tablets? Evil capitalist corporations made those products you use. You are hypocrites if you hate Wall Street, corporations and capitalism if you use products created by corporations, for the sole purpose to make a profit.