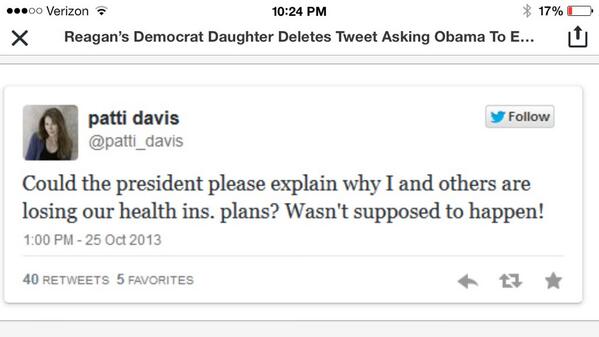 Patti Davis, like her brother Ron are the progressive liberal offspring of Ronald Reagan. Patti Davis, a big government liberal tweeted, then deleted a whiny message complaining about her...
Iraq war veteran James Glasser claims he was publicly embarrassed by Big I's owner Russel Ireland. Glasser has a 3 year old Jack Russell Terrier to help him with...
Slap Hillary Clinton is a flash game produced by the SlapHillary team and is causing a leftist meltdown all over the Internet. As is typical for Democrats when they don't like something, they are demanding that 'this site be...
A Poem for Dzhokhar A Poem for Dzhokhar by singing hag Amanda Palmer was a tribute to Boston Muslim terrorist Dzhokhar Tsarnaev. It's ok if you don't know who...
So this is how America comes together during a major natural disaster? Welcome to Obamaville. Widespread looting is being reported in New York City and Coney Island. Police where...
Oh good grief. This is what Marxist professors are turning out in our colleges? The University of Wisconsin in Madison is basically the mid-west version of UC Berkeley.  The professors and students are as left wing was Karl Marx. They...
It seems D-List Hollywood liberal actor and self-hating Jew Richard Belzer has an obession with Hitler and Nazis. Richard Belzer, who is quite the fan of Obama, hater of...
Progressive liberal Democrats love to preach love, tolerance and equality. Yet the fact remains that progressive liberal Democrats seem to be tolerant of anti-Christian, anti-Jewish, Anti-Americanism treasonous snakes. Oh...
Thinks have sure changed since I was in the third grade. Progressive liberals have not only completely ruined the education system dumbing down students to record levels, but now third graders are allegedly have oral sex in class under...
Back in the "old days" aka the 1980s, people of all colors and races wore "#8221; Except back then they weren't called "#8221; They were called sweatshirts with hoods...