The end may be near. MSNBC hack Chris Jansing went into birther mode today, claiming Obama was from Kenya. Check out the following video of Chris Jansing claiming Obama is from Kenya, and how it will help with this African summit
MSNBC Chris Jansing claims Obama from Kenya (Video)
MSNBC is now the place for racism and birtherism!
Read more
I don't know why Rand Paul (or any conservative/libertarian) bothers to go on MSMNC. I understand that the GOP wants to reach out to other votes, but the whack jobs at MSNBC and those who watch it are so locked in to Democrat socialism, they will never change. At least though Rand Paul got a dig in on MSNBC lying about him not support the civil rights act. Check out the following video from Newsbusters:
Rand Paul destroys MSNBC for race card lies (Video)
When Krystal Ball isn't busy sucking dildos, she's busy on MSNBC sucking progressive ass. Today, on MSNBC's lame show The Cycle, a prank caller got in during the discussion of MH17. Watch the following video, and see what a dumb-ass Krystal Ball really is.
Caller: "Well, I was looking out the window and I saw a projectile flying in the sky and it would appear the plane was shot down by a blast of wind from Howard Stern's ass,"
Ball: "So it would appear the plane was shot down, can you tell us anything more from your military training of sort of missile system that may have been coming from?"
Caller: "Well, you're a dumbass aren't you?"
Ball (after commercial break): "We thought we had an eyewitness on the scene. That individual was not actually an eyewitness."
MSNBC Krystal Ball gets owned by prank on The Cycle (Video)
MSNBC will never fully turn on their Messiah Obama. But to hear the reaction from douche bags like Donny Deutsch to Mika Brzezinski's softball interview with Obama, it's obvious even they can't spin for Obama anymore. Newsbusters captured the Deutschbag's reaction to Mika's softball interview, and it's quote chuckle worthy. Obama is going down in flames, and his sycophants can't stop it.
MSNBC – Obama looks checked out, wants to go home VIDEO
Looks like it's time for yet another Obama vacation. Or maybe he was just wasted. Valerie Jarrett needs to start cracking her whip harder to wake up old Barry.
Read more
Aww.. Songbird John McCain is mad again. This is a tough one for me because McCain is mad at NBC's uber-hack Chuck Todd. Yesterday Chuck Todd and Fox News Ed Henry were caught on an open mic discussing McCain and the crisis in Iraq. Chuck Todd laughed and made a 'heart-palpitations' joke at McCain to Ed Henry. Now today the old coot McCain is mad.
Songbird McCain mad a Chuck Todd for heart palpitations hot-mic crack
I'm torn here. I can't stand either Chuck Todd or Songbird McCain. I can't decide who's side to be on for this.
Read more
Toure has been exposed again recently for being the anti-Semite that he truly is. He claimed that Holocaust surprised had 'the power of whiteness' to survive. Lets take a trip back in time, to 2009 when Toure called Jewish people niggers on Twitter:
Last night a question occurred to me: Are Jewish people niggers? I think: Sometimes and in some ways yes, sometimes and in some ways no.

— Touré (@Toure) June 4, 2009
Toure is a pitiful race hustling MSNBC hack who last week claimed that Holocaust survivors did so because of 'the power of whiteness.' As usual, most of the self hating progressive liberals Jews in this country (including the likes of Andrea Mitchell) remained silent. Today, there have been some rumblings that some Jewish groups are finally getting pissed at this comments. So Toure attempted damage control with a pitiful non-apology apology.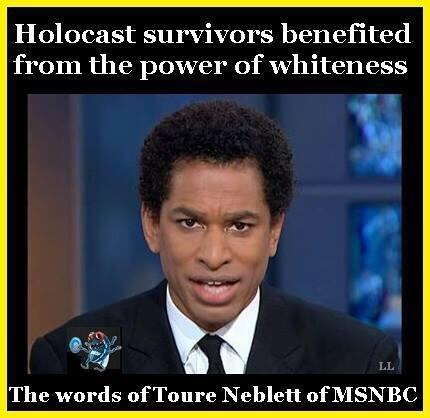 Toure's pitiful non-apology over claim Holocaust survivors had 'the power of whiteness'
It was a dumb idea by me to debate serious and nuanced topics in 140 characters or less… (Cont.)

— Touré (@Toure) May 27, 2014
In an attempt to comment on racism in post World War II America, I used a shorthand that was insensitive and wrong. (Cont.)

— Touré (@Toure) May 27, 2014
Late last week, I foolishly got involved in a twitter exchange regarding an article about reparations… (1 of 3).

— Touré (@Toure) May 27, 2014
Apparently NBC's Toure thinks those who survived concentration camps show 'the power of whiteness.' Check out this exchange one of NBC's top race hustlers had with a Twitter user yesterday: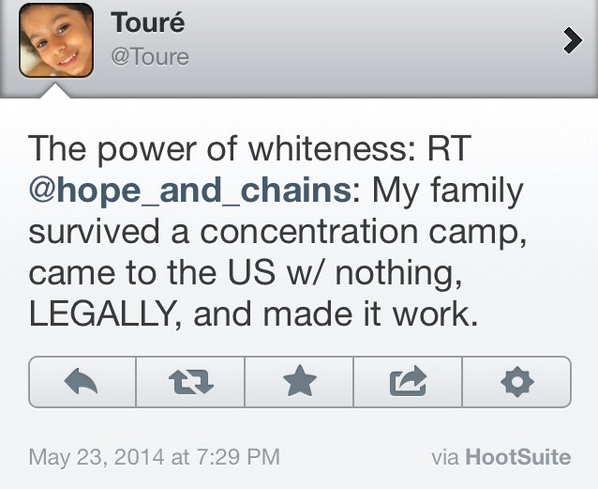 NBC's Toure to family survived a concentration camp – The power of whiteness
The power of whiteness: RT @hope_and_chains: My family survived a concentration camp, came to the US w/ nothing, LEGALLY, and made it work.

— Touré (@Toure) May 23, 2014
Michele Fiore is a member of the Nevada Assembly representing District 4 which represents Clark County. Yesterday, Michele Fiore appeared on All in with MSNBC leftist hack Chris Hayes. AS is typical for Hayes, and the progressive war on women, Hayes was obnoxious, spiteful, and just generally rude. Michele Fiore wasn't having any of Chris Hayes BS, and owned him during the interview on MSNBC. Watch the following Video:
Michele Fiore destroys Chris Hayes over Bundy Ranch VIDEO
Poor fat Ed Schultz. He doesn't like getting 'personal insult' though he spews them every time he opens his mouth. Today, MSNBC's Ed Schultz dropped an F-Bomb, called a caller an asshole, and hung up on the caller because Schultz didn't like the 'personal insults.' Check out the following audio/video clip of Ed Schultz once again losing it on air:
MSNBC's Ed Schultz drops F-Bomb, hangs up on caller (Audio)
Too bad fat Ed. The 7-second delay didn't work. Am I the only one who finds it ironic that someone like Ed Schultz who is best known for calling Laura Ingraham a right-wing slut whining about personal insults?
Read more