The disdain shown by leftist extremist Democrats towards victims of the Benghazi terrorist attack is astounding. I know the left hates our military and everything, but people people in Benghazi. Some of those who actually made it out alive had serious injuries. So what does California Democrat Adam Schniff call those wounded in the Benghazi terrorist attack? He calls them liars.
from Investors Business Daily (Via Director Blue):
Democrat Adam Schiff calls wounded benghazi heroes "Liars"
Scandal: The California Democrat who suggested that his party boycott the Benghazi Select Committee as a waste of time now accuses those who fought on the CIA annex roof of lying "to promote a new book."

The last we heard from Rep. Adam Schiff, D-Calif., a member of the House Intelligence Committee, was in May. That's when he told Chris Wallace on "Fox News Sunday" he thought the planned select committee to investigate the 2012 Benghazi attack was a "colossal waste of time."
Calling the yet-to-be-approved committee a "tremendous red herring," Schiff said: "I don't think it makes sense, really, for Democrats to participate."

Well, the Democrats participated in the committee that conducted its first hearing on Wednesday, and Schiff, along with Rep. Adam Smith, D-Wash., finds himself one of the Democrats picked by House Minority Leader Nancy Pelosi to sit on it.

In fact, it was Schiff who proposed that the first hearing focus on the Benghazi Accountability Review Board's post-attack review and recommendations, an idea that committee head Rep. Trey Gowdy, R-S.C., accepted.

But Schiff apparently is still not happy about the hearing, which pointed out the State Department's pre-Benghazi neglect of security, ignoring the security recommendations after the 1998 bombings of our embassies in Kenya and Tanzania.
ISIS posted another video on YouTube today called Flames of War. It featured an America masked ISIS terrorist. This was first reported at the UK Daily Mail, and hasn't gotten much attention an American media. I don't know why. I know the media doesn"t want to make Obama look bad, but they've been pretty good in covering ISIS. The unidentified masked male terrorist in the video spoke good English with a non-specific accent.
ISIS Flames of War video features American
Glen Doherty's family suing Obama State Department over Benghazi. The lawsuits (two in total) are being led by Glen Doherty's mother, Barbara. According to the AP, She filed a claim with the two government agencies last week seeking one million dollars in each suit. The lawsuits are being filed against the CIA and State Department, for wrongful death. Doherty's friend and executor of his estate, Sean Lake, filed a separate claim seeking a little over $1 million. I hope they win and expose Obama and Hillary Clinton for their lack of security, concern and lies.
Glen Doherty's family suing Obama State Department over Benghazi
This is your legacy Hillary Clinton!
Read more
Obama's 'speech' on September 10th, about his so called 'ISIS' strategy has had one effect so far. More terrorists are joining up with ISIS, and are motivated to do Jihad all thanks to Obama's speech. Thanks again Hussein Obama! So far there have been no strikes in Syria. Just a couple of pin prick air strikes in Iraq. Most of the new ISIS recruits are from 'moderate' Turkey too.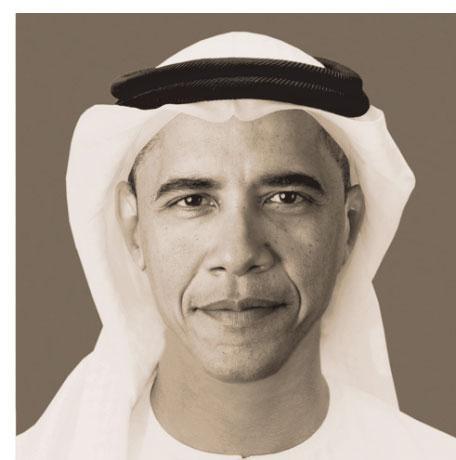 Thanks Barry! Obama speech leads to more ISIS recruit
You know, I never knew how Minnesota could elect a terrorist sympathizer like Keith Ellison. I pictured people from Minnesota to be the usual stereotype of pasty white, skinny with wimpy males. Now I get it. Somali Muslims in Minnesota are now demanding free Halal food. Free regular food isn't good enough for the Somalis who have turned Minnesota into their own personal pray rugs. Moonbattery has the prefect name for these Somali Muslims, Islamic Welfare Colonists.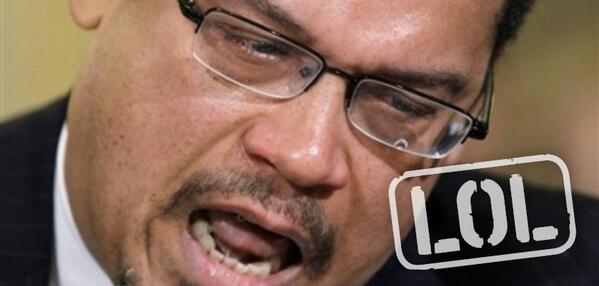 Somali Muslims in Minnesota demand free Halal food
"Some food shelves are trying to meet the need, but some of them already got canned beans that have already been mixed with pork — and there is a literacy issue here," said community activist Fartun Weli.
Oh, it's a human rights issue too or something.
Read more
Four terrorists were caught on September 10th trying to cross the Mexican border into the US. If you think there were only four total trying to cross, you must be a progressive. Many terrorists have undoubtedly already crossed the Mexican border into this country. Reports of 'Koran like books' on the border have been reported by Texas sheriffs. As usual the corrupt media is hiding this story. Thankfully, it was reported on The Kelly File tonight. You know, that 'evil' show on that 'evil' cable network Fox News?
4 terrorists caught crossing Mexican border day before 9-11
#KellyFile Exclusive: @jasoninthehouse joins me on stunning reports of four suspected terrorists attempting to cross U.S. border Sept. 10.

— Megyn Kelly (@megynkelly) September 18, 2014
Rep. Chaffetz: "Four people… with known ties to terrorist groups, and [Sec. Johnson] should know this." #SecureOurBorder #ISIS #KellyFile

— Pau Loreto Lim (@paulolim) September 18, 2014
#DHS #JehJohnson no terrorists have come across border. The day before 9/11 4 terrorist w/ known ties captured. #KellyFile @jasoninthehouse

— O Bow Mao Truth Team (@BowMaoTruthTeam) September 18, 2014
4 people with terrorist ties caught crossing the southern border on 9/10… Why is the gov trying to suppress this info? #KellyFile

— BrigidMary McDonnell (@BrigidMaryMcD) September 18, 2014
Oops. This is kind of like the Rick Perry moment during the 2012 debates only worse. While McCain was bashing away at Rand Paul on Hannity, he had a slip of the tongue and basically admitted he met with ISIS while in Syria. You know, that photo with him and terrorists in Syria? At least two of them were ISIS members. McCain and his defenders like to claim they were the 'moderate' Syrian rebels. Watch the following video. If you want to skip ahead of the start of the McCain bs, start the video at about 2 minutes and 30 seconds. BTW, anyone notice how chummy Hannity has been with McCain lately? For awhile, Hannity was bashing the old coot because conservatives can't stand him. I guess 'Brother Rove' set Sean Hannity right on McCain.
John McCain slips up on Hannity, admits meeting ISIS
I've grown tired of Rand Paul's flip-flopping becoming a typical DC insider. But on this issue he is right. Arming the so called 'moderate' Muslims in Syria will just end up arming ISIS as the so called 'moderates' either get killed fighting, or simply join up with ISIS.
We're doomed America. Want an example of liberal extremist indoctrination on our college campuses? Watch the following video from MRC asking George Mason University students to sign a petition supporting ISIS. The guy who did this as a project for MRC got several signatures. Oh, and the video was shot on 9/11/2014. One of these idiots even blamed the Israeli 'Mossad'. A favorite to blame by leftists and crackpot Paulians.
George Mason University students sign petition supporting ISIS (Video)
Great news! Not only are diseased illegals spreading the sickness and clogging up the welfare lines, but now Quarans are being found at the US-Mexico border. Of course, this really shouldn't be a shock to anyone with half a brain. If you didn't think ISIS and other Muslim terrorists would take advantage of the Swiss cheese border, then I don't know.
Qurans found at US-Mexico border
New York City's Musllim day parade doesn't seem to have any restrictions. You can pretend to hang women, are keep them caged, and still be allowed to roll down the street in Communist De Blasio's NYC. You also can have assault weapons, banned by New York's 'SAFE' Act. The Muslims must have gotten a special exemption to tote these guns around from either Cuomo or De Blasio Check out some pictures below of how women are treated by Muslims (in New York.)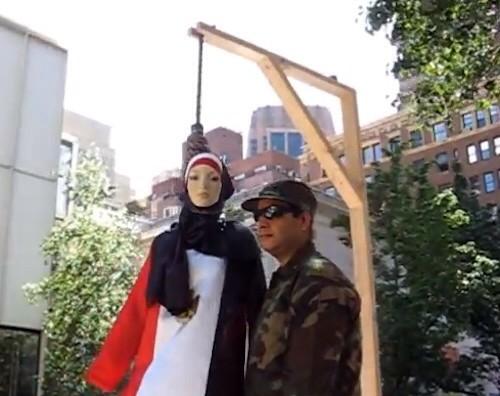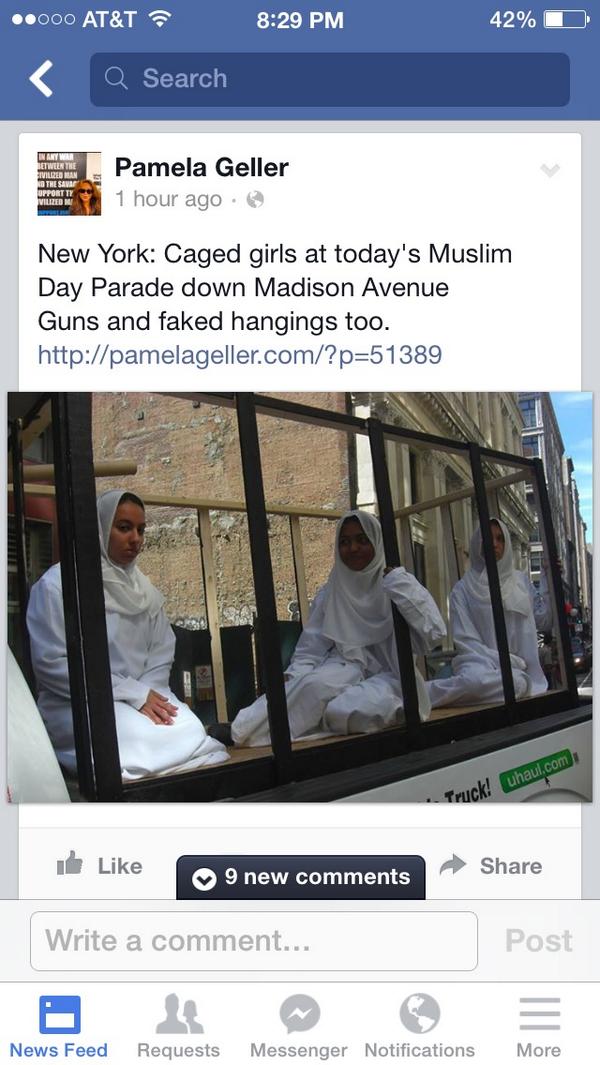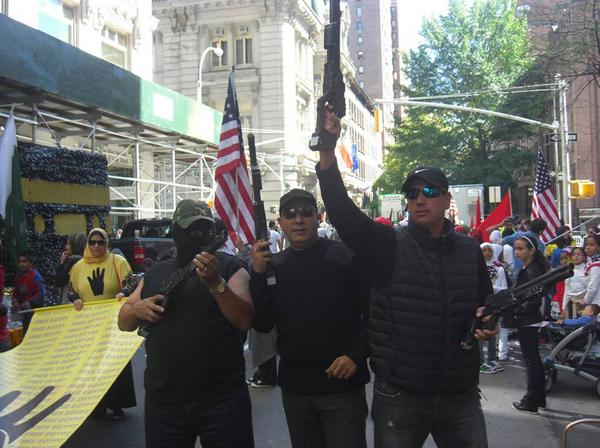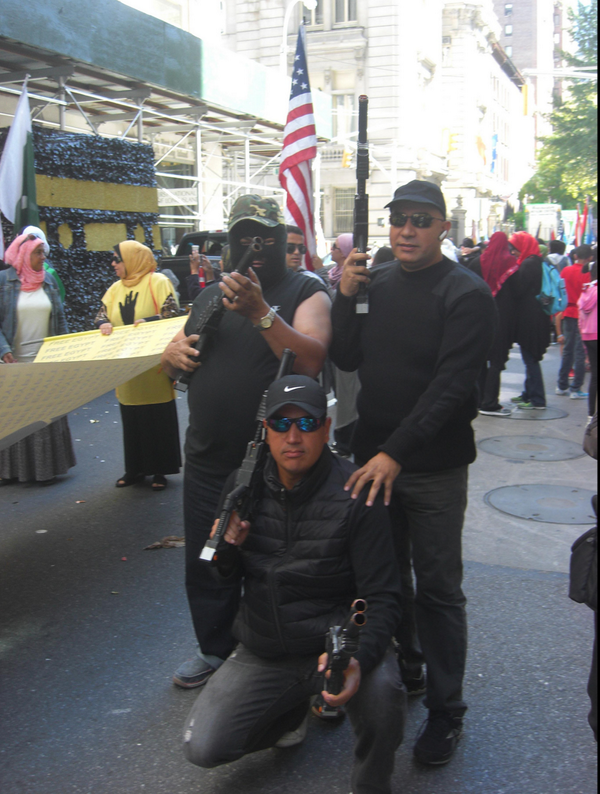 Muslim parade in New York features women hung, caged – media silent Pictures
Pamela Geller has more pictures and even some videos from New York's 'Muslim Day Parade.'
Read more