Jordan is one Muslim country that deserves some respect. They aren't taking any crap from ISIS. While it's questionable why they would trade one of their suicide bomber prisoners for a captured Jordanian pilot, the rest of the story gets better. Jordan issued this threat to ISIS: If you kill our pilot Lt. Muath al-Kaseasbeh, we will kill ALL of your prisoners. Good for Jordan!
One of the Islamic State's hostages is Jordanian pilot Lt. Muath al-Kaseasbeh, who is being held along with Japanese journalist Kenji Goto. Jordan told the terrorists that it will summarily try and execute ISIS prisoners in their control should they murder their pilot.
After the Islamic State announced they had Jordan's F-16 fighter pilot and demanded a prisoner swap with a Thursday deadline, Jordan noted that it required proof-of-life before it would even consider negotiating, as has been widely reported.
The Islamic State was tough — it said if the deadline for releasing the female would-be suicide bomber Sajida al-Rishawi, was missed, the pilot would be executed, The Daily Mail reported Friday.
Jordan to ISIS: Kill our pilot and we'll execute ALL your prisoners
Jordan is basically becoming the only country to stand up to ISIS terrorists.
Read more
Three American contractors were killed today at North Kabul International Airport. It remains to be seen if the Muslim terrorists responsible for the death of three Americans at North Kabul International Airport is from Obama's non-terrorist Taliban.
Today three American contractors and an Afghan national were shot to death in the North Kabul International Airport. No other details.

— Eric Sean Clay (@EricSClay) January 29, 2015
(4 of 5) Three Americans who were working as contractors in Afghanistan died in a gunman's attack at the North Kabul International Airport

— nwiesmueller (@nwiesmueller) January 29, 2015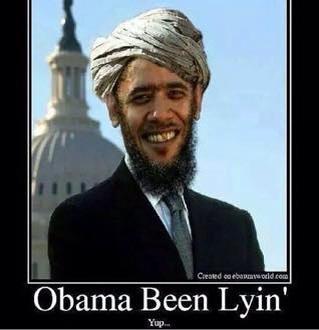 Muslim kills 3 American contractors North Kabul International Airport
Need anymore proof who Obama and the Democrats support? They blatantly support Muslim terrorists. Not only do they refuse to call Islamic terrrorist for what they are, but they even double down on calling the Taliban 'not a terrorist group.'
Obama regime doubles down on Taliban not being terrorists
So lets review who Obama and the Democrats call terrorists. Conservatives, tea party patriots and anyone who doess't bow to their ideology.
Read more
Apparently the Obama regime doesn't consider the Taliban or as he calls them, the 'Tolly-Bahn' a terrorist organization. Instead, the Taliban merely an armed insurgency.
Obama now doesn't consider Taliban a terrorist group
"As you know, uh, this was highly discussed at the time and prisoner swaps are a traditional end-of-conflict, uh, interaction that happens. As the war in Afghanistan wound down, we felt like it was the appropriate thing to do. The president's bedrock commitment as commander in chief is to leave no man or woman behind, that's the principle he was operating under," White House press secretary Eric Schultz said. "I'd also point out that the Taliban is an armed insurgency. ISIL is a terrorist group. So we don't make concessions to terrorist groups."

"I don't think that the Taliban, um — uh – the Taliban is an armed insurgency," Schultz said. "This was the winding down of the war in Afghanistan, and that's why this arrangement was dealt."
Despite Obama's repeated attempts to kiss up to ISIS, and not call them Islamic extremists or terrorist, ISIS has their own message for Obama. They are threatening to behead Obama, in the White House and turn the United States into a Muslim country.
'We will cut off your head in the White House'

The Islamic State (IS) terror group threatened to behead President Barack Obama inside the White House in a new propaganda video released this week, according to a watchdog group monitoring the terror group.
One may wonder, how would ISIS even make it into the White House? Considering how much the Secret Service has become an utter joke under this Obama regime, I'm sure this Muslim terrorists are plotting their own way in.
Don't worry ISIS terrorists. No matter how much you threaten Obama, he and the rest of the Democrats will always love and defend you.
ISIS threatens to behead Obama
Corinthia Hotel Tripoli Libya is the latest scene of a Muslim terrorist attack. At least one American is among the nine dead is another Muslim terrorist attack. This one, at the Corinthia Hotel Tripoli Libya has at least nine people dead, with the one America (so far). We'll see if the Obama regime blames a Youtube video for the terrorist attack at the Corinthia Hotel Tripoli Libya.
Photos from inside Corinthia Hotel that was attacked in#Tripoli #Libya Attack has been claimed by #ISIS – pic.twitter.com/oMDRoIXoQA

— Conflict News (@rConflictNews) January 27, 2015
State Dept: "We can confirm the death of a U.S. citizen in #Libya. We have no additional details to share at this time." #CorinthiaHotel

— Hannah Allam (@HannahAllam) January 27, 2015
http://t.co/gZErcigxtG : American security contractor among dead in Libya attack: company

— CyberNews (@CyberNewsUS) January 27, 2015
Some reports have as many as 12 people killed in the Corinthia Hotel Tripoli Libya terrorist attack. We'll see if the number climbs.
Corinthia Hotel Tripoli Libya terrorist attack – American killed
Kenji Goto the second of the remaining Japanese Hostages has been given 24 hours to live by ISIS. The Muslim terrorist group is demanding the release of Sajida al-Rishawi a female suicide bomber, held in Jordan.
Less Than 24 Hours Until ISIS Kills Hostages http://t.co/L3tHbxkRvc pic.twitter.com/coOGGKT8e5

— The Daily Beast (@thedailybeast) January 27, 2015
Japanese man held by Islamic State militants 'has 24 hours to live' http://t.co/exBg2q7pCX pic.twitter.com/QeJHJwUwNs

— Sky News (@SkyNews) January 27, 2015
#IsraeltheRegion #ISIslamicState #beheadings #Jordan IS threatens to kill Japan hostage, Jordan pilot in 24 hours http://t.co/O09RTF3mOu

— Israel News (@IsraelNewsNow) January 27, 2015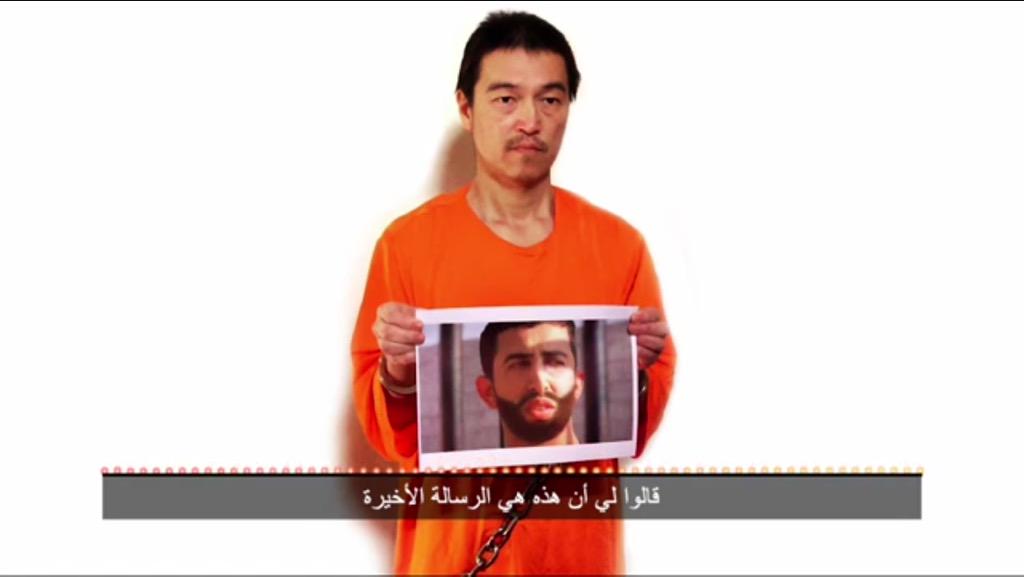 Kenji Goto – Japanese Hostage given 24 hours to live by ISIS
It's bad enough when Obama wouldn't call Islamic terrorism what it was. Now, it seems Obama wouldn't even call terrorism what it is. When calling and offering condolence to Japan Prime Minister Abe over over the ISIS beheading of Haruna Yukawa, Obama simply called it a 'brutal murder.'
Hmm. Obama: The US "strongly condemns" brutal murder of H. Yukawa by ISIS. "Our condolences today are w the ppl of Japan." Isn't O in KSA?

— Lily (@LilyIsFree) January 24, 2015
"Obama Condemns 'Brutal Murder' of Islamic State Hostage" http://t.co/szpPgTQfmS

— Steve Miller (@SteveMillerANW) January 24, 2015
Again, to all you political correctness wimps out there, this was an act of Muslim terror, not simply a brutal murder.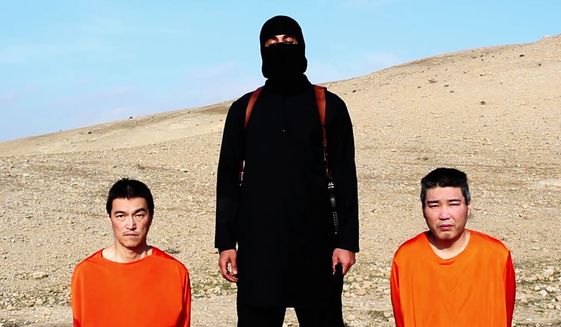 Obama refuses to call killing of Haruna Yukawa terrorism
Muslims are on the rampage in the Philippines too. Two people are dead, 54 are injured after a bomb blast from Muslim militants.
Explosion in Philippines kills 2, leaves 54 woundedhttp://fxn.ws/18buDem Similar blasts blamed on #Muslim militants. "Abu Sayyaf" #Islamic

— Spirit de Charlie (@SpiritdeCharlie) January 24, 2015
Of course the world media doesn't want to cover this latest attack of Muslim terror in the Philippines because Islam is not Muslim or something.
Never on the BBC More Muslim bombings in the Philippines: Islamic jihadis suspected as bomb bar kills two, injures 54 http://t.co/8zeBg2ilyJ

— Exposing BBC bias (@MGPB1936) January 24, 2015
Well, one news outfit in America covered the terrorist attack in the Philippines Can you guess which one?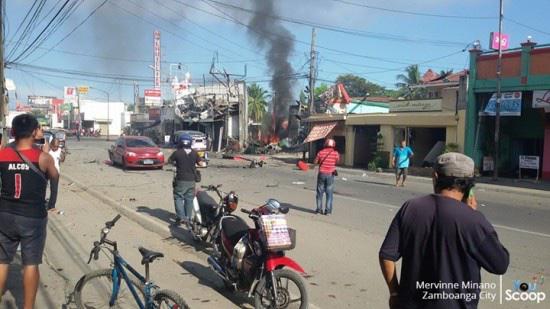 2 killed, 54 wounded by Muslim terrorist attack in Philippines
Sajida al-Rishawi a female suicide bomber, held in Jordan is the terrorist that ISIS is demanding in a trade for surviving Japanese hostage Kenji Goto Jogo. Who is Sajida al-Rishawi? She is the failed suicide bomber who planned to blow herself at a wedding reception in the Radisson SAS hotel in the Jordanian capital city of Amman in November 2005. Other al-Qaeda members succeeded in blowing themselves up, and 57 people were left dead after the terrorist attack in 2005 in Amman.
Sajida al-Rishawi is in her forties and was sentenced to death by hanging in Jordan. She's in the middle of her appeals process (yea, it takes forever in Jordan too.)
ISIS releases vid of Goto; says Yukawa was beheaded. ISIS "no longer wants money," he says, instead demands release of Sajida al-Rishawi

— J.M. Berger (@intelwire) January 24, 2015
ISIS now want the release of their terrorist "sister" Sajida al-Rishawi against Japanese hostage Kenji Goto Jogo.

— USofJ (@usofjews) January 24, 2015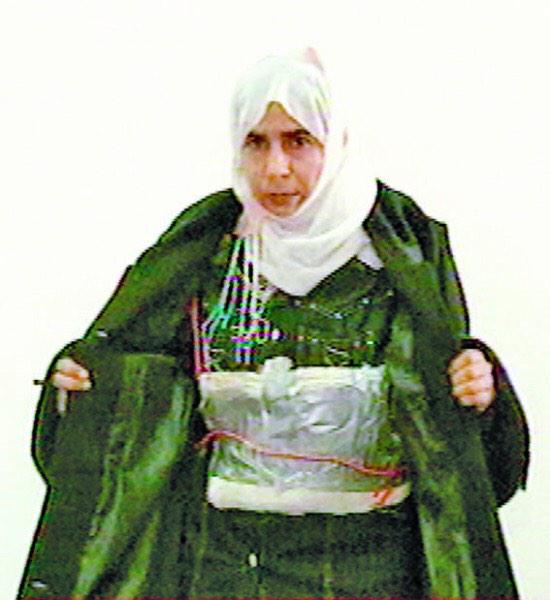 Sajida al-Rishawi – ISIS wants to trade for Kenji Goto Jogo
I don"t think Jordan is going to cower to ISIS by releasing Sajida al-Rishawi and I think the Japanese are fully aware and understand
Jordan's stance on Sajida al-Rishawi.