The pro-Hamas, anti-Israel media is back in overdrive this week after a relatively calm weekend. Some anonymous NBC 'journalist' claimed he/she saw witness Israeli drones fire on Shifa Hospital. Tje anonymous coward NBC reporter never made his name public, and now that story has proven to be complete and utter bullshit. Yet, just a few minutes later, NBC was editing their original story now claiming that it wasn't Israel who fired on Shifa Hospitial. It was the Muslim terrorists of Hamas. Check out the before and after of NBC's text of their story originally blaming Israel (as usual):
Before: NBC blames Israeli drones for firing on Shifa Hospital.
After: NBC changes story to admit Hamas fired on Shifa Hospital.
As usual, the media broke into it's pro-Hamas, anti-Israel propaganda during the Sunday news show this week. Bibi Netanyahu appeared on some of those Sunday shows including the failing NBC Sunday show Meet the Press. Rumors are swirling that hack David Gregory is about to get fired as Meet the Press, once the top rated Sunday news show is now dead last. Today, Gregory worked the progressive liberal base and NBC eggheads when he tried to critcize Netanyahu using pro-Hamas propaganda. Bibi calming schooled Greoory. Watch the following video (via Newsbusters):
Netanyahu schools NBC hack David Gregory over pro-Hamas propaganda (Video)
I wish more Republicans were like Rep. Labrador. After Jeh Johnson's pathetic spin job on Meet the Press, Labrador was the guest up next. When he came on, he called Johnson and NBC shameful, and told David Gregory that Meet the Press should just change their name to 'Making Stuff UP' for Obama officials. Watch the following:
Boom! Rep. Labrador Tells David Gregory 'Meet The Press' is Obama 'Making Stuff Up' [VIDEO]
Aww.. Songbird John McCain is mad again. This is a tough one for me because McCain is mad at NBC's uber-hack Chuck Todd. Yesterday Chuck Todd and Fox News Ed Henry were caught on an open mic discussing McCain and the crisis in Iraq. Chuck Todd laughed and made a 'heart-palpitations' joke at McCain to Ed Henry. Now today the old coot McCain is mad.
Songbird McCain mad a Chuck Todd for heart palpitations hot-mic crack
I'm torn here. I can't stand either Chuck Todd or Songbird McCain. I can't decide who's side to be on for this.
Read more
Toure has been exposed again recently for being the anti-Semite that he truly is. He claimed that Holocaust surprised had 'the power of whiteness' to survive. Lets take a trip back in time, to 2009 when Toure called Jewish people niggers on Twitter:
Last night a question occurred to me: Are Jewish people niggers? I think: Sometimes and in some ways yes, sometimes and in some ways no.

— Touré (@Toure) June 4, 2009
Toure is a pitiful race hustling MSNBC hack who last week claimed that Holocaust survivors did so because of 'the power of whiteness.' As usual, most of the self hating progressive liberals Jews in this country (including the likes of Andrea Mitchell) remained silent. Today, there have been some rumblings that some Jewish groups are finally getting pissed at this comments. So Toure attempted damage control with a pitiful non-apology apology.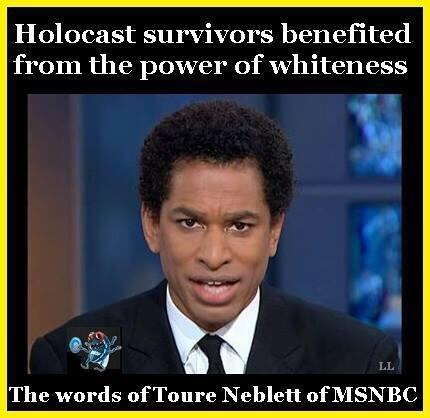 Toure's pitiful non-apology over claim Holocaust survivors had 'the power of whiteness'
It was a dumb idea by me to debate serious and nuanced topics in 140 characters or less… (Cont.)

— Touré (@Toure) May 27, 2014
In an attempt to comment on racism in post World War II America, I used a shorthand that was insensitive and wrong. (Cont.)

— Touré (@Toure) May 27, 2014
Late last week, I foolishly got involved in a twitter exchange regarding an article about reparations… (1 of 3).

— Touré (@Toure) May 27, 2014
Apparently NBC's Toure thinks those who survived concentration camps show 'the power of whiteness.' Check out this exchange one of NBC's top race hustlers had with a Twitter user yesterday: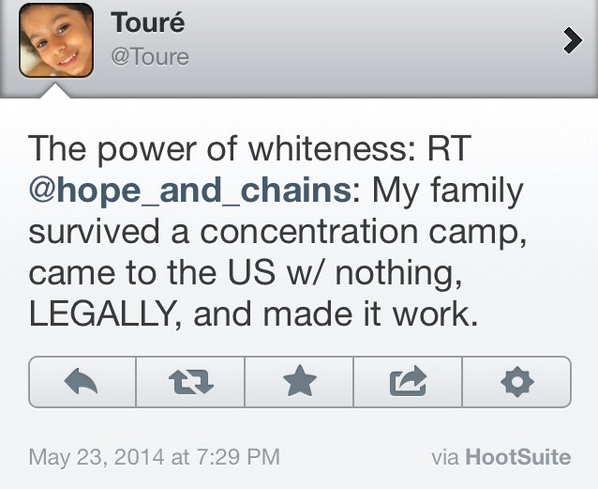 NBC's Toure to family survived a concentration camp – The power of whiteness
The power of whiteness: RT @hope_and_chains: My family survived a concentration camp, came to the US w/ nothing, LEGALLY, and made it work.

— Touré (@Toure) May 23, 2014
Kimberly Lengle a magna cum laude graduate from the University of Pennsylvania, was hired as a producer for NBC's "Dateline" series "Wild Wild Web." Now, Kimberly Lengle is suing NBC and claiming that her "Dateline" boss allegedly used her as "sexual bait" to lure targets for a hidden-camera Dateline series about drug-related prostitution, sex trafficking and sadomasochism. More from Fox411: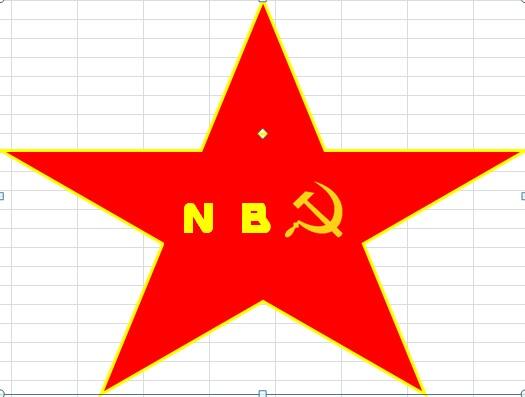 Kimberly Lengle sues NBC for allegedly using her as 'sexual bait'
There are several reports out today that NBC hired a psychological consultant For David Gregory. The to find out why he has been such an epic failure on Meet the Press. But is it true?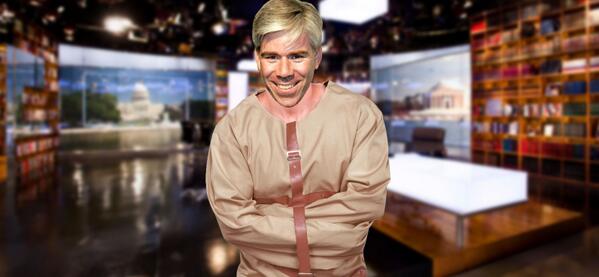 Did NBC hire a psychological consultant For David Gregory?
The Post on Meet The Press's "meltdown." http://t.co/7FvfiLyood #TheObviousWhy

— Hugh Hewitt (@hughhewitt) April 21, 2014
Dr Phil? NBC News Hires Psychological Consultant For David Gregory http://t.co/Pcpmgit8pV

— James Hirsen (@thejimjams) April 21, 2014
Geez @nbc you don't need an expensive consultant to tell you David Gregory's an a-hole. Just did it for free! http://t.co/yKHePdFRtG

— Film Ladd (@FilmLadd) April 21, 2014
But NBC is denying that they hired a psychological consultant For David Gregory.
NBC denies hiring a 'psychological consultant' for David Gregory http://t.co/fAi15HuxxE

— Business Insider (@businessinsider) April 21, 2014
NBC is usually full of shit.
Adrianne Haslet-Davis part of her leg in the Boston bombing terrorist last year. David Gregory of NBC Meet the Press conducted an interview with her as we approach the one year anniversary. Adrianne Haslet-Davis had one simple request of Gregory. Do NOT mention the Boston bomber by their names. David Gregory and NBC completely disrespected Adrianne Haslet-Davis' simple request. She walked off set crying.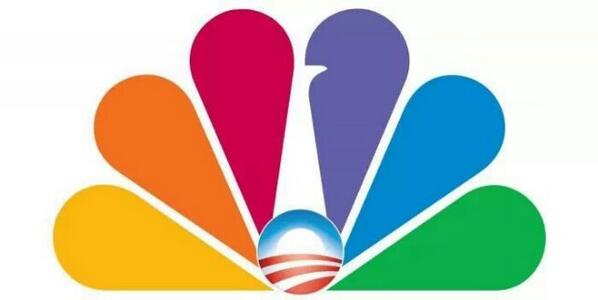 David Gregory and NBC disrespect Adrianne Haslet-Davis (Boston bombing victim) – send her into tears
She released a statement about walking out on Meet the Press and David Gregory on her website:
To whom it may concern,

I need to follow up on what I expressed to the coordinator, the host and the executive producer before I left the studio.

I needn't apologize for leaving you this morning, as you made your decision. I am not one to ask for people to wait on me hand and foot, for people to bend over backwards and leave their own well being to take care of mine…this is not my character nor is it my intent.

But I did specifically ask of two things for this interview, one being that his name (and you know to whom I refer to) not be mentioned in my presence. Your decision to back out on that promise you made and the horrific way you brought that decision to my attention just minutes prior to taping was not only a cowardice move but a dishonorable one as well. To say that I am hurt is an understatement, for you not only disrespected me, you disrespected the survivors of the bombing and the victims memories by blatantly disregarding this request and putting the value of a terrorist's name, who put a city in turmoil and caused irrevocable damage physically and emotionally to people of this city, over Boston's integrity, fortitude, and my personal well being.

My second request you know of, to be referred to as a survivor, not a victim. This one you honored, but I think you forget what a victim truly is defined as. For I will not be a victim, not on anyones level, whether it be from a terrorist, or the press.

Adrianne
She also tweeted about it.
Read more