Leave it to a progressive liberal Marxist 'feminist' witch like Leslie Marshall to defend the disgusting Martin Bashir. Leslie Marshall is a big feminist, unless of course conservative woman are insulted, then she remains silent. Tonight on Twitter she defended Martin Bashir, saying he didn't need to resign, and also whined about those other mean male radio and TV hosts bashing women.
Martin Bashir resigned. I didn't think he needed to; then again, when will ALL male hosts on radio & tv stop bashing WOMEN!?!

— Leslie Marshall (@LeslieMarshall) December 5, 2013
Of course Leslie Marshall seems to have conviently forgotten about her fellow leftists like Ed Schultz, Chris Matthews, Keith Olbermann, Bill Maher, David Letterman or Juan Williams.
Read more
MSNBC has named a substitute host for the Martin Bashir show after he resigned. Still no apology from NBC, MSNBC, Universal, or Comcast over Bashir's disgusting remarks though. Bashir's replacement? It's none other than race hustling Joy Reid, basically the female equivalent to Al Sharpton. Here are some Joy Reid 'classics':
GOP 'Shot a Hostage' by Shutting Down the Government
GOP anti-abortion bills are like Sharia Law
Sarah Palin, the female Rush Limbaugh
Couldn't have found a better substitute for the disgusting Martin Bashir. She will only be temporary as MSNBC is expected to name a "permanent replacement host in the coming weeks."
I can't wait!
MSNBC wouldn't fire or punish Martin Bashir for his disgusting commetns about peeing and sh*t in Sarah Palin's mouth. Suddenly at the beggining for the week MSNBC announced Bashir is taking a 'vacation.' Today, the filthy British hack resigned from NBC/MSNBC. Dozens of viewers are reportedly disappointed.
After making an on-air apology, I asked for permission to take some additional time out around the Thanksgiving holiday.

Upon further reflection, and after meeting with the President of MSNBC, I have tendered my resignation. It is my sincere hope that all of my colleagues, at this special network, will be allowed to focus on the issues that matter without the distraction of myself or my ill-judged comments.

I deeply regret what was said, will endeavor to work hard at making constructive contributions in the future and will always have a deep appreciation for our viewers – who are the smartest, most compassionate and discerning of all television audiences. I would also wish to express deepest gratitude to my immediate colleagues, and our contributors, all of whom have given so much of themselves to our broadcast.'
Lets take bets. How long before Bashir ends up at Al Jazeera.
Martin Bashir has been 'temporarily suspended' for his derogatory remarks about Sarah Palin. Basically what this means is that Bashir is getting a paid vacation until the backlash against his outrageous comments about peeing and sh*ting in Sarah Palin's mouth subsides. Martin Bashir should be fired, not temporarily suspended. Bashir made his disgusting comments on November 15th and nothing (until now) has happened to him.
LOL! A sign at tonight's Washington Redskins / New York Giants game was spotted. It read: Hey Bob Costas I Don't Like Your Name Either! This is of course in reference to whiny Bob Costas singing the blues about how 'evil' the name Redskins is, the last time they were on Sunday Night Football on NBC.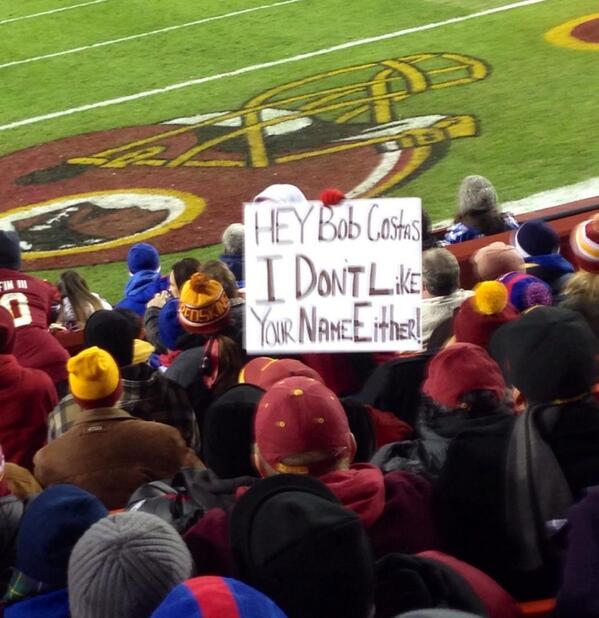 Hey Bob Costas I Don't Like Your Name Either! Sign at Redskins / Giants game
"Sign at Redskins Game: 'Hey Bob Costas I Don't Like Your Name Either!'" — An instant classic. http://t.co/PU9uEfhaB3

— Larry Elder (@larryelder) December 2, 2013
"@LaurenC_Lux: Sign at the Redskins game "Hey Bob Costas, I don't like your name either" pic.twitter.com/kvwywmtdr5" hahaha that's funny!

— MacDaddy Crush (@LuDaCrush13) December 2, 2013
NBC needs a reality check if they think using architect of ObamaCARE Ezekiel Emanuel and leftist Obama shill Ezra Klein (brother of ABC leftist Rick Klein was gave the viewers a 'fair and balanced' view of ObamaCARE and all it's failures. I know, NBC isn't Fox News, and doesn't claim to be 'fair and balanced.' But Meet the Press used to try to pretend to be at least somewhat balanced. Today, Meet the Press officially turned into a MSNBC propaganda show using Ezra Klein and Ezekiel Emanuel to spin ObamaCARE's failures.
Really? Wow. RT @JonahNRO: Good lord. #MTP is going to Ezekiel Emanuel and Ezra Klein for its "reality check" segment. That's balance?

— Byron York (@ByronYork) December 1, 2013
Sarah Palin joined Chris Wallace on Fox News Sunday. Among the topics discussed by Palin and Wallace were the the nuclear option that the Senate Democrats rammed through as a way to distract from ObamaCARE and stack the courts with radical progressive liberal judges. Sarah Palin also discussed NBC's misogynist pig Martin Bashir and his faux apology. Palin said the next time Bashir wants to 'apologize' that he should go through Todd Palin (her husband) and her children.
Sarah Palin remarks on Fox News Sunday including Martin Bashir
Tom Brokaw needs a history lesson on the 1960 election. Apparently it was just those in 'conservative states' that wanted JFK dead 50 years ago. Lets take a look at the 1960 election state by state to see which ones Kennedy won and which Nixon won:
NBC hack Tom Brokaw needs a history lesson on the 1960 election – Image credit Wikipedia
Texas, Arkansas, Louisiana, Missouri, West Virginia, Georgia, North Carolina and South Carolina are all considered 'conservative states.' But who did they vote for in 1960? They voted for JFK!
Which states voted for Richard Nixon in 1960? California, Oregon, Washington, Wisconsin, Vermont, New Hampshire and Maine, all far left progressive liberal Democrat states.
It's time for conservatives to get like liberals with boycotting chanels and their sponsors when someone goes off on a tanget like Martin Bashir did. Bayer-Aleve will continue to advertise on MSNBC (and likely Martin Bashir's show) even after he called for people to pee and shit in Sarah Palin's mouth. When contacted by Truth Revolt, Bayer responded with a typical boilerplate brush response.
Good for Sarah Palin! After NBC's disgusting British pig Martin Bashir suggested that people should pee and shit into Sarah Palin's mouth and eyes last week on MSNBC's propaganda network, Sarah Palin clipped Lauer's wings. Matt Lauer, NBC's $25 million dollar hack was set to travel to Wasilla Alaska to interview Palin about the Christmas season. After Bashir's comments, Palin abruptly cancelled all interviews with NBC including Matt Lauer.
Martin Bashir's 'apology' to Sarah Palin fell flat just like his ratings. After telling people to go pee and shit into Sarah Palin's mouth and eyes, there was an instant backlash against Bashir on social media. Today Martin Bashir issued a flat, insincere apology on the air, and still has a job at NBC News.
MSNBC Martin Bashir apologizes for saying pee and shit in Sarah Palin's mouth VIDEO
Sorry eurotrash, but your apology falls flat, like your ratings. Most of the apology focused on Bashir himself, with very little mention of Palin. I love how Martin Bashir says he tries to strive elevate politcal discourse. Just want any of Bashir's previous shows, and you'll see how much 'he strives' to elevate the political discourse. Forget Bashir, take a look at any program on MSNBC, Ed Schultz, Chris Matthews, Rachel Maddow, Alec Baldwin or Lawence O'Donnell. They do nothing but spew vitriol against conservatives (including Palin) on a nightly basis.
NBC's David Axelrod had a secret strategy session with Obama this past Friday that was ignored by the corrupt media. I guess this is what they came up with. The country is 'One Nation Under President Obama' according to an e-mail from Axelrod to Obama supporters. Remember when we were one nation under God? Seems like so long ago.