The lovefest between Chris Matthews and Obama at American University is over. Chris Matthews had his usual thrill up his leg for an hour with Obama and the young rubes thought Obama was God or something. So what was the biggest take away from the Obama/Chris Matthews 'Hardball' interview? You can now get free contraception under ObamaCARE without the fear of going bankrupt! That's right, you don't have to worry about spending $9 a month for birth control anymore because of ObamaCARE.
Obama to Chris Matthews – You can get free contraception without fear of going bankrupt under ObamaCARE
As Obama begins his latest campaign, called ObamaCARE 2.0 by the media, his approval ratings have hit record lows everywhere. The averages from the various polls, including the left wing biased ones that oversample Democrat between 8 and 10 percent have fallen under 40% for the first time ever on Real Clear Politics. Ironically, Obama does best on Rasmussen. Remember when all the leftists claimed they were a 'right wing' polling outfit?
Obama really loves them Mullahs in Iran. Reports now (from the Weekly Standard) and some Arab newspaper have Obama working (undoubtedly with Iranian born Valerie Jarrett) to arrange a trip to Iran. Valerie Jarrett must be missing her homeland. The corrupt Obama White House is trying to deny that this trip to Tehran is ever going to happen. But as we've learned time and time again, nothing that comes from Obama or his White House hacks ever is true. Obama and Jarrett will probably make sure the trip to Iran is after the 2014 mid-term elections.
Obama posed with '70s porn photograher Terry Richardson. All the rumors about Obama and the Chicago bath houses don't seem as far fetched these days. According to CNSNEWS then Senator Barack Obama's 2007 had a 'portrait session' in 2007 in his Capitol Hill office with Terry Richardson. Who is this Terry Richardson? He's a photographer known at that time the man who "took 1970s porn esthetic and made it fashion chic."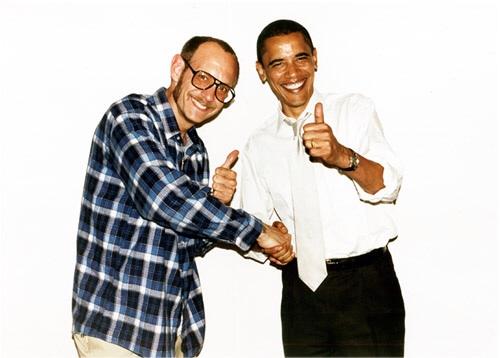 Obama posed for photo with '70s porno photograher Terry Richardson
CNSNEws also has a photo that appears to show Richardson having sex with a sheep. Don't know if he really did and this was just a doctored picture or not. The photo CNSNEWS posted the picture that came from Terry Richardson's 2004 book 'Terryworld.'
How presidential. Valerie Jarrett's puppet Obama apparently called up Bibi Netanyahu today and begged him to 'take a breather' from criticizing Iran's deal of the century.
President Obama requested Israeli Prime Minister Benjamin Netanyahu take a "breather" from his harsh criticism of the U.S. strategy regarding Iran during a call betwee the two leaders

The request came as the administration girds up for a push in the next six months to reach a final settlement on Iran's nuclear program. The president reportedly urged Netanyahu to tone down his rhetoric for the sake of diplomacy and urged him to dispatch officials to Washington who could help negotiate a resolution agreeable to both countries.
Thomas J. Ritter is some leftist kook who sadly teaches fifth grade Sally B. Elliott ­Elementary in Irving, Texas. Thomas Ritter isn't much of a fan of ObamaCARE, but just loved how Obama mocked Sarah Palin and the 'tea baggers.' Ritter has since put the letter up for sale. I guess even leftists likw the idea of capitalism when they can make a quick buck.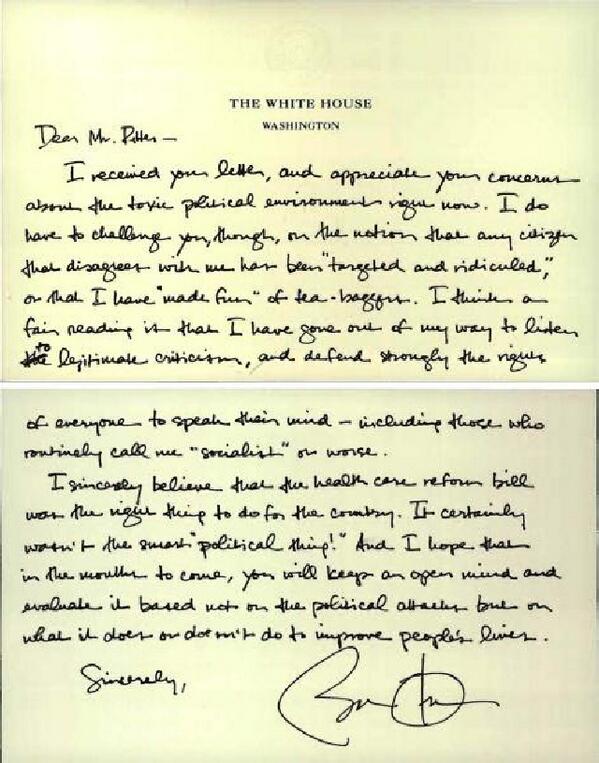 Obama calls conservatives 'tea baggers' in letter to Thomas J. Ritter
Obama has been holding 'secret' talks with Muslim terrorist group Hezbollah being moderated by the Brits. Well I guess it isn't so secret anymore. Obama is doing whatever he can to suck up to the Muslim terrorists. First it was cutting that deal of the century of Iran and their nukes, now it's on to Lebanon and Hezbollah.
Bibi Netanyahu let Obama have it on the 'phone call' Obama finally gave Netanyahu some 12 hours after the Iran nuke agreement was reached.
"The prime minister made it clear to the most powerful man on earth that if he intends to stay the most powerful man on earth, it's important to make a change in American policy because the practical result of his current policy is liable to lead him to the same failure that the Americans absorbed in North Korea and Pakistan, and Iran could be next in line."
That was the message conveyed by Israeli Prime Minister Benjamin Netanyahu to President Barack Obama in a private telephone call Sunday to discuss the interim deal on Iran's nuclear program, according to a senior Israeli lawmaker in Netanyahu's ruling coalition, as reported by the Jerusalem Post.
Ayotallah Obama has released $8 billion in frozen assets to Iran. This is a gift to Iran as a part of this BS 'historic agreement' on their nuclear program. Iran will also be be provided with about $7 billion in gold and oil sales under a 'deal.'
Pastor Saeed Abedini was not even a topic of discussion in the Iran nuclear talks. Pastor Saeed Abedini who has been imprisoned and basically held hostage in Iran since September 2012. Pastor Saeed Abedini is an American and a Christian, so one would think the US Government would try to secure his release as a part of any nuke deal with Iran right? Nope. Obama, John Kerry and the rest have abandoned Pastor Saeed Abedini. He was arrested in Iran for daring to practice his Christian faith.
Admin confirms #PastorSaeed was NOT part of the negotiations over Iran's nukes – @JaySekulow joins us NEXT with latest on the case @FoxNews

— Shannon Bream (@ShannonBream) November 24, 2013
ACLJ: Saeed, Others Betrayed by Obama Administration | http://t.co/AFSZrRMuEl http://t.co/Xj3ttOjLe1 via @CBNNews #SaveSaeed

— Jordan Sekulow (@JordanSekulow) November 24, 2013
President Barack Hussein Obama turned his back on Christian Pastor Saeed Abedini and sided with the Iranians.

— toddstarnes (@toddstarnes) November 24, 2013
America's Ayatollah Hussein Obama didn't even have to common decency to speak with Israel PM Benjamin Netanyahu about the deal that will do nothing more than bail out Iran and allow them to keep the nuclear program. Instead, Obama found plenty of time to speak Hassan Rouhani back in September.
Obama and Rouhani spoke on the phone back in September (probably in Farsi). The leaders of #Iran's reformist opposition remain under house arrest. http://t.co/mik9PXuGeI #Iran

— Eli Lake (@EliLake) September 27, 2013

Obama will speak 'later' with Netanyahu, probably after getting his lazy ass off the golf course:
US officials say President Obama will likely phone Israeli PM Netanyahu later today and will closely consult on this deal (@Majchrowitz)

— FOX News Radio (@foxnewsradio) November 24, 2013
And here come the radical progressive liberal Democrats and Obama supporters. According to idiot Eric Boehler of George Soros funded Media Matters, the GOP and those who oppose this horrendous nuclear deal with Iran are just cementing their brand of mindless obstruction. Yea, Media Matters Soros monkey Eric Boehler really went there.
uniform GOP opposition will merely cement its brand of mindless obstruction. #iran

— Eric Boehlert (@EricBoehlert) November 24, 2013
Hey Eric, it's just not the GOP who hates this deal. But in the progressive liberal Democrat bubble you live in, keep telling yourself it's all the GOP's fault. The Democrats are in for a very rude awakening now that Obama has sold out to Iran.
BTW, does anyone else find it ironic how anxious Obama is to deal with the Mullahs in Iran, but not Congress on ObamaCARE?