Ellie Porter is a six year old Utah girl with a rare form of cancer called undifferentiated sarcoma. Thanks to ObamaCARE and the Democrats, Ellie Porter has lost her health care coverage that had been keeping her alive for the last three and a half months. Being forced into the ObamaCARE exchanges, Ellie Porter's parents not only have to hope the system works properly when they sign up, but also will end up paying double the premiums that they were paying on their previous plan.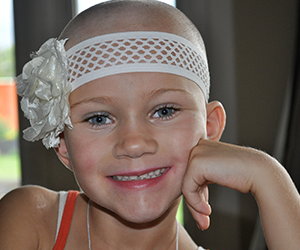 Six-year-old Ellie Porter with undifferentiated sarcoma cancer loses health coverage thanks to ObamaCARE
Here's one ObamaCARE story that should make everyone smile. Dingy Harry Reid, the pile of filth Democrat Senator from Nevada saw his insurance premiums rise to $4,500 all because of ObamaCARE. Of course, with all the Casino moguls and union thugs lining Reid's pocket, he can easily afford the extra $4,500 per year. He claims it went up $4,500 because of his age. He's always been an old coot in the Senate, so that excuse don't fly.
Here's one time I can say, Thank you ObamaCARE!
It's come to this. Democrat Rep. Emanuel Cleaver is now comparing his one year old granddaughter and her 'glitches' to ObamaCARE. If you didn't think Democrats could get any more stupid, they just did. Democrat Cleaver actually said that on Thanksgiving his one year old granddaughter had 'glitches' like ObamaCARE, but they didn't 'throw her away.' This was on MSNBC too.
"I've got a one-year-old granddaughter, and on Thanksgiving Day she had a number of little glitches, but we're not ready to throw her away because of a glitch here and there."
Democrat Emanuel Cleaver – My granddaughter has glitches like ObamaCARE but we don't throw her away
The ObamaCARE Health Insurance tax was quietly finalized this past week during the Thanksgiving Holiday. The ObamaCARE Health Insurance Tax will cost nearly $60 billion over the next five years and raise health care premiums by 3 percent.
Read more
You just can't make this stuff up. The grand prize winner to pimp Obama is the video called 'Forget About The Price Tag.'
The Department of Health and Human Services has crowned a YouTube video entitled "Forget About The Price Tag" as the grand prize winner in a contest meant to encourage young people to sign up for Obamacare.

The video contest, announced in August — in partnership with a group called Young Invincibles — encouraged participants to produce clips filled with pro-Obamacare messaging.

HHS's grand prize-winning video, announced Monday by the White House, features a young woman named Erin McDonald singing an Obamacare-loving version of Jessie J's hit single, "Price Tag."

Without a hint of irony, McDonald sings her chorus: "Ain't about the, uh, cha-ching cha-ching. Ain't about the, yeah, bla-bling bla-bling. Affordable Care Act. Don't worry 'bout the price tag."
ObamaCARE is good enough for you peasant Americans, but not Harry Reid's staffers. I would like to personally give a big middle finger to the people of Nevada who reelected this corrupt old coot back in 2010.
How desperate is MSNBC to help Obama sell ObamaCARE to the rube progressive liberal who actually watch that network? MSNBC hack Mike Dyson is now pimping the free Viagra in ObamaCARE. Dyson says, that with ObamaCARE's free Viagra, millions of men who will rise to the occasion. Remember when Mellisa Harris-Perry wore tampon earrings? Maybe Dyson should wear Viagra patches on his shirt.
MSNBC Dyson – millions of men who will rise to the occasion with free ObamaCARE Viagra
It's official. ObamaCARE will pay health care insurance companies subsides by an 'honor system.' Your tax dollars will go to those 'greedy' insurance companies purely on an honor system. The insurance companies will tell the federal government how much money they should get for insuring people under ObamaCARE. Why? Because the payment system on healthcare.gov hasn't even been built yet. For those rubes who actually sign up for ObamaCARE, there is no way to pay for their coverage.
ObamaCARE to pay health insurance companies by honor system
Wait…what??? Did I just hear on @megynkelly that the system 2 PAY insur comp. is not ready BUT Obama will pay them on the "honor system"?

— Pam Besteder (@pambesteder) December 4, 2013
Yes Pam, you heard right.
@megynkelly President mentions not going to repeal Obamacare. Does he know something we don't? Are Dems getting onboard the repeal effort?

— Peter Merker (@petea31) December 4, 2013
Obama and the Democrats own ObamaCARE and all it's failures. There's no escaping it. The Democrats are big government. Those who try and pretend to be moderate or 'conservative' like Joe Manchin are only fooling themselves.
ObamaCARE for illegals? Now it's been proven that even illegals will qualify for Obama and tax payer funded subsidies under ObamaCARE, check out one of the questions asked as a user (in this case @DixieRedRocket from Twitter) got while signing up for ObamaCARE: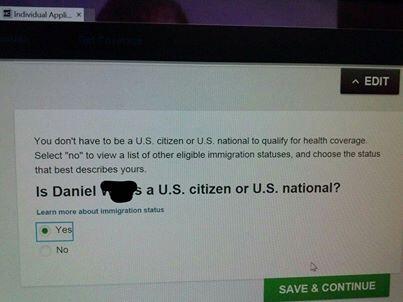 Illegals get ObamaCARE and tax payer funded subsides
You don't have to be a US Citizen of US National to qualify for health coverage.
So not only does ObamaCARE suck, not only are people getting thrown off their health care polices and seeing premiums and deductibles skyrocket, but now we are paying for illegal immigrants ObamaCARE too!
Read more
The total of Americans who have lost their health care insurance thanks to Obama has spiked again, to 5,631,050 as of December 2, 2013. This is of courses a low number, as 50-100 million will lose insurance by this time in 2014. For those people forced to go on ObamaCARE, they still can't as healthcare.gov still doesn't work properly. It's so bad, that even RINO Texas Senator John Cornyn is basically calling Obama a liar.
5,631,050 have now lost health insurance thanks to ObamaCARE
Obama has had his mission accomplished moment declaring healthcare.gov fixed. You want to see what 'fixed' looks like to a progressive liberal? This is the 'fixed' healthcare.gov ObamaCARE site.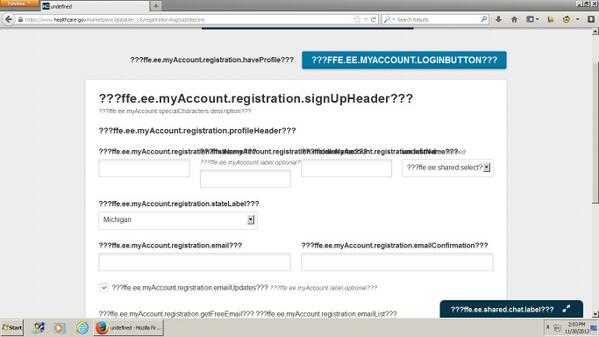 healthcare.gov fixed! Check it out!
Donald Douglas of American Power Blog discovered this from a tweet by @Democracy2014
@DonLemonCNN This is a picture of the "fixed" http://t.co/VnePYuG2dP website two pages into it…#obamacare pic.twitter.com/dCSp1zl5M5

— Concerned American (@Democracy2014) November 30, 2013

This is what passes as 'fixed' if you are a progressive liberal tool.
Read more
Black Friday spending dropped this year despite the media's attempt to pimp the 'record crowds' Black Friday spending dropped 3% this year. There are a couple of reasons. The economy which is getting worse, and of course ObamaCARE. The media wouldn't tell you that though. Yahoo/AP tries to put a spin on the 'unexpected' drop in spending: