Obama's EPA is the latest department to join in on the regime's lawlessness. The Obama EPA reportedly blocked a probe a senior officials who cost tax payers nearly a million dollars. Somehow, this latest corrupt scandal in the Obama regime isn't newsworthy though.
Read more
Jew hater Samantha Power is very lucky the media in this country is as corrupt as the Obama regime. Her absolutely disgusting tweet about Daniel Pearl (who was beheaded by Muslim terrorists) will end up fading away, just as every other Obama regime scandal does. Samantha Power has always been a Jew hater, yet the squish Republicans still confirmed her to be Ambassador to the UN (to take over for Susan Rice.) According to Power, Daniel Pearl's beheading by Muslim terrorists was nothing more than just a simple, "cycle of violence."
Daniel Pearl's story is reminder that individual accountability & reconciliation are required to break cycles of violence. @DanielPearlFNDN

— Samantha Power (@AmbassadorPower) February 24, 2014
Then Power issued a 'correction" to her Daniel Pearl tweet that basically doubled down on the original:
Correction: @DanielPearlFNDN's work is a reminder that individual accountability + reconciliation are required to break cycles of violence.

— Samantha Power (@AmbassadorPower) February 24, 2014
Jew hater Samantha Power must resign after her disgusting Daniel Pearl tweet
Samantha Power must resign over her disgusting tweets about Daniel Pearl. Of course, we know she wouldn't because she has about as much integrity as Obama, or any other progressive liberal Democrat.
Read more
Hey look, another Obama regime scandal. This one involves e-mails between the EPA and radical environmentalist groups. The e-mails show Obama/GIna McCarthy's EPA and whack job environmentalist groups trying to coordinate messaging to pressure the fossil fuel industry.
Read more
New York Marxist Senator Kirsten Gillibrand (who is equally as putrid as chuck Schumer) admitted today on ABC that all the Senators knew Obama was lying as he continued to claim that you could keep your health care plan if you like it. Still, rubes re-elected Obama last year, and even elected more Democrats to the Senate in places like North Dakota which should know better. Gillibrand was interviewed by ABC's crypt keeper Martha Raditz.
New York Senator Kirsten Gillibrand 'we all knew' Obama was lying about ObamaCARE
He should've just been specific. No we all knew. The whole point of the plan is to cover things people need, like preventive care, birth control, pregnancy. How many women, the minute they get pregnant, might risk their coverage. How many women paid more because of their gender, because they might get pregnant. Those are the reforms.
Jeh Johnson is a big Obama donor. He donated more than $33,000 to Obama's campaign. Now that donation is paying off as Obama has nominated Jeh Johnson to be the next Homeland Security secretary. Of course, can Johnson really be any worse than big sis Janet Napolitano? Jeh Johnson didn't only donate to Obama. He gave Hillary Clinton over $2,300 and $5,000 to the New Jersey Democratic Party.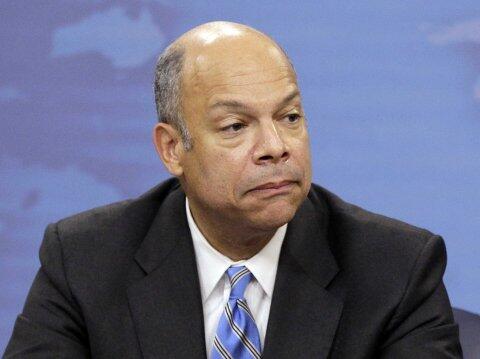 Jeh Johnson – big Obama donor nominated as Homeland Security secretary
Dan Pfeiffer is a top Obama adviser and called those against ObamaCARE 'suicide bombers.' Dan Pfeiffer also tweeted about the Nigger Factor which he quickly deleted. Pfeiffer tried to claim it was a 'horrendous typo' but it turned out to be more of a Freudian slip. What exactly was Dan Pfeiffer typing that caused the 'typo' Was it nagger? Was it bigger? Spare use the typo BS. Dan Pfeiffer was tweeting NY Times and former Politico leftist hack Johnathan Martin. Don't expect this to be covered by Johnathan Martin, the New York Times, or Politico.
In which blowhard @pfeiffer44 really steps in it: pic.twitter.com/BZ00jyAKXE

— Model 12 (@Model_12) October 8, 2013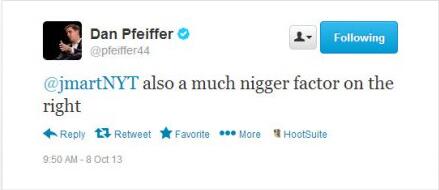 Dan Pfeiffer, Obama adviser tweets about 'Nigger Factor'
Obviously a horrendous typo in my previous tweet. My apologies

— Dan Pfeiffer (@pfeiffer44) October 8, 2013

Dan Pfeiffer is lucky he's a Democrat and sucks up to Obama. The media wouldn't report on this story. Had this been a Bush aide, or any other Republican, this would be getting as much coverage, if not more as the debt ceiling.
Who is Samantha Power? She's Obama replacement for Susan Rice for ambassador to United Nations. Power should fit in perfectly at the United Nations, as she's a Jew hating leftist. During an interview in 2002 interview with Harry Kreisler of the Institute for International Studies at Berkeley, Samantha Power called for military action against Israel to secure the creation of a Palestinian state. Watch the following video and see Samantha Power say this in her own words:
Obama ambassador to United Nations Samantha Power Calls for Invasion of Israel
From Debbie Schlussel:
Back during the 2008 Barack Obama campaign for President, the Democratic nominee got rid of campaign adviser Samantha Power after she called Hillary Clinton "a monster," and a 2002 video, below, came to light, in which she called for the U.S. to invade Israel. But everyone knew that she was still advising Obama behind the scenes and has been to date. And, today, Obama made that fact official by leaking to the media that Power is his choice for new U.S. Ambassador to the United Nations, as he moves Susan Rice to National Security Adviser (hey, we've already had one incompetent Rice as NSA Adviser, so why not another?). What is even more offensive, though, in the video and gets less play is Power's anti-Semitic comment about Jews being too rich and politically powerful in the United States. She talks about how her suggestion for invading Israel and spending U.S. money on bolstering a Palestinian State (which seems to be the only state she wants in what is Israel) will "alienat[e] a domestic constituency of [laugh, laugh, giggle, giggle] tremendous political and financial import." She's clearly referring to Jews and saying they are too rich and too powerful. I want to know, as a Jewish-American so stereotyped by her where my tremendous riches and power are and why, if my riches and power are so great, an anti-Israel Prez–who nominates scum like her–got elected.
Look at Obama's second term appointments: Power, Muslim convert John Brennan and anti-Semite
It's no surprise to me that Obama would nominate a left wing radical to a cabinet position like Tom Perez. Now that I've read the Washington Free Beacon's revelation that Tom Perez has deep ties to Obama's puppet master George Soros, it makes even more sense.
Prior to running for office, Perez was the president of CASA de Maryland, a Latino advocacy group that admittedly served immigrants regardless of legal status.

The group attracted financial support of George Soros and Hugo Chavez's Venezuela after Perez's tenure as president ended. CASA received more than $750,000 from groups linked to the billionaire hedge fund manager, as well as $1.5 million from Citgo, the state-owned oil company that helped make the socialist dictator a billionaire.

Perez's ties to far-left groups did not surprise labor watchdogs such as Fred Wszolek, spokesman for the Workforce Fairness Institute.

Perez received thousands of dollars in consulting fees for his work with the Public Health Institute, a nonprofit group that has received $260,000 from George Soros' Open Societies Foundation. Perez consulted for the California Endowment between 2001 and 2009; the group is interested in expanding insurance coverage to low-income earners, including immigrants.
Oh goodie, another left wing radical to be a cabinet position. After Hagel, Brennan and Jack Lew, Thomas Perez should sail through Senate confirmation with at least 80 votes. You know what will happen. Senate Republicans will talk a good game about not confirming Perez because of how radical left he is, and all the BS he pulled as Eric Holder's henchman. Then they will just roll over and confirm him, as they did the previous three.
BREAKING: President Barack Obama on Monday will nominate Tom Perez to be his next Labor secretary.

— POLITICO (@politico) March 18, 2013
Still wondering why John Brennan was sworn in using the Constitution rather than a bible? It's because Brennan converted to Islam when he served in a senior official capacity in Saudi Arabia. According to World Tribune, Brennan's conversion was 'the culmination of a counter-intelligence operation against him to recruit him.'