Today in Ferguson was the Michael Brown "Peace and Justice" rally in Ferguson. Among those in attendance were Communists, socialists, union thugs, Hamas apologists and even a de-faced American flag. A couple dozen showed up for the rally which was mostly out of towners.
Defaced American flag in Ferguson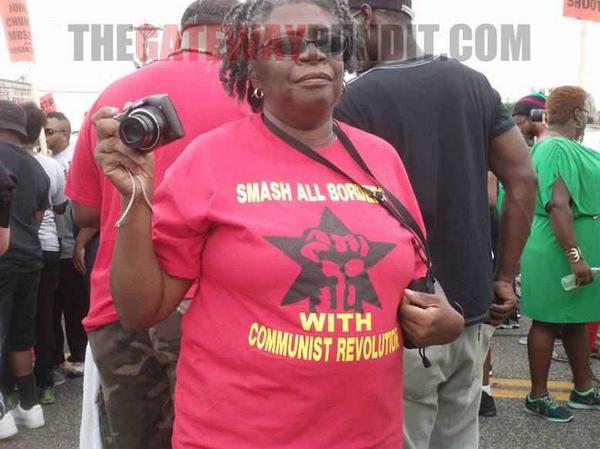 Communists at Michael Brown Peace and Justice rally in Ferguson – Photos: Gateway Pundit
First it was the ISIS shirt, now it's We're still niggers in AmeriKKKa shirts at the so called Michael Brown Peace and Justice rally in St. Louis. If these people hate this country so much, and are such victims, why not move to Iraq or Syria and take up arms with your brothers in Jihad against this 'evil country'.
We're still niggers in AmeriKKKa shirts at Mike Brown Peace & Justice Rally – Image credit: Gateway Pundit
If you don't want to join your brothers at ISIS, why not go to Mexico or Central America were they keep losing their population t this country? I am so sick and tired of progressive liberal Democrats like this nimrod (regardless of race or gender) whining about how America is the KKK. Did this moron sit through a Jeremiah Wright sermon with Obama?
Read more
Here is your prototypical protester in Ferguson for gangstas Michael Brown. They love terrorists, but hate cops for daring to defend himself. Check out the shirt on this Ferguson protester that reads 'I'd rather be stopped by a ISIS terrorist than the Ferguson PD.' Hey jackwagon, why don't you follow through and move to Iraq or Syria if you have it so bad in this country? I'll bet ISIS would welcoem you with open arms. Oh, bt. you're Messiah refuses to call ISIS 'ISIS'. Instead he calls them ISIL. Get with the program.
Ferguson protester would rather be stopped by ISIS than PD
Guam may be tipping over like dumb Democrat Hank Johnson predicted. Guam is a US owned territory and has decided to ban retired Air Force Major Dave Davis from voting. They aren't banning Davis for any previous criminal record or anything like that. They are banning him from voting because he's white.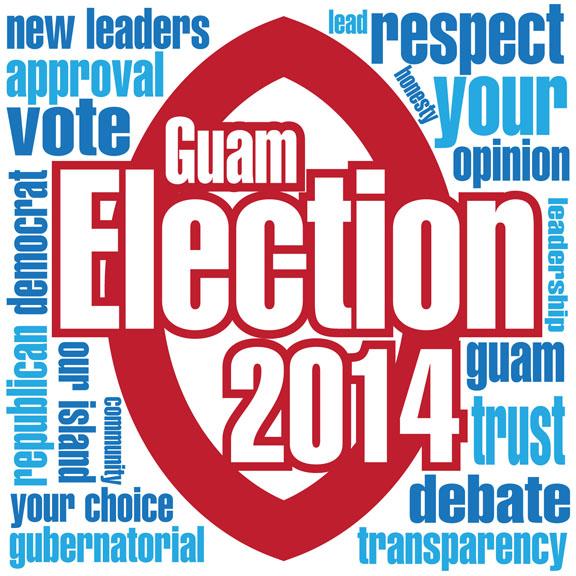 Guam bans man from voting because he's white
Have you noticed a trend? Just like last summer when black on white attacks skyrocketed after the Trayvon Martin verdict, this year, black on white attacks are soaring once again after the Michael Brown fiasco. What, you didn't read or hear about this latest black on white attack on the news or national media? Here's my shocked face. Like the black gang thug attack on a Marine in Mississippi, this attack was to 24 year old Scott Simerson died from brain injuries suffered by the black thug beating. What provoked the 'alleged' beating of Scott Simerson? He was a Good Samaritan who was attacked while trying to stop a fight on a playground.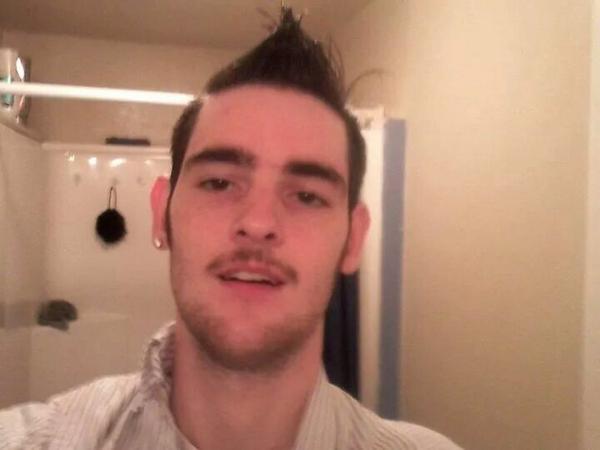 Two black thugs beat 24 year old white man Good Samaritan to death in Michigan
Sidney Joiner is the latest black thug to 'allegedly' attack evil whitey, this time near Baltimore. Joyner 'allegedly' took a knife and slashed the white man's face during an assault. The man who suffered the injuries, who asked not to be identified by name will need plastic surgery to fix the damage done to his face by black thug Joyner. The thug also 'allegedly' yelled 'Hey, White Boy' during the attack. But as usual, he wasn't charged with a hate crime. had the situation been reversed, you can bet your ass there would be hate crime charges.
Sidney Joyner slashes white man's face with knife in latest hate crime – Image credit: CBS Baltimore
Joseph Jennings was an 18 year old man who was battling depression, seizures and anxiety. Cops gunned him down over the past weekend, pumping at least 16 shots into himSo where are all the anti-police riots? Where are all the anti-police violence blacks protesting in favor of Joseph Jennings? He was unarmed, just like Saint Michael Brown. He didn't rush any cops like 'gentle giant' Michael Brown, yet was shot at least 16 times, nearly 3 times as many as Brown was shot.
Cops in Ottawa Kansas kill, shoot white teen 16 times, no riots
Yet there were no riots, no looting, no burning down of businesses in Kansas, and no mass media on the scene in Ottawa Kansas. Yet again, the black race hustlers and liberal media proven they are hypocrites. If Michael Brown was such a gentle giant, and was gunned down for no reason, what about Joseph Jennings? He didn't strong-arm rob any liquor store, and had severe depression. Where are all the protests to stop 'police violence' for Jennings? Because they once again reveal themselves to be nothing more than hypocrites.
You can bet that there will be no media coverage of Jennings funeral, and there will be no White House officials sent to mourn his death.
Courtez McMillian is a black thug who 'allegedly' beats West Point Marine Ralph Weems in Michael Brown revenge racist attack. The local media in Mississippi is reporting that Courtez McMillian 'a man' will be charged with aggravated assault against Ralph Weems in the Saturday morning beating. What the local media wouldn't mention and what the national media wouldn't touch is that Weems was beat in a revenge beating for Michael Brown. Normally, when a story like this breaks, the news sites copy the AP verbatim for what they write. But you'll notice that no sites are mentioning this from the AP: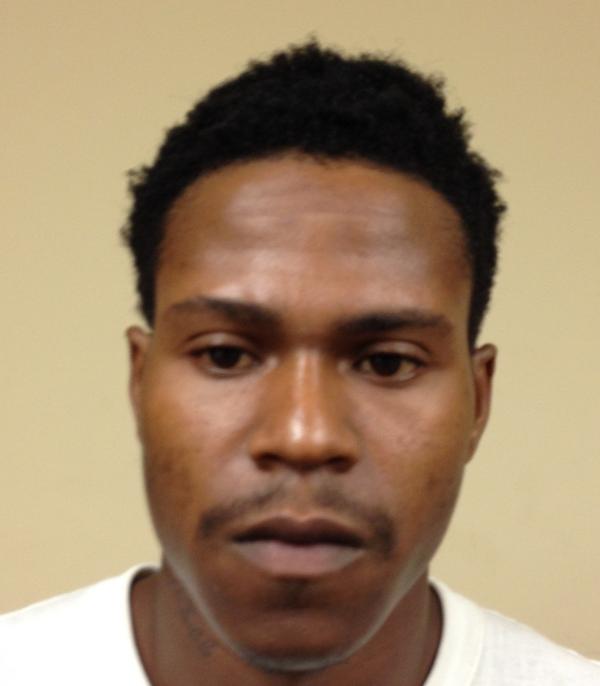 Courtez McMillian beats West Point Marine Ralph Weems in Michael Brown revenge racist attack
David Knighten of West Point told The Associated Press on Sunday that he and Weems apparently were followed early Saturday from a Waffle House where Weems had argued with some African-American patrons. Knighten says a man outside the restaurant had waved him over and told him it wasn't safe for white people because people were upset over the killing of 18-year-old Michael Brown in Ferguson, Missouri. When he entered, Knighten said, Weems was arguing with a couple of other patrons.

Brinkley said a Waffle House employee told police who answered a 1 a.m. disturbance call that a patron was creating a disturbance and upsetting other patrons. After he was asked to leave, employees also asked the other patrons to leave, Brinkley said.

Knighten said that as he and Weems headed from the Waffle House to Weems' house, they went into a Huddle House restaurant with a nearly vacant parking lot. However, he said, they apparently had been followed by more than 20 African-Americans. Knighten said he came out of the rest room to find Weems surrounded. When he and Weems left, Knighten said, some in the group kept him behind Weems, and when he emerged Weems was being kicked.

Knighten said he himself suffered broken facial bones, a cut above one eye and a blood clot in the other.
CAIR, the Council on American-Islamic Relations partnered with NAACP and sent Nihad Awad to attend Michael Brown's funeral today. What does CAIR have to do with Michael Brown? Hell if I know. He wasn't a Muslim. CAIR's Facebook statement is both rich and ironic. CAIR is Hamas in America. Michael Brown deserves better than to be tied to Hamas America.
Nihad Awad national executive director of CAIR attends Brown funeral
Nihad Awad, national executive director of the Council on American-Islamic Relations (CAIR), the nation's largest Muslim civil rights and advocacy organization, is attending today's funeral for Michael Brown, the unarmed African-American teenager who was shot to death by police in Ferguson, Mo.
"I believe it is important for all Americans to show their support for racial equality and social justice and to be part of the national dialogue on these important issues," said Awad.
Last week, CAIR joined the NAACP and other civil rights groups in calling for a special prosecutor to investigate the shooting.
CAIR representatives also took part in a national American Muslim call-in discussion of the Michael Brown and joined almost 100 national civil rights groups, coordinated by The Leadership Conference and Civil and Human Rights, in calling for federal action to prevent discriminatory profiling.
A radical Muslim group like CAIR talking about discriminatory profiling? You mean like those 'evil' Zionists that CAIR hates so much?
Leave it to the Associated Press and the rest of the corrupt leftist media to try and re-invent a thug into a choir boy. In the AP's eyes, Michael Brown was a 'little boy in a big body.' The AP also has already determined what happened in the whole Brown-Wilson conflict. You see, the AP claims Brown was shot while walking down the street with a friend. Yep, Brown did nothing to provoke the police, didn't cause eye injuries to the cop, and didn't charge Wilson. Instead, Michael Brown, who had just strong-arm robbed a liquor store of cigars was just walking down the street. Yes, the gangsta thug Michael Brown is a hero in the AP's eyes.
Remembering Michael Brown: College-bound police shooting victim called "little kid in a big body" http://t.co/cTaEgmlyNM

— The Associated Press (@AP) August 24, 2014

Little kids in whatever type of body don't strong-arm liquor stores and steal cigars. Sorry, AP.
AP calls Michael Brown 'little kid in a big body'