Update: Some reports say these two New Black Panther thugs were arrested for illegal gun purchases. Either CBS is full of it (typical), or some people are confusing stories. I certainly don't see what motivation seeBS would have to lie about this. The leftists at seeBS are on the protester/thug's side anyway.
Liberal Reuters is also claiming the two were bomb suspects:
FBI arrests two would-be Ferguson bomb suspects: law enforcement source http://t.co/mhKEhLWYVE

— Reuters Top News (@Reuters) November 22, 2014
…
Two New Black Panther thugs were arrested as they attempted to buy explosives that they 'allegedly' planned to use during the Ferguson protests once the Darren Wilson grand jury decision is released to the public. The New Black Panthers tried to buy these explosives to make pipe bombs. This is just a sign of things to come when the racial agitators start up whenever the verdict comes down. The vast majority of people, including these racist blacks think Darren Wilson will be acquitted.
BREAKING: FBI arrests two men for buying explosives they planned to use during #Ferguson protests http://t.co/0kLOLYiNUE

— CBS News (@CBSNews) November 22, 2014
THe New Black Panthers of course don't represent the people of Ferguson. They are more like the racial agitators that are being bused in from all over the country to start trouble.
THe New Black Panthers planned to make pipe bombs. Not only is this pure racism, but the New Black Panthers were also trying to use terrorism. They should be charged as terrorists, just like Muslims that get caught the same way.
Eric Holder must be so proud of 'his people.'
New Black Panthers arrested for buying explosives to be used in Ferguson protests
Wow. Talk about outrageous and disgusting! Mike Brown 'protesters' in Ferguson are staging mock lynchings in St. Louis ahead of the grand jury decision on Darren Wilson. This is how disgusting the leftists who are race hustling have become. Below are some pictures from the mock lynching:
Really? #Ferguson Protesters Hold Mock Lynching at Old Courthouse in St. Louis (Photos) –>> http://t.co/qBBKQVDBoT pic.twitter.com/SQaLuziifH

— SensibleOne (@SensibleOne) November 21, 2014
RP Activist outside Ferguson court house symbolizing how Darren Wilson killing #MichaelBrown is a modern day lynching pic.twitter.com/a0vTMeCsAu

— .. (@Gary1990_) November 21, 2014
Modern day lynching #Ferguson #FergusonNBeyond pic.twitter.com/UT83tuhBq4

— Tory Russell (@HotepTNT) November 21, 2014
PANORAMIC: Journalists crowd the mock lynching in St. Louis #Ferguson pic.twitter.com/aXeLYBW3TT

— Tim Pool (@Timcast) November 21, 2014
"The murder of young black boys is the equivalent of a modern day lynching." pic.twitter.com/Rv9g3DYh8o

— Carol Schaeffer (@thencarolsaid) November 21, 2014
A mock lynching in downtown St. Louis protesting August's police tactics in Ferguson, Missouri. pic.twitter.com/ozwhuOZ3RL

— John Terrett (@JT4AJAM) November 21, 2014
Ferguson 'protesters' stage mock lynching (Pictures)
Myron May's Facebook page is loaded with quotes from the bible, but no other information that would provides a reason for his FSU shooting last night. Myron May Facebook page also has a video of a Jesse Ventura interview. I'll assume May was a fan of nutball Ventura to include a video on his Facebook page. What we do know about Myron May is this:
1. He was the Florida State University library shooter late last night and was the only one killed in the rampage.
2. Myron May was a graduate of Florida State University and was a lawyer.
3. Myrom May was another black race hustler:
So maybe Myron May was just another whack job, or maybe he was ginned up with all the racial animosity being spewed by the racial grievance industry. Maybe May figures Darren Wilson wouldn't be convicted by a Grand Jury, so he had to get revenge for 'driving while black' or something.
Myron May Facebook page
Myron May's last Facebook post was on November 18th, just a day before his shooting rampage.
Read more
Looks like we found a Mary Landrieu voter. During today's Bengals-Saints game, a player threw a football, intended for a woman into the stands. Problem is, with 'white privledge' and everything, a black male had to elbow the woman in the face and take the ball for himself. Watch the video of the pathetic idiot: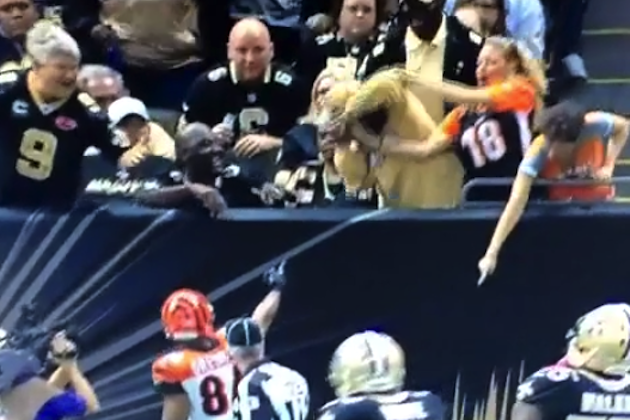 Black Saints fan throws elbow into white woman's face for ball (Video)
I guess that's why Ray Nagin called New Orleans 'Chocolate City' huh?
This is obviously racism, because if the white woman had done the exact same thing to the black man, she'd probably be charged with a hate crime.
The Saints ended up losing to the Bengals 27-10.
Read more
Vinita Hegwood the racist teacher from Duncanville Texas tried to tries to resign from her job as teacher after her racist tweet went viral. In a surprising move (at least to me) the Duncanville Independent School District Board of Trustees unanimously voted to terminate Vinita Hegwood's teaching contract. This mean no salary and no pension for the vile racist Hegwood.
As usual, Vinita Hegwood is trying to play the victim, claiming that she was responding to others who racial attacked her. Yea, the race card again. If someone is attacking you and you are responding to them on Twitter, you normally include the handles in the tweets that offended you. But 'race victims' like Vinita Hegwood don't I guess.
Here's one case where Hegwood did respond directly to a so called 'racist' using their Twitter handle. Of course, you tell me if the original person who sent the tweet said anything racist and if Hegwood's response was appropriate.
Vinita Hegwood tries to resign, gets fired instead
Now that Vinita Hegwood has made a name for herself, maybe she could get a job with Al Sharpton's NAN race mafia organization, or Jesse Jackson's Rainbow Coalition. She seems perfectly qualified.
Vinita Hegwood, the racist teacher for Duncanvile High School in Texas has been suspended without pay pending discharge. I have to say I'm actually surprised. I completely expected this racist teacher to get a slap on the wrist, with something like temporary suspension with pay. Under Texas state law, a school district's Board of Trustees "fires" staff members, and
the district will pursue that action with the board soon. You can read the entire press release. Now maybe Vinita Hegwood can go up to Ferguson Missouri and whine about how evil whitey is. Looks like she'll have plenty of free time on her hands. Maybe it's time to get Al Sharpton and Jesse Jackson to go out to Duncansville and yell how racist it is for suspending this racist teacher. If anyone thinks that Vinita Hegwood is an isolated innocent, don't kid yourselves. There are all kinds of racist teachers, just like her all over the country.
Vinita Hegwood suspensed without pay pending discharge
Loretta Lynch recently was caught on video whining about how Voter ID is racist according to a video obtained by Got News. Lynch not only whines abut how racist voter ID is, but also whines about how racist the south in this country is. Yep. Loretta Lynch is the female version of Eric Holder, a whiny, race hustling hack, hand picked by Obama (and likely Valerie Jarrett and Al Sharpton).
Loretta Lynch whines how Voter ID is racist (VIDEO)
Kinda funny too how Loretta Lynch is honoring the memory of Nelson Mandela too, who campaigned for voter id in South Africa.
Nelson Mandela voter ID
https://pbs.twimg.com/media/B18ByAHIQAEhzbc.jpg
Attorney General nominee Loretta Lynch has suggested that voter ID laws are part of a racist plot to roll back what Martin Luther King Jr. fought for but empirical evidence shows that voter ID doesn't reduce minority turnout.

"Fifty years since the civil rights struggle we stand at a time when we see people trying to take back what Martin Luther King Jr. fought for," Lynch said to an audience in Long Beach, NY. "People try and take over the State House and reverse the gains made in voting in this country."

Lynch applauded the Justice Department for bringing suit against her home state of North Carolina for installing voter ID laws.
And yet again, the leftist Huffington Post takes a racial swipe at a black female conservative. Mia Love, who became the first female African-American elected to congress in Utah is described by the Huffington Post only as she looks black, but her policies are red (aka conservative). Is this supposed to mean that blacks, especially female blacks aren't allowed to be conservative? Must Mia Love and other blacks stay on the liberal progressive plantation or they lose their 'blackness' or something? The HuffPO also describes Mia Love as a 'paradox'.
Want to know why racial tensions in this country have risen so much in the last six years? It's not just because of Obama and his race hustling. It's mainly because of liberal trash like this that deems female black conservatives as not really black. Progressive liberals in the media are terrified of conservatives like Mia Love. It makes their GOP is the party of 'old white man' that much more ridiculous every day. Great investment there AOL.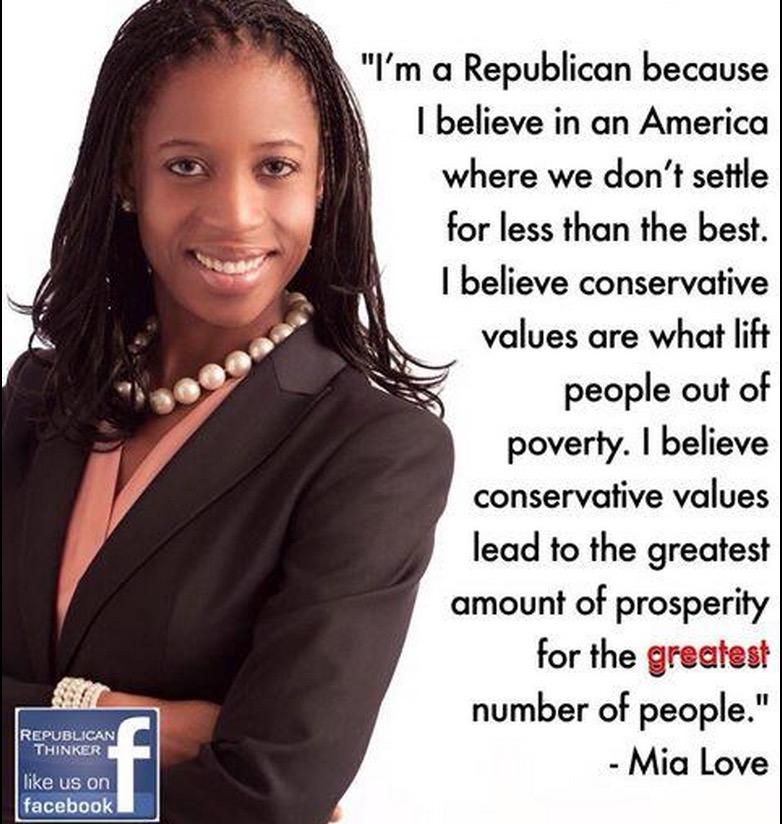 Huffington Post on Mia Love: She Looks Black, but Her Politics Are Red
Vinita L. Hegwood is the racist who took to Twitter over the weekend to tell crackers to kill themselves. – Vinita L. Hegwood the racist Duncanville High School teacher and even has a profile. Vinita Hegwood Twitter and Instagram accounts mysteriously vanished after the backlash from her racist tirade. She still has a Pinterest account. This doesn't really have anything exciting. Vinita Hegwood teaches English and 'health sciences'. I wonder if she's gone on any of these racist rants in the classroom.
Vinita L. Hegwood – the racist Duncanville teacher
Several months ago, Vinita L. Hegwood bragged about playing her car muslc 'loud' as a cop was following her. The song? Fuck the police. Quite the role model for Texas high school students in Duncanville. Her's an image from her now deleted Instagram profile: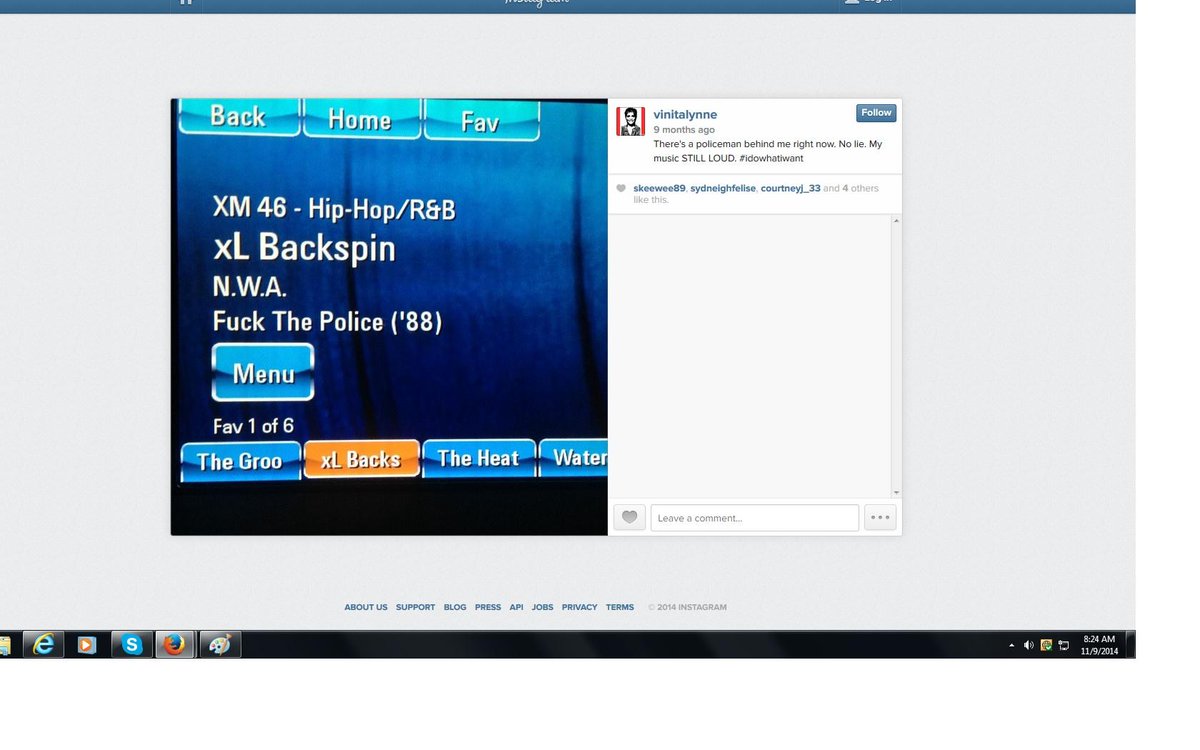 Vinita L. Hegwood – the racist Duncanville teacher
Also, it looks like Vinita Hegwood was a big fan of weed, though we don't know if she actually smoked it. If she did, isn't it supposed to make you more mellow?
Vinita Hegwood weed
There's really not much else that can be said about this racist teacher. Vinita L. Hegwood is lucky for one thing. She isn't white. Had this teacher been white, making racist comments like this, imagine the media frenzy it would draw.
Ah, yes. The progressive liberal race hustlers shaping young minds. Check out the now deleted tweet by black racist teacher at Duncanville High School in Texas. Apparently, when it comes to Ferguson, us 'crackers' should just kill ourselves and our opinions don't matter. Weasel Zippers has been keeping up with the evolving actions of this racist teacher.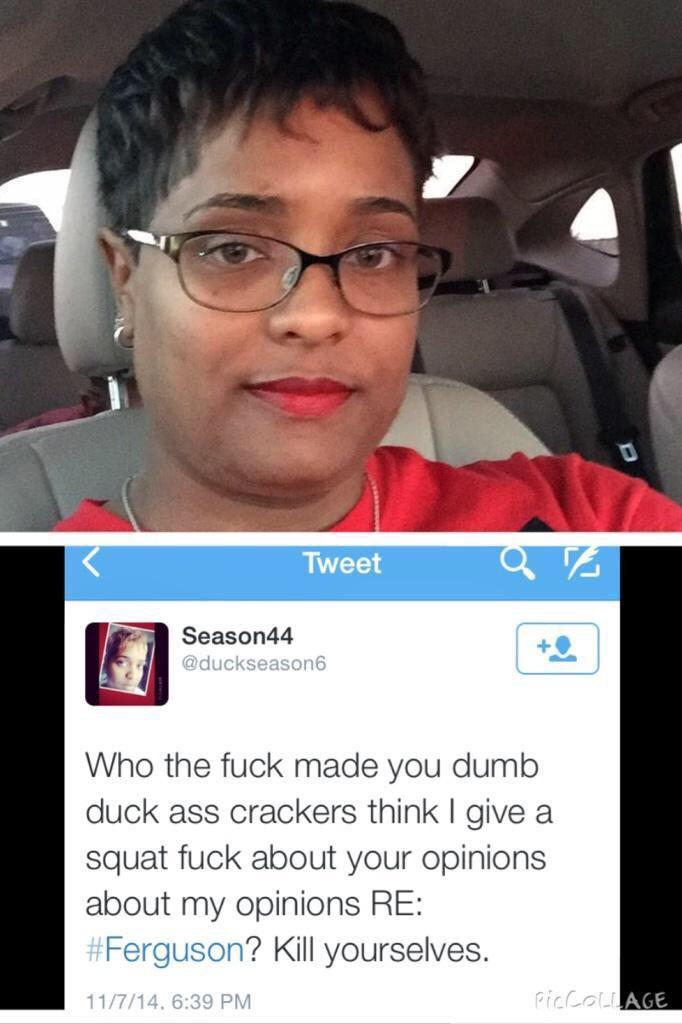 Black Duncanville High School teacher to whites: kill yourselves
No name for this black teacher has been released, but people have already determined that she is a teacher at Duncanville High School in Texas. As you would probably expect, after the blowback towards this racist teacher, the tweet along with her Twitter account magically disappeared. Maybe she's dumb enough to think that if she deletes her account, there will be no records any of her bosses could see in Texas. So sorry for you racist teacher.
Read more