Jeff Flake has officially become John McCain's bastard son. Flakey Flake whined on Twitter about Robert Gates book exposing Obama and Biden for the frauds that they are.
Re Gates book. Extraordinarily bad timing, and form, if you ask me.

— Jeff Flake (@JeffFlake) January 8, 2014
People in Arizona aren't stupid. How do they keep electing RINO frauds like McCain AND Flake. At least John Kyl was somewhat of a conservative. McCain and Flake don't even try to be conservative and lick Obama's ass whenever they get the chance.
In his new book, Duty: Memoirs of a Secretary at War, former Secretary of Defense Robert Gates criticizes President Obama's lack of commitment to U.S. military operations in Afghanistan, and also questions Vice President Biden's foreign policy skills.

Sen. Jeff Flake (R-Ariz.) questions the timing, calling the release of the book "extraordinarily bad timing, and form, if you ask me." As it turns out, no one did ask him.
Arizona Republicans are set to vote this coming weekend on whether to censure RINO John McCain. Why? because of his "long and terrible record of drafting, co-sponsoring and voting for legislation best associated with liberal Democrats." While Arizona Republicans are considering censuring John McCain for sucking up to leftists, why don't they do the same to Jeff Flake who is really not much different than McCain.
Read more
The names on this list of nine filthy Republicans contains the usual suspects like Susan Collins, John Songbird McCain and Orrin Hatch. But there are some others on this like like Ron Johnson of Wisconsin and Rob Portman of Ohio who can kiss their future Senate ambitions away in 2016. Here are the names of the nine filthy Republicans who voted to strip away pensions for disabled military veterans and in favor of money for illegal immigrants:
Susan Collins (Maine)
John McCain (Arizona)
Orrin Hatch (Utah)
Lisa Murkowski (Alaska)
Saxby Chambliss (Georgia)
Johnny Isakson (Georgia)
Rob Portman (Ohio)
Ron Johnson (Wisconsin)
John Hoeven (North Dakota)
Have fun running for re-election assholes. Collins will win next year because she's in a leftist state like Maine who hate the military anyway. Saxby Chambliss is retiring and wouldn't have to face the wrath of the voters. Portman, Johnson, McCain and Murkowski are all up for re-election in 2016. Songbird McCain and Orrin Hatch have until 2018.
The RINOs and Marxist Democrats in the House passed the 'bi-partisan' budget bill by a margin of 332-94. This means plenty of RINOs need to be primaried next year. The coward Weeper Boehner also passed a temporary farm bill. The Karl Rove Republicans need to be taught a lesson at the ballot box next year. There really is no difference anymore between the Karl Rove Republicans and the far left progressive liberal Democrats. 169 Republicans voted for this crap.
#Breaking: House passes two-year bipartisan budget deal 332-94 http://t.co/bZ7d7NnnxT

— POLITICO (@politico) December 12, 2013
Here's the full roll call vote, with the names of all 169 Republicans. List includes Weeper Bohnner, Eric Cantor, Paul Ryan, Darrell Issa and Jason Chafetz. Boehner's vote is especially a slap in the face the conservatives. Speakers of the House typically don't vote unless the vote is close. This wasn't anywhere near close and he voted anyway. Fuck you Weeper Boehner!
Aside from the fact that this raises spending and gets rid of sequester cuts, it also gives Harry Reid and the Senate Democrats the 'nuclear' option to raise taxes with just 51 votes in the Senate, instead of the usual 60. The 51 vote point of order rule was put in not by the Democrats, but by Paul Ryan, who like Boehner want to jam amnesty through next.
The Paul Ryan budget deal that he cut with far left progressive liberal Democrats allows Harry Reid and the Senate to raise taxes with a simply majority vote (51 votes.) The provision voids the 'point of order' rule. Basically, Harry Reid and the Democrats can raise taxes whenever they choose. It's like the nuclear option on judicial nominations, except this time it's on taxes and a gift from Paul Ryan and the RINO caucus in the House. Man was I fooled by Paul Ryan. Turns out Mitt Romney is more of a conservative than the Wisconsin RINO fraud Paul Ryan.
Senate Republicans scrubbing the Ryan-Murray budget deal have come across a little-noticed provision that will limit the GOP's ability to block tax increases in future years.

The bill includes language from the Senate Democrats' budget that voids senators' ability to raise a budget "point of order" against replacing the sequester cuts with tax increases.

The process is quite complicated, but in practice it grants Harry Reid the authority to send tax increases to the House with a bare majority, rather than the 60-vote threshold that would be required under a point of order.
The new budget deal that Paul Ryan and Patty Murray have been working on will get rid of some, if not all the sequester cuts that were agreed upon in 2011 and signed by Obama. I can't say I'm surprised anymore. I was fooled into thinking Paul Ryan was a fiscal conservative. This proves he is just another big government Karl Rove Republican. Ryan is also pushing to pass amnesty.
Read more
Conservative Texas Rep. Steve Stockman with launch a primary campaign against Texas RINO Senator John Cornyn who is up for re-election next year. After all of John Cornyn's backstabbing of Ted Cruz during the Obama shutdown, it looks like karma has finally caught up with the RINO.
One of Washington's most reliably conservative lawmakers is breaking the news that he will challenge a mainstay of the Republican establishment – all because the incumbent GOP senator "undermined Sen. Ted Cruz's fight to stop Obamacare."

Rep. Steve Stockman, R-Texas, told WND exclusively that he will run against against Sen. John Cornyn, R-Texas, in the state's primary race. Cornyn is running for re-election to the U.S. Senate in 2014.

With his campaign little more than an hour old, Stockman had already picked up some major support.

Jenny Beth Martin, president and co-founder of Tea Party Patriots, told WND, "Congressman Stockman has proven himself to be a fighter for freedom who votes in the House of Representatives based on constitutional principles. We need more senators who will do the same."
Poor RINO Mitch McConnell he's mad at the tea party and conservatives. He's in for a tough primary battle against Matt Bevin, and tough re-election against a weak Democrat if he beats Bevin in the deep red state of Kentucky next year. Now poor turtle McConnell is whining that it's time for the GOP Establishment aka RINOs to stand up to those bad ole Tea Party/Conservative bullies.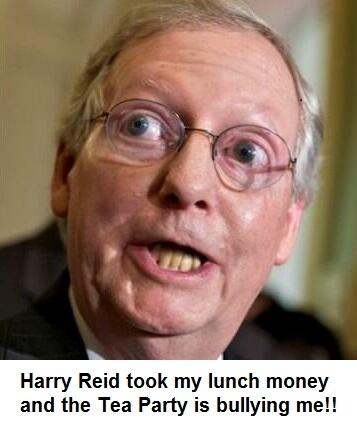 Mitch McConnell: Time for GOP Establishment (RINOs) to 'Stand Up to' Tea Party
McConnell argued it is "utter nonsense" for groups like the Senate Conservatives Fund (SCF), which has endorsed his primary challenger businessman Matt Bevin, to argue that Republicans like him in Congress are not fighting hard enough to defeat Democrats. In the interview, McConnell focused on deriding Tea Partiers for leading the effort to defund Obamacare—something that, coupled with the Democrats' refusal to compromise on the soon-to-fail Obamacare, resulted in a government shutdown.
"The Senate Conservatives Fund is giving conservatism a bad name," McConnell told the Examiner for the piece titled "The Establishment Fights Back: Mitch McConnell leads GOP battle against Tea Party insurgents."
"They're [SCF] participating in ruining the [Republican] brand," McConnell said. "What they do is mislead their donors into believing the reason that we can't get as good an outcome as we'd like to get is not because of a Democratic Senate and a Democratic president, but because Republicans are insufficiently committed to the cause—which is utter nonsense."
Remember last year during the election cycle, Orrin Hatch tried to play all conservative and stuff? He begged his BFFs on talk radio like Hannity, Rush Limbaugh and Mark Levin to endorse him for re-election over his GOP primary challenger. They did, Hatch barely won his primary, and easily won another six year term in November. Now, the mask is finally slipping off Orrin Hatch as he wants to find a primary challenger for Mike Lee when he is up for re-election in 2016 and wants the tea party 'rehabilitated.' It's time for Utah to recall this washed up old RINO. People like Orrin Hatch, John McCain, and Robert Bennett who Mike Lee defeated in the 2010 GOP primary are the poster boys for term limits.
Marco Rubio is a slimy little worm. He ran as a 'tea party' candidate in 2010 and won with the support and enthusiasm of the tea party over Charlie Crist. But Rubio has proven to be not really any different then Crist. He supported amnesty, and now has endorsed Kentucky Kickback king Mitch McConnell over his tea party rivals like Matt Bevin for next year's Senate election. Rubio endorsed McConnell on Fox News Sunday:
Marco Rubio endorses Mitch McConnell even after Kentucky Kickback
Not only did Mitch McConnell grab a $2 billion earmark for Kentucky, but he handed the keys to Obama to raise the debt ceiling as much as he wants in the future. McConnell tried this shtick back in 2011, and now it will be law after the House passes it and Obama signs it.
The Senate plan includes a proposal offered by McConnell in the 2011 debt ceiling crisis that allows Congress to disapprove of the debt ceiling increase, which means lawmakers will formally vote on whether to reject a debt ceiling increase until Feb. 7. Obama can veto that legislation if it passes. If Congress fails as expected to gather a two-thirds majority to override the veto, the debt ceiling would be raised.
There is no way the Senate will ever get two-thirds of a majority to override Obama's demand for a debt ceiling hike. There aren't enough conservatives in the Senate to stop him.
Remember the Louisiana Kickback during ObamaCARE? Well, here's the Bluegrass Kickback for Mitch McConnell. According to Senate Conservative Fund, the budget deal that will re-open the government that Mitch McConnell concocted with Dingy Harry Reid contains a huge kickback for the Bluegrass State of Kentucky. Say hello the the Kentucky Kickback or the McConnell turtle earmark. The $2 billion earmark is for Olmsted Lock and Dam.
Mitch McConnell cave includes big kickback for Kentucky
Americans are familiar with the "Cornhusker Kickback" that U.S. Senator Ben Nelson (D-NE) got in exchange for his vote on Obamacare.

Well now U.S. Senator Mitch McConnell (R-KY) has an Obamacare earmark of his own.

The McConnell-Reid bill not only funds Obamacare and suspends the debt limit, it ALSO includes a provision in Section 123 that increases the authorization for the Olmsted Lock in Kentucky from $775 million to nearly $3 billion.

It's the Kentucky Kickback.

In exchange for funding Obamacare and raising the debt limit, Mitch McConnell has secured a $2 billion earmark.