Sarah Palin is still living rent free in the minds of liberal extremists, six years later. Jeffrey Goldberg of Bloomberg, tweeted (then deleted) a Muslim holding a gun saying it 'reminded him of Sarah Palin'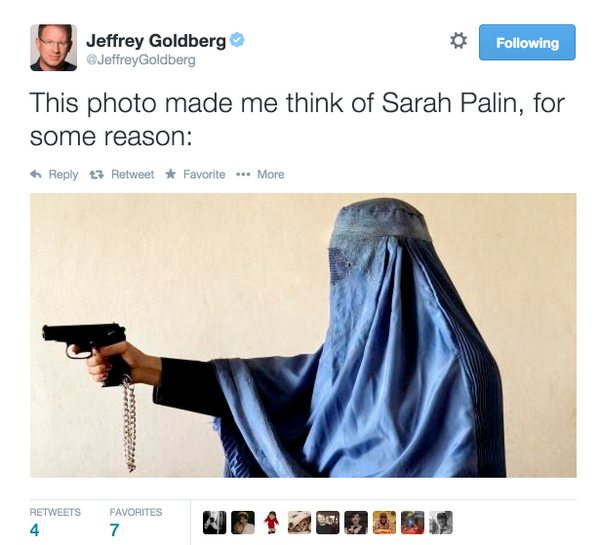 Bloomberg hack jeffrey goldberg tweets, deletes Muslim with gun pic reminding him of Sarah Palin
Is Sarah Palin a Muslim now or something? How would this picture remind anyone of Sarah Palin if they were totally obsessed with her.
Read more
Sarah Palin took the ALS Ice Bucket Challenge. Progressive liberals should have a field day with this video of Palin screaming after the ice water was dumped on her. Before taking the ALS Ice Bucket Challenge, Palin challenged Hillary Clinton and her 'favorite Republican' John McCain to do the same. Problem is, Hillary Clinton would melt if doused with water. Crotchety old John McCain? He'd probably have a stroke.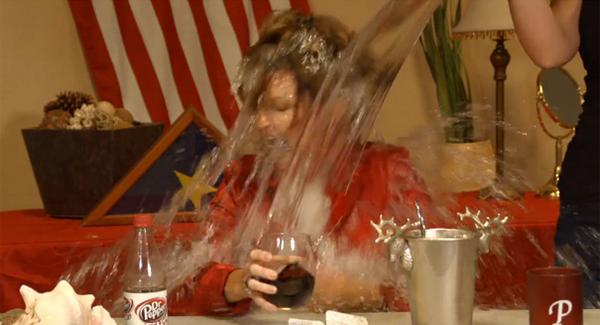 Sarah Palin Takes Ice Bucket Challenge VIDEO
Hillary Clinton had to steal the cover idea from Carly Fiorina. Clinton had all the media fawning over her, giving her free press to pimp her crappy book on EVERY network, including Fox News. So what happens? Hillary Clinton's book turned out be a big flop, has already dropped out of the top 10 in Amazon, and hasn't even had a quarter of the first week sales that Sarah Palin's book America by Heart.
Sarah Palin didn't have the benefit of the fawning media. Didn't get puffball interviews with every network to pimp her book, and certainly didn't get a faux town hall event put on by CNN. Yet Palin's book sold nearly half a million in it's first week put, while Hillary Clinton couldn't even sell 100,000 of her book.
Sarah Palin VS. Hillary Clinton first week book sales, LOL!
Sarah Palin is set to launch a new digital video channel called Rogue TV. This is sure to drive the progressive liberal far left nutjobs even more crazy than they already are. Reports say that Rogue TV will basically be a video version of Sarah Palin's Facebook page.
Joe McGinniss – the stalker who rented a house next to Sarah Palin's in Alaska to spy on her for his book 'The Rogue: Searching for the Real Sarah Palin' has kicked the bucket at age 71. I guess Joe McGinniss just couldn't handle her awesome speech that she gave at CPAC this past Saturday. I not going to say I'm happy McGinniss is dead. I don't celebrate the death of people, even scum like Joe McGinniss, but I ain't shedding any tears either. Karma is a bitch, eh Joey?
Joe McGinniss – Sarah Palin's stalker is dead
Sarah Palin nailed it at her CPAC2014 just as expected, receiving standing ovations. Palin even read her Ted Cruz's version of Green Eggs and Ham too (which is already driving leftists crazy.) Sarah Palin even called MSNBC MSLSD! Well done Sarah! Leftists are gnashing their teeth as I type this! Below is the full video of Sarah Palin's speech at CPAC2014.
Sarah Palin nails it at CPAC2014, plus Green Eggs & Ham – Full keynote speech Video
I do not like this Uncle Sam.
I do not like his health care scam.
I do not like oh, just you wait
I do not like these dirty crooks, or how they lie and cook the books.
I do not like when Congress steals,
I do not like their crony deals.
I do not like this spying, man, I do not like, 'Oh, Yes we can.'
I do not like this spending spree, we're smart, we know there's nothing free.
I do not like reporters' smug replies when I complain about their lies.
I do not like this kind of hope, and we won't take it, nope, nope, nope."
Palin as mocked Obama's 'You didn't build that' rant with this owning the establishment GOP:
GOP, the 2010 election that swept you into power? You didn't build that. The Tea Party did!
Sarah Palin and Ted Cruz speeches were the obvious highlights of CPAC2014.
Expect MSLSD and CNN to mock her speech all week long in their 'news' coverage.
Sarah Palin was mocked in 2008 when she said that if Obama was elected, Putin might invade Ukraine. She was the butt of leftist constant jokes and even helped spawn the talentless Tina Fey's career, which has seen faded away. Tonight, in an interview with Sean Hannity, Sarah Palin laid the smack down on mom jeans Obama. Palin compated Vladimir Putina "wrestling bears" to Obama's weakness and a man who wears "mom jeans and equivocates and bloviates." AS usual, Sarah Palin knocked it out of the park again, and leftists will probably be yelling racism later tonight.
Sarah Palin smacks down mom jeans Obama on Hannity over Putin VIDEO
Palin also made it a point to point out Obama's failure on domestic energy policy and not approving the Keystone XL Pipeline. Palin bashed Keystone demonstrators for not wanting to 'displace an earthworm' and said that the earthworm that radical environmentalists whack-jobs aka leftists are protecting will just have to talk one for the team. Loved that!
Sarah Palin in 2008 said that an Obama Presidency would embolden Vladimir Putin to invade Ukraine. Palin was the butt of all jokes in the media, and of course the now infamous SNL skit with Tina Fey's "I can see Russia from my House." Here is a video of Palin claiming that under an Obama presidency, Russia would invade the Ukraine:
Sarah Palin in 2008 – Obama Presidency would Embolden Putin to Invade Ukraine
The media laughed, leftists smeared, and Obama ignored.
Fast forward four years to 2012 during the third and final presidental debate between Mitt Romney and Obama. Romney said in that debate that Russia was our 'number one geopolitical foe.' Obama arrogantly replied "the Cold War is over.' Seems that someone forgot to tell that to Putin.
Obama to Romney: Cold War is Over
North Jersey Media Group is suing Sarah Palin for daring to use a 9/11 photo of firemen raising the U.S. Flag at Ground Zero after the terrorist attack. The North Jersey Media Group claims they own the copyright on this photo and say Palin used it for fundraising purposes with SarahPAC. The lawsuit by the North Jersey Media Group was originally filed in the southern district of New York. Today, a judge granted a motion of transfer to send the case to a New Jersey court. Of course there is no evidence that Palin used the photo for fund raising purposes. But the left wing media's obbession with Sarah Palin continues six years later after the 2008 election.
In an Order filed today, the Judge granted the motion to transfer, but to New Jersey where NJMG is headquartered. Given the transfer, the Judge deferred ruling on the merits of the motion to dismiss to whichever federal judge gets assigned in New Jersey.

It will be interesting to see if NJMG continues to fight the lawsuit, which makes no sense given that the photo clearly was not used for fundraising and was taken down quickly. Indeed, as previously noted, there is an issue as to whether Palin and SarahPAC even received actual notice of the takedown demand prior to the filing of the lawsuit just two days after the Facebook post was made.
Joe Scarborough, NBC/MSNBC's token RINO decided to take a cheap shot at Sarah Palin while the MSNBC eggheads were discussing how classy Mitt Romney was in accepting Melissa Harris-Perry's faux apology over her racist mocking of his black adopted grand son.
Joe Scarborough takes cheap shot at Sarah Palin
JOE SCARBOROUGH, CO-HOST: Isn't it sickening, Willie, seriously, these people on Twitter. It's like, you know, people are total animals on both sides. Like Martin Bashir. Right? He said something terrible. And you know who said that? Martin Bashir. I talked to Martin on the phone while it was going on and he was like, "Oh, you know." He was so hurt, and he felt so stupid, and he felt so bad. And people close to him were saying, "God, Martin," you know? And, you know, he screwed up. We all screw up!

MIKA BRZEZINSKI, CO-HOST: And there's a difference to the level of screw-ups because that was written, but I'll tell you what happened with Melissa's segment was just it kind of unraveled, and it was live, and other people jumped in, and she apologized for everybody on the set.

SCARBOROUGH: For everybody, exactly.

BRZEZINSKI: She took it all on her shoulders.

SCARBOROUGH: Exactly.

BRZEZINSKI: And people want to believe that she had some sort of evil ultimate motive. It makes no sense when you look at her own background. It makes no sense.

SCARBOROUGH: And, by the way, let me just jump in. Let me just jump in and say this. Let's compare Sarah Palin's response…

BRZEZINSKI: Right.

SCARBOROUGH: …to when she was wronged to Mitt Romney's response. That's all I'm going to say.

BRZEZINSKI: Just don't say anything else.

SCARBOROUGH: That's all I'm going to say. Mitt Romney showed total class.