Four terrorists were caught on September 10th trying to cross the Mexican border into the US. If you think there were only four total trying to cross, you must be a progressive. Many terrorists have undoubtedly already crossed the Mexican border into this country. Reports of 'Koran like books' on the border have been reported by Texas sheriffs. As usual the corrupt media is hiding this story. Thankfully, it was reported on The Kelly File tonight. You know, that 'evil' show on that 'evil' cable network Fox News?
4 terrorists caught crossing Mexican border day before 9-11
#KellyFile Exclusive: @jasoninthehouse joins me on stunning reports of four suspected terrorists attempting to cross U.S. border Sept. 10.

— Megyn Kelly (@megynkelly) September 18, 2014
Rep. Chaffetz: "Four people… with known ties to terrorist groups, and [Sec. Johnson] should know this." #SecureOurBorder #ISIS #KellyFile

— Pau Loreto Lim (@paulolim) September 18, 2014
#DHS #JehJohnson no terrorists have come across border. The day before 9/11 4 terrorist w/ known ties captured. #KellyFile @jasoninthehouse

— O Bow Mao Truth Team (@BowMaoTruthTeam) September 18, 2014
4 people with terrorist ties caught crossing the southern border on 9/10… Why is the gov trying to suppress this info? #KellyFile

— BrigidMary McDonnell (@BrigidMaryMcD) September 18, 2014
Oops. This is kind of like the Rick Perry moment during the 2012 debates only worse. While McCain was bashing away at Rand Paul on Hannity, he had a slip of the tongue and basically admitted he met with ISIS while in Syria. You know, that photo with him and terrorists in Syria? At least two of them were ISIS members. McCain and his defenders like to claim they were the 'moderate' Syrian rebels. Watch the following video. If you want to skip ahead of the start of the McCain bs, start the video at about 2 minutes and 30 seconds. BTW, anyone notice how chummy Hannity has been with McCain lately? For awhile, Hannity was bashing the old coot because conservatives can't stand him. I guess 'Brother Rove' set Sean Hannity right on McCain.
John McCain slips up on Hannity, admits meeting ISIS
I've grown tired of Rand Paul's flip-flopping becoming a typical DC insider. But on this issue he is right. Arming the so called 'moderate' Muslims in Syria will just end up arming ISIS as the so called 'moderates' either get killed fighting, or simply join up with ISIS.
We're doomed America. Want an example of liberal extremist indoctrination on our college campuses? Watch the following video from MRC asking George Mason University students to sign a petition supporting ISIS. The guy who did this as a project for MRC got several signatures. Oh, and the video was shot on 9/11/2014. One of these idiots even blamed the Israeli 'Mossad'. A favorite to blame by leftists and crackpot Paulians.
George Mason University students sign petition supporting ISIS (Video)
Great news! Not only are diseased illegals spreading the sickness and clogging up the welfare lines, but now Quarans are being found at the US-Mexico border. Of course, this really shouldn't be a shock to anyone with half a brain. If you didn't think ISIS and other Muslim terrorists would take advantage of the Swiss cheese border, then I don't know.
Qurans found at US-Mexico border
And yet again, the mask slips off Obama. Apparently, Obama thinks he could be an adviser to ISIS. He gave some advise to his Muslim terrorist brethren on the beheadings. Instead of beheading the hostages, Obama would have simply pinned notes on the hostages according to Breitbart. The notes would have read:
Obama: Now an ISIS adviser would pin notes on hostages chests
Stay out of here; this is none of your business.
The only thing missing from Hussein's 'advise' to ISIS is the Allahu Ackbar yell. I guess this means Obama agrees with ISIS taking innocent people hostage for their warped cult. Thinks for the slip up Barry.
Tactical Firearms in Houston has a 'controversial' sign up that reads:
Does one of Obamas family members have to be beheaded for "change" to happen?
Does one of Obamas family members have to be beheaded for "change" to happen sign at Tactical Firearms
It's a legitimate question. It's not calling for the beheading of Obama, or his family, it's just asking what it will take for Obama to destroy ISIS Muslim terrorists instead of coddling them. Yet as usual, the leftist media is running wild with this, accusing Tactical firearms of death threats against Obama and his family.
After the filthy Muslim ISIS pigs beheaded David Haines, they made reference to another Briton, Alan Henning. Based on the ISIS beheading every two weeks, Henning may be beheaded by ISIS by the end of September. Alan Henning is a British aid worker who tried yo help refugees in Idlid. ISIS took him hostage in the city of Al Dana.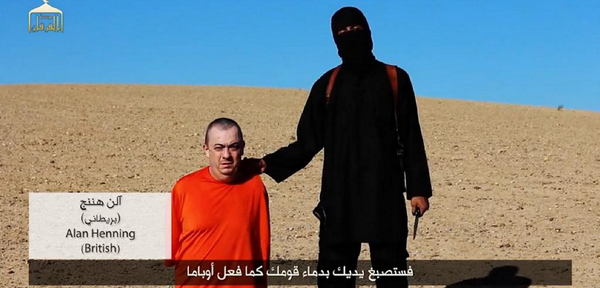 Alan Henning may be next beheading by ISIS
David Cawthorne Haines is the latest victim of Muslim ISIS terrorism, as a video of him being beheaded was released while Obama golfed. But who was David Cawthorne Haines the person? David Haines wasn't a journalist like the two Americans who were beheaded. Haines delivered humanitarian aid in Syria where he was kidnapped by Muslims in Syria in March of 2013. David Haines was 44 years old, and a father of two young children. More from the UK Telegraph:
David Cawthorne Haines who was he?
It gets worse. James Foley's family was not only threatened with jail by the Obama regime, as they tried to find ways to rescue James Foley, but they were also threatened with terrorism charges! That's right, terrorism charges, something even Nidal Hassan or Ali Mohammed Brown haven't been given.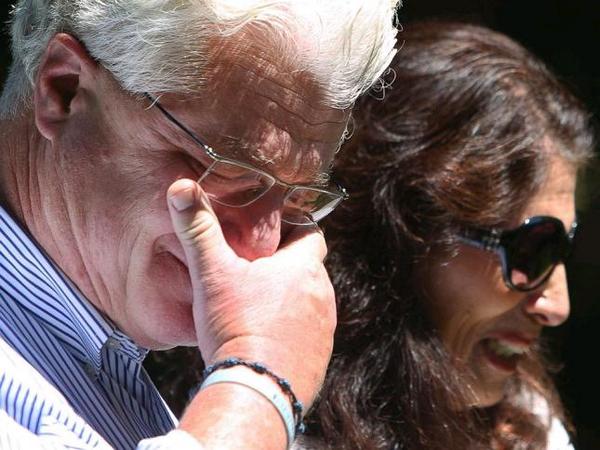 Foley family threatened with terrorism charges by Obama regime
ISIS has released a video of the beheading of British hostage David Haines. But remember, as Obama said, ISIS isn't Islamic, and as Lurch Kerry said, we aren't at war with them.
BREAKING: Video claims to show beheading of British aid worker David Haines by #ISIS.

— Fox News (@FoxNews) September 13, 2014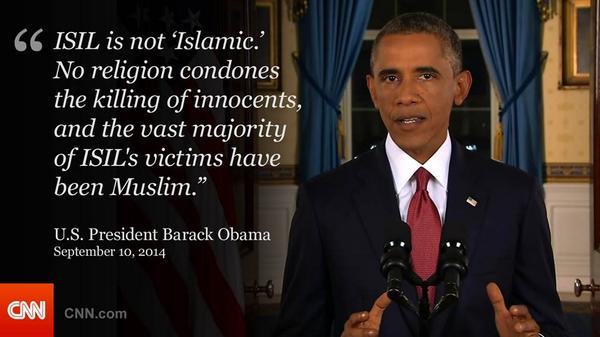 ISIS releases video beheading British hostage David Haines
BREAKING: Video purports to show beheading of British aid worker David Haines by Islamic State group

— The Associated Press (@AP) September 13, 2014
Islamic State terror group claims it has beheaded British hostage David Haines – more to follow

— Telegraph News (@TelegraphNews) September 13, 2014
These filthy Muslim pigs need to be nuked back to the stone age. Pray for the family of David Haines (like James Foley and Steven Sotloff).
If thought it's after 2am in the UK, David Cameron posted his outrage on Twitter:
The murder of David Haines is an act of pure evil. My heart goes out to his family who have shown extraordinary courage and fortitude.

— David Cameron (@David_Cameron) September 13, 2014
We will do everything in our power to hunt down these murderers and ensure they face justice, however long it takes.

— David Cameron (@David_Cameron) September 13, 2014